Skiff America Turnover
by Kilburn Adams
Friends, builders, relatives, country men, and interested parties, lend me your attention please,

This link will take you to Robert's album of photographs of his construction during SkiffAmerica 20 project.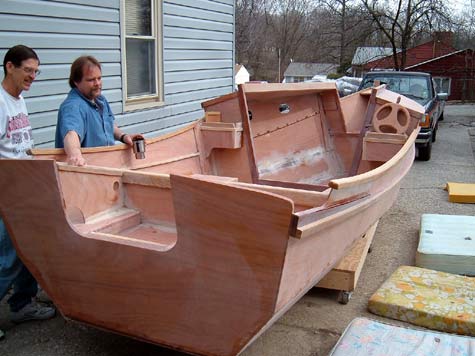 I think Robert's story is interesting. One fateful day Robert happened to be at the right place at the right time. (My opinion and hopefully shared by Robert) He was sitting in a lawn chair on a beautiful summer day, on a Mississippi River sandbar playing his guitar and watching his teenage daughter while she enjoyed the river. Two SkiffAmerica 20s pulled up nearby in shallow water, dropped anchor, intent on also enjoying an afternoon on a sandbar. I had invited my daughter and her family along for the day with her husband and two young children. Bill Dulin, builder of SkiffAmerica number two, was also along in his SkiffA 20. Bill always carries his harmonica wherever he goes and seeing the guitar player (Robert) went over to see what he was doing, say hi, and maybe play a few songs.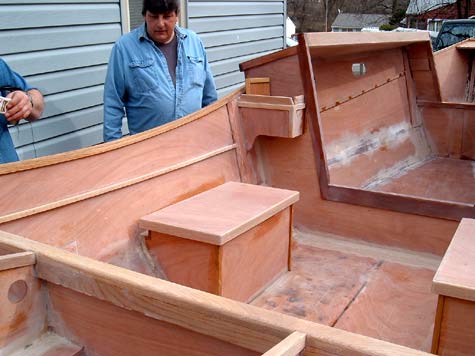 Robert had noticed the two boats and very soon he ordered a set of plans. Long story short, the rest is history but there will be more in the future I am sure. Robert has either already sold his two larger fiberglass production boats or likely will doing so as soon as he gets his SKiffA 20 operational. Even though Robert lives in the St. Louis area, he has not been aboard any SkiffAmerica, and has not come over to even have a second look. He saw enough that first day when he saw the boats perform out on the river. It appears to me that he is building the boat as I designed and intended and that makes me happy. I don't remember him asking any questions after he had decided which plywood vender to use.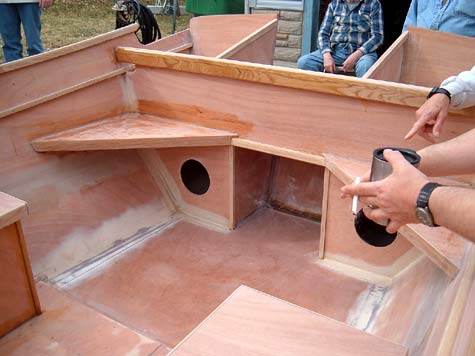 Robert has invited me to a "flippin party" and it will be soon. He will be turning the boat upside down to finish the cloth work and painting. That is one of the major milestones. Flippin it back over after painting is another. One becomes very anxious to see the boat back upright and showing its colors. Can you imagine the satisfaction at that point? I will never forget the day I saw the first SkiffAmerica (mine), painted and back upright. This will be the forth flippin party that I will have had the pleasure to attend. Kinda reminds me of when my children and grandchildren were born. It is a big deal.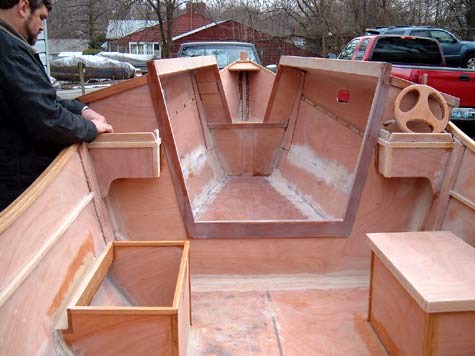 Maybe Robert can find a few minutes to give us a posting on the message board of his experience building. However, we will understand if he would prefer to keep working and making progress on his SkiffAmerica.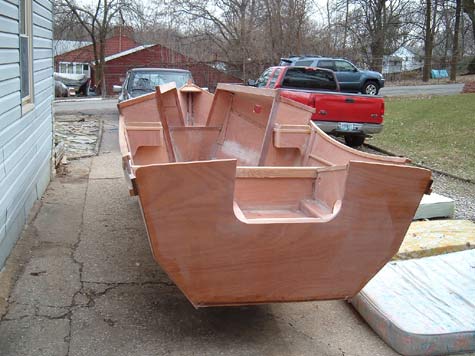 I just had to share his project with you all. To those who are already building or thinking about building, I hope this adds some incentive and may help with questions about construction. His photographs have been carefully selected to represent a short photo story of the construction. He is most likely very busy with his construction so please do not slow him down with questions. (my request)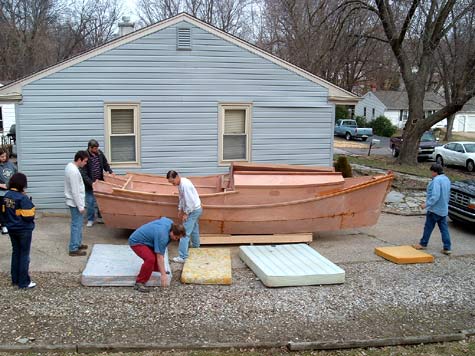 Hope you enjoy and or find the photos useful.

Kilburn Adams
https://www.skiffamerica20.com/