Hi Chuck. Here are a few girls in a boat. Colleen, Alex, Lindsay, Ellie, Kelly, Cindy and Hanna. Dalas and Colt are the two guys. We were at Danford Lake, Quebec, Canada and trying to see how many people could fit into the F-11 by Bateau.com. We ran out of people with lots of freeboard left. Paul McLellan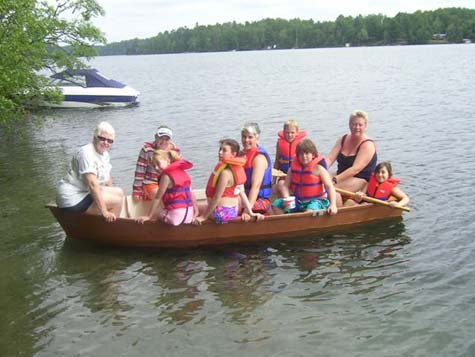 The official crazed wooden boat racers of the Faroe Islands: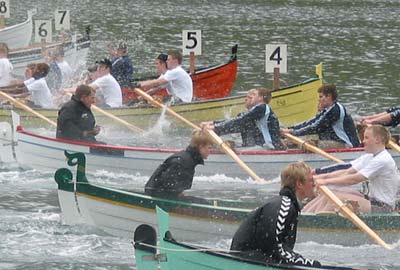 submitted by Bruce Armstrong


Two Hulls are better……
If you grew up with monohulls I suspect you, like me, find it difficult to really trust a multihull beyond the sight of land.
Make a mistake in a monohull 'lead mine' and you'll get wet, maybe break a few things, but eventually you'll bounce back up. Get it wrong in a multihull and you're left learning to live upside down until help arrives. The fact that you're less likely to sink having done so, is cold comfort for those of us who don't mind life at 30 degrees heel.
The bottom line is that sailing offshore in a multihull is a risky business. Or is it?
Within the space of a few days early this year, two keels had fallen off a pair of Open 6os shortly before a 75ft trimaran crossed the finish line after having scorched around the world at a blistering pace. And this was no one-off.
Of all the recent round the world attempts in multihulls, several have lost rigs, foils and parts of their structure, but none has yet capsized.
Stack that against the number of keel failures and near fatal capsizes aboard monohulls and I can't help wondering whether I am deluding myself by choosing between the two.
Matthew Sheahan
Technical editor
Yachting World
submitted by Chris Ostlind


Hi,
Attached are two photos you can use as you please, both of boats very wooden.
First is a grand one, a former transport boat, now converted to pleasure use! Typical of the older sailing ships in Sweden.
Had the sun straight against me, so the picture isn't that good (photo taken today!).
The second one was in my favourite outdoor book of my youth. It is a picture of a very simple outrigger vessel, made up from what you find on the beach.
As you can see it was supposed to be made out of a spruce, or fir, log, taken from a dead stump, or something. Cut to size and assembled as shown. Looks neat, doesn't it?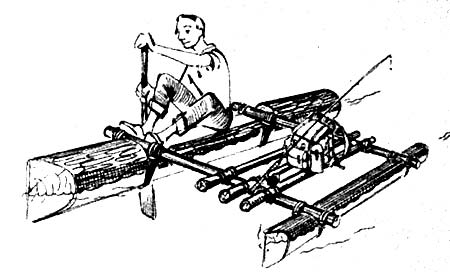 Looks grand till you start to wonder about wood density, et cetera!
I have heard of people trying this design have found that unless the log is replaced by an inflated rubber pontoon, or similar, or possibly a balsa log (not a common tree in my back yard in Sweden - far from it), you have very, very wet ride.
As it is drawn it will be more of a submarine :-)!
So, inless you live in Equador, don't try it at home!

Tord,
Sweden


I would like to see the interior and the lines drawings. - Rav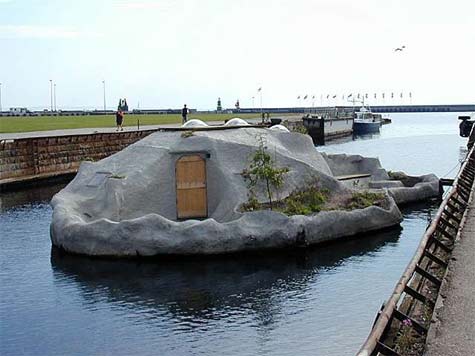 Kingston, Ontario, 5 April, 2005 ……. Row, scull, paddle, or drive your way to the founding meeting of the I000 Island Fun Rowers club. It's all about haveing fun on the water, in low cost, ecologically friendly, rowboats. Fun, friends, fitness all in one. It will be held at 2 p.m. on Sunday, April 10th, 2005, at The Portsmouth Tavern, 96 Yonge St, Kingston. All ages and levels of experience welcome. The best thing is, you don't even need to own a rowboat.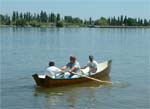 At least two home made 16 foot wooden row boats will be at the inaugural meeting: a three person skiff and a one person dory. Attendees are welcome to try them for a short pull in the Portsmouth Olympic Harbour.
You're in for a treat! Unlike a motorboat, a boat designed exclusively
for rowing glides with ease through the water. One pull of the oars, and these wood/composite hybrids glide 30 yards or more. But don't just take our word for it: you're invited to join us and take one for a spin
Experienced oarsmen and women as well as first-timers are urged to come over. Feel free to bring your own rowboat, canoe or kayak. Launching facilities are available free at the marina.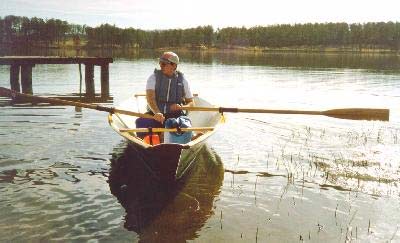 Rowing is excellent exercise and lots of fun. Almost without realizing it, the upper body, legs and abs get a thorough workout in constantly changing nautical surroundings. Doctors agree, fixed seat rowing is an excellent, zero impact aerobic exercise.
Kingston Harbour and the 1000 Island area is a wonderful venue for rowing, and all streams lead to many miles of discovery. From huge mansions to rocky islets, a silent rowboat fits in easily. The shallow draft of these boats permits the rower to glide near the shore, getting close to waterfowl and wildlife without disturbing them.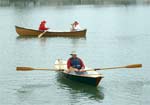 Come and join us at The Ports. It's a great location for launching light weight boats—with easy to use floating docks and lots of free parking. Everyone interested is welcome. (You don't need to be from Kingston)
Anyone under 18 must be accompanied by a responsible adult. If you take any size except XL, please bring your own life jackets. For more information, please check our group website. Ongoing meeting on the first Wednesday of each month in the Ports at 7 p.m.

How about these photos?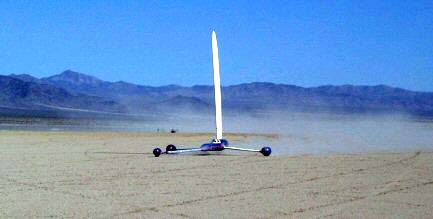 This is Iron Duck; a land speed seeker at Ivanpah Dry Lake south of Las Vegas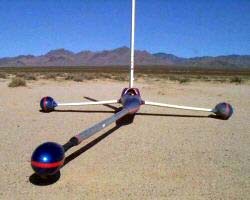 The other competitor of serious note is WindJet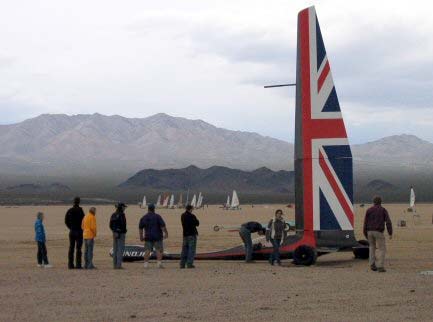 A landsailer crowd forms around Windjet as clouds darken the Nevada sky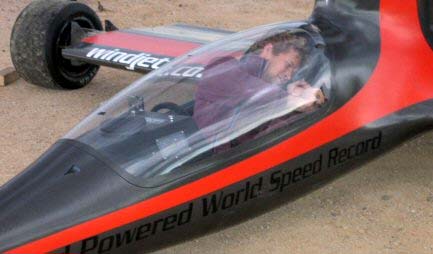 The current record is 116.7 mph from 1999
submitted by Chris Ostlind

New Bosch Miter Saw Laser-Tracking System
Accurate, Fast and Long-lasting
Mount Prospect, Ill. March 15, 2005 - Building upon the incredible success of its Miter Saws with Up-front Controls, Bosch announced its brand new Miter Saw Precision Laser-Tracking System. Accurate and fast with a long battery life, the following new models feature the system: 4410L 10-inch and 5412L 12-inch Dual Bevel Sliding Compound Miter Saws and 4212L 12-inch Dual Bevel Compound Miter Saw.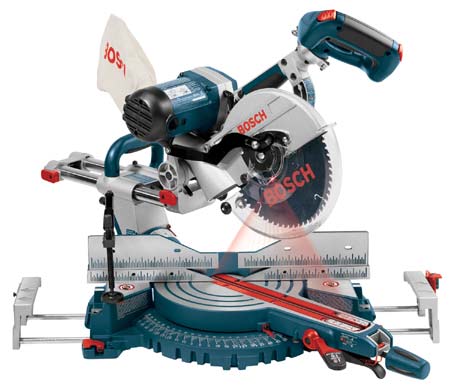 Serious DIYers, trim and finish carpenters, woodworkers, cabinetmakers and installers will appreciate the speed and accuracy delivered by the new Bosch arbor mounted laser-tracking system. Projecting a bright, thin red line along the blade's kerf, the Bosch laser is visible throughout the cut and follows the exact contours of the workpiece. With the highest visibility available, no other system can beat the precision and accuracy Bosch offers. Unlike competitive systems, the Bosch laser eliminates additional switches and conserves battery power by actuating with the trigger and shutting off when the blade stops.
The Bosch Miter Saw Laser-Tracking System is available as a feature on the following Bosch models:
· 4410L 10-inch Dual Bevel Sliding Compound Miter Saw
· 5412L 12-inch Dual Bevel Sliding Compound Miter Saw
· 4212L 12-inch Dual Bevel Compound Miter Saw
Currently unavailable as an aftermarket accessory, Bosch plans to make system available in the coming year.
The Bosch line of miter saws recently received numerous editorial rewards based upon its performance and innovative Up-Front Control features, which take the pain of reaching around the saw to make adjustments out of the equation. With the addition of the Precision Laser-Tracking System, these saws are the ultimate in precision, features and performance.
About Bosch Power Tools and Accessories:
Bosch Power Tools and Accessories is one of the divisions within the $1 billion, 4,000 employee strong Robert Bosch Tool Corporation, which is the North American branch of the largest power tool and accessory manufacturer in the world, Robert Bosch GmbH. Bosch provides a complete line of corded and cordless power tools and accessories engineered to survive any jobsite and allow professionals to take control of their work. For more information, call toll free 877-BOSCH-99 (877-267-2499) or visit www.boschtools.com.
About Bosch North America:
In addition to power tools and accessories, in North America the Bosch Group manufactures and markets automotive original equipment and aftermarket products, industrial automation and mobile products, security technology, packaging equipment and household appliances. Overall, Bosch employs more than 23,300 associates in more than 80 facilities throughout North America and reported sales of $6.6 billion in 2003. Visit www.boschusa.com.
###


2005 Contraband Days Regatta
Lake Charles Yacht Club
The Lake Charles Yacht Club will hold the 2005 Contraband Days Regatta on Saturday, May 7, 2005 on Lake Charles. This is the 2nd weekend of the Contraband Days festival. Guaranteed fun for all!
SCHEDULE: Saturday, May 7 8:00 am Registration in the club house
9:30 Skippers meeting in the club house10:30 Race 1
Lunch Break (Following race 1)
1:30 pm Race 2
Race 3 (Following race 2)
6:00 Trophy presentation
6:30 Dinner and party in the club house

Evening Fireworks on the lake
Notice: Sunday is reserved for make-up races if required.
RULES: The regatta will be governed by the current rules of ISFA as adopted by the USSA, governing class rules and by the sailing instructions distributed at registration. Scoring will be the low point system. No throw-outs. Regatta will consist of 3 races if possible. Races not completed on Saturday may be sailed on Sunday beginning at 9:30 AM.
PRIZES: Trophies will be awarded for each class.
REGISTRATION: Registration will begin at 8:00 am in the LCYC clubhouse. Fee is $25 and includes food and drink following the regatta. Registration is $35 if paid on the day of the Regatta. Registration form is included. T-shirts will be available for purchase.
FOOD: Free Coffee and doughnuts at registration. Party and dinner for participants and LCYC members begins at 6:30 pm. No noon lunch served. Many restaurants are nearby.
ACCOMODATIONS: Some wet slips are available on a first come first served basis. Contact the harbor master, Ken Abrahams, at 337-477-5483. Note: Water depth is limited at the Yacht Club. Free on site camping at LCYC. Many hotels are nearby but reserve early.
CONTACTS: For more information contact Ken Abrahams at 337-477-5483.
Or, e-mail at kabrahams@structurex.net , or Sheron Faulk Swoope or Robert Goodson at info@shiptoshoreco.com . For general information call Ship To Shore at 337-474-0730.
LCYC web site is: https://www.saillc.org/default.htm
ANTICIPATED CLASSES: Flying Scott, Sunfish, Portsmouth Cruising, Portsmouth Dinghy, Stiletto 27 and Multihulls.