I BELIEVE, I BELIEVE, I BELIEVE ...
"Peter and the Starcatchers" Sheds New Light On Peter Pan
Review by Joe Ditler
NEVERLAND -- What is this fascination with Peter Pan? Well, he never grows up, he hangs out with beautiful mermaids, and ... he has fun! Like Long John Silver, we never tire of his antics.
Those familiar with this truly wonderful children's story by J.M. Barrie know that Peter Pan lost his shadow. This just in: Dave Barry and Ridley Pearson have captured it and sewn it back on. Barry is a Pulitzer Prize winning humorist, and Pearson is an award winning suspense novelist.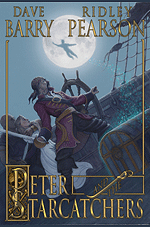 The two highly respected authors have teamed together to give us a new book called "Peter and the Starcatchers", which attempts to answer an entire treasure ship of questions that Barrie left unanswered -- not the least of which was brought to light by Pearson's young daughter Paige, who asked, "Daddy, how did Peter Pan meet Captain Hook?"
That's what usually happens when grown men get asked a question they can't answer. They write a book about it.
The two writers decided there were other elements of the original story that needed explaining as well, such as where fairy dust comes from, why Peter never grows old, and who he was before he became a hero? In fact, where the heck did Neverland come from, anyway?
"Peter and the Starcatchers" is a delightful and exciting prequel that answers all of those questions and more. Like Long John Silver in Robert Louis Stevenson's "Treasure Island," we can never get enough of "Peter Pan."
While the book is recommended for children 10 and over (many of us feel we qualify in that category) it's a fast-paced read about ships on the briny deep, pirates, treasure, hungry natives, and some children caught up in one big seagoing adventure.
We live in a world of sequels. Barry and Pearson ask the question, "why not a prequel?" And so, let those who live in glass ships cast the first stone at "Starcatchers." It rapidly soared to the top of the New York Times Best Seller list, and has taken the reading public by storm.
A new movie has just been released based on the life of J.M. Barrie, starring Johnny Depp, Kate Winslet, and Dustin Hoffman. It's called "Finding Neverland."
Even as Barry and Pearson are preparing to release more sequels and prequels (and a screenplay) about Peter Pan, London's Great Ormond Street Children's Hospital (owner of the "Peter Pan" copyright) is suing Disney (Hyperion Books), who published "Starcatchers" apparently without permission.
But none of that matters. If you are really worried about the outcome of J.M. Barrie vs. Dave Barry, clap your hands real loud and say after me, "I believe ... I believe ... I believe."
The book is delightful, and while lengthy (451 pages), the chapters are often only two pages long, which makes for easy reading for children of all ages and attention spans.
Many of the characters are immediately familiar, such as Peter, the mermaids, the Lost Boys, and Smee. But then a few more are added, such as Fierce Prawn, the Starcatchers, and the porpoises.
Without telling too much of the plot (although we all know how it ends, don't we?) "Peter and the Starcatchers" is a brilliantly conceived piece of work from a most unlikely duo of writers. The book is also chock-a-block with exquisite illustrations by Greg Call.
For more information on "Starcatchers," visit their very animated website at: www.peterandthestarcatchers.com
"Peter and the Starcatchers"
By Dave Barry and Ridley Pearson
Hyperion Books
452 pages
$17.99 (US)
ISBN # 078685445-6