| | |
| --- | --- |
| From the Drawing Board | |
By John Welsford - Hamilton - New Zealand

A "Virtual" Penguin

Thomas Hamernik had been a member of my builders group for quite a while, dropping the occasional question or answer into the discussions that go one there. Its been nice to have him, and as time went on the questions gradually became more specific to a type of design, and type of use.
He was interested in a trailerable cruiser that would suit his family, one that could be left on a mooring, that would be within trailerable beam for his state, that would not overextend his tow vehicle and a whole lot of other parameters.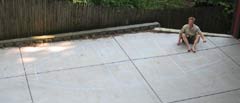 Tom sitting in the cockpit with his hand on a virtual tiller. That oval under his legs is the outboard motor powerhead.
We began a discussion off forum that began on the Scout design that I have in progress, but went on to consider the well established Penguin design which has a lot more interior space plus which includes a separate galley and heads, almost full standing headroom and a huge double bed in its own cabin.
To see just what this space would feel like Tom drew the boat's outline on his driveway. Here are some pics of what a "Virtual" Penguin looks like when chalked out on the driveway.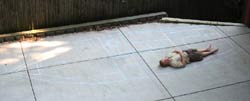 In the quarterberth this time, you can see that there is room to sit at the galley by Toms head and cook up breakfast while the crew are still abed.
It's a good idea, and seems to have done the trick for all members of the Hamernik family. He's bought the plans; watch this space for more pics as the chalk lines gradually turn into reality.
John Welsford
Designer.

Click HERE for a list of articles by John Welsford