Duckworks/Small Craft Advisor
- Design Contest #7

Class IV Everglades Challenger

DEADLINE - Midnight, December 31, 2006
Our friends over at "Small Craft Advisor" have, agreed to join us as a co-sponsor of our annual design contest for another year, as last year's Puget Sound Solo Cruiser contest was quite successful. The competition is a little stiffer this way, but we will all gain from the greater number of contestants and their ideas. The the details are shown below—good luck! —Editor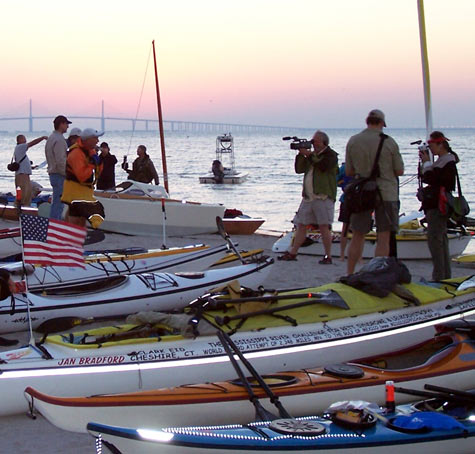 the start of this year's Everglades Challenge - photo by Bill Paxton
The Brief:
You are going to design a class 4 boat for the Watertribe Everglades Challenge. If you are somehow unfamiliar with this race, click this link to the Watertribe Everglades Challenge and be sure to check the navigation link on the left of that page for links to the Schedule, Required Equiptment, Charts, etc. There is an Article in the July/August Small Craft Advisor about the race. You may also want to review all previous articles on the event in Duckworks"
In addtion, here are some designs that have been presented as possible EC contenders. We present these not to suggest a direction for your efforts, but to merely show what others have done.
One reason I suggest all this research is that I am not going to tell you about the race, it's rules, or it's obstacles here. But be aware that there is a lot to be learned relevant to how your boat needs to perform.
What is new this year:
This year we depart from our wood-centric design parameters and will allow any material or process to be specified in an entry. This includes but is not limited to: wood, fiberglass, metal, plastic, paper mache, or any combination of these or any other materials.
The Rules:
The contest organizers are Duckworks Magazine and Small Craft Advisor.
All correspondence should be emailed to:

chuck.leinweber@gmail.com

or addressed to:
Duckworks Magazine
608 Gammenthaler
Harper, TX 78631, USA
The competition is open to anyone other than the following:
Previous contest winners
Professional Boat Designers
Career path Boat Design students who have completed 40% or more of their course
Entrants retain copyright of their designs or drawings. However, it is a condition of entry that the organizers retain the right to display at public shows, publish in Duckworks and Small Craft Advisor (including its supplements and associated publications, whether printed or electronic), in full or part, any submitted material, written or electronic.
Requirements:
Only one entry per person will be judged. Due to the number of entries we expect, and the fact that our judges are busy people who generously volunteer their time, we limit the volume of data that you may submit. Entries that do not adhere to these specific limits will not be judged. Note that these are maximum numbers and you do not need to pad your entry to come up to these levels.
Six drawings or sketches including but not limited to:

Plan view
Front elevation
Side elevation

20 line list of boat's statistics (measures, weights, etc.)
1000 word description of boat
These submissions may be made by e-mail or snail mail in electronic or "hard copy" versions. (NOTE: If your drawings are submitted on paper sheets larger than 8-1/2" x 11", you will need to send scans as well) Please do not submit handwritten text. Please make sure electronic submissions are hi-resolution (300 dpi at printing size) for possible reproduction in print.
Judging will be based on the following:
The suitability of the materials and construction methods chosen
The fitness of your design for this particular race
Creative solutions and original design ideas
Judging will NOT be based on your mastery of any boat design
software. We like to see professional looking drawings, but those will not get extra credit. What I am trying to say is don't fail to enter because your drawings are just pencil sketches on note paper. That will do fine.
The Judges: This year's judges know plenty about small boats and expedition-style racing.

John Welsford - Prolific designer John Welsford has logged thousands of miles cruising small boats, and his unique designs regularly compete in raids and races around the globe. Presently he's working with a client to build and prepare one of his 21-foot designs for an around-the-world voyage.

Don Rypinski - In addition to helping develop the Olympic Finn, Kite Dinghy and Pacific Catamaran, small-boat designer Don Rypinski once sailed a high-speed land yacht across the Sahara desert (1800 miles) while making a documentary for National Geographic. Today Don owns Back Bay Boatworks, and builds of a successful line of trailerable multi-hulls, including the speedy Triton Trimaran.

Steve Isaac - Who better to judge a boat's suitability for the Everglades Challenge than the man who started the event--Watertribe founder Steve Isaac. In addition to competing in his own grueling adventure race, Isaac has gained real insight into what works and what doesn't by personally surveying each and every craft that has entered.