... Plus a part history of The Lipton Cup and other long
forgotten sailing issues in South Africa.
© Roy McBride
Part 1
This story starts in 1934 and in Sweden. A young Yacht Designer, Knud Reimers, then only around twenty six years old had just designed what was termed a Cruiser Racer and at just 27 feet long was neither too small or too large, at a pinch it will sleep four persons.
Astra was once one of Cape Towns most successful race boats, well documented over the years. As often happens with any wooden yacht that has seen a long and hard sailing life, age tells in the end. Being what is termed Carvel Planked, plus having steel floors inside to both tie the Mahogany Planks on steam bent Oak frames together. Those steel frames also supported the one ton lead that was her keel. Over the years the steel rusted away and gaps started to show in her tops sides. A succession of owners tried in vain to keep her watertight by means of cotton caulking, that in the end was a waste of time and Astra sank at moorings at the FBYC, Simonstown, South Africa. She was all of sixty one years old by this time.
| | |
| --- | --- |
| After three weeks submerged, a combined club and commercial party raise Astra on July 3rd 1994 | |
She was raised by FBYC (False Bay Yacht Club) members and after a number of years of little or no action, was eventually placed on to a makeshift trailer and taken out of the club's own boat park into the Municipal Car Park, which was close by. The Traffic Police then gave the club thirty days notice that she had to be either moved or disposed of. It was now just a matter of time if she would be Chain Sawed into small bits of fire wood, or taken out and set on fire in the bay.
This is her story as known to the person who took on her complete restoration
Circa 1934
When word came out about this new boat design, the yachting world took notice. At the time the late Uffa Fox, Sailor, Designer and a personal friend of the British Royal Family in his 'second book' stated that the design was way ahead of its time. This was enough to spark a lot of interest in Knud's new boat and it was soon to be found being built worldwide.
Dimensions
| | | |
| --- | --- | --- |
| LOA | - | 27'3" |
| LWL | - | 21'10" |
| Beam | - | 6'3" |
| Draft | - | 4'4" |
| SA | - | 215 sq ft. |
| Displacement | - | 3965 lbs (51% lead) |
| | |
| --- | --- |
| Loading complete, we head out of the False Bay YC and Municipal Car Park, in Simonstown. May 1997 | |
This was first in Knud's native Sweden, then France, Germany, even Australia but Astra, known to be hull number eight, and out of as many as one thousand, built over the years. Astra was most probably built in Sweden, when she was then shipped out on the deck of a Norwegian Whaler, to Cape Town, South Africa. There she was first owned by Mr O (Ollie) Hoien-Halls, a renowned character in the club at the time. We also know that Astra was imported via Norway. The boat was a gift from Ollie's wife. The ship arrived in Cape Town in June 1935 and given that the passage will have been a reasonably long one, plus the time it takes to build such a yacht, it is probably fair to assume that Astra was built in 1934, if not, very early 1935. These were the years when Harry Pidgeon was doing his second world navigation on his five ton, 35ft Yawl "Islander". He had been then sailing single handed for some sixteen years and when interviewed by a reporter on arrival in Durban, he was said to almost tongue tied due his lack of practice at talking!
In that early part of Knud's design years, he was having some success with his ideas being accepted. One well documented story is of a Rear Commodore from the Chicago YC, Mr Henry Babson, contacting Knud to say he was interested in discussing the new design possibly to be used as a 'One Design' for his club in the USA. The Rear Commodore planed to vist Knud when he was visiting Sweden soon.
This would have been exciting for the young designer but it gave him problems too. Understanding the importance of such a visit, Knud booked a table for lunch at one of Stockholm's best hotels, the Grand Hotel. He then used what little money he had to entertain his visitor. The meeting was closed by the commodore with a mention that he would contact Knud at some later time. True to his word, he did. Only this time the Rear Commodore from Boston, USA, was going to pay the bill for entertaining Knud, as the Rear Commodore was in London at the time. A telegram was sent to Knud who was still in Sweden: could he make the trip to London to discuss his design further? And if he could make the trip, all his travel and accommodation costs would be paid for him. So replying with an affirmative Yes, off goes Knud to London.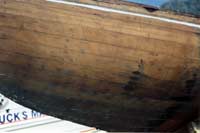 The condition of the Honduras Mahogany planks at each end of the boat were fair but the strains placed on those planks in the boat's center by the rigging loads, had, over time opened the boat up. The various owners had tried many ways to fix them, one being cotton caulking, not the best idea as that would allow the planks to move and was very much the reason I decided to cold mould the boat.
| | |
| --- | --- |
| Many hours of hard work eventually brought the day when the actual repair could start. It was a simple double skin of 3/16" (4mm) Ockume marine plywood and epoxy. | |
What was actually said is not known but as Knud Reimers passed away only recently, he may have either written it down or have told someone. It would be nice to add to this story if anyone knows. What we do know is that from that meeting in London, Knud returned to Sweden with the promise that he would hear from Henry Babson again. What followed, over time, was a steady flow of telegrams from Babson, then one with a first order, then another. Eventually some thirty-six Tumlarens were ordered and shipped out to the Chicago YC.
| | |
| --- | --- |
| This is Mike getting stuck into what was quite a job. Removing sixty plus years of paint with stripper and a scraper. The actual timbers being quite sound in themselves but the entire unit being a little fragile, so a layer of ¼" (6mm) marine ply and epoxy was applied to the outer skin. | |
Once in Cape Town, Astra was to become one of the 'Royal Cape Yacht Club's most famous racing yachts and this is possibly borne out by a choice of picture that the late Bill Rabinawitz used in his large hardbound book, 'A History of the Royal Cape Yacht Club', first published in 1995. The very first page has a picture of three yachts sailing in Table Bay. In the background is Table Mountain and the city as it was then, in the foreground are three yachts, one of which is Astra, the others are Acushia and Parrergon II - Sail number eight and the class logo on Astra can clearly be seen in this picture. The writer is fortunate to have a signed copy of this volume, as presented to him at presentation at the RCYC, by Bill himself. Little did I know at that time, that I would use Bills wonderfull book to research the history and eventual restoration of Astra.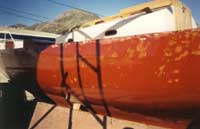 Astra now has her new decks and restored original coachroof back on, waterproof inside and out for the first time in decades. Originality was a very important part of the job, as many deck beams that could be reused were rebuilt and placed back where they came from. If you look closely you can see where we have sanded right through the 'International Paints' etch primer. This type of primer is really easy to use and does not clog the sandpaper at all.

Credit: INTERNATIONAL PAINTS, Cape Town, donated all the paints used in this restoration, that's a 100% free supply, when and where we required them. For this I would like to say a very big "Thank You!"

My first connection with Astra was around the time she was raised from her watery grave and on top of her mooring block in Simonstown Bay. That will have been about 1995 after she went down - she was sunk for three weeks. The committee formed to take over the boat when her owner, Gordie Kholer, made an offer to give the boat to the club, if they would promise to fix her. With my connections in the Marine Timber Trade I was asked to supply Mahogany lumber. Persons involved with the boat being saved were Gary Barker, FBYC diver and the club's yard manager; Captain Wallace Bradley, or Brad for short, plus many others unknown to myself.
The Astra committee had regular meetings, they even get a trust fund open but two years down the line nothing at all has been done, plus some parts of the boat's gear had by now gone missing. At one time a Tramp was living in the boat! It was very fortunate that Brad had taken a lot of the boats gear to his home, he had the mast and boom too, the spinnaker pole having been stolen from inside the boat.
At the annual Traditional Boat Regatta at the V&A Waterfront, Easter 1997, a full display board was set up by the 'Save Astra' Committe showing Astra's state and an offer that it can be yours for free but you must fix the boat as part of the deal; there were no takers! This was a period when I was between boats and had moved our new Dix 43 plywood/epoxy hull and deck to the Hout Bay YC Boat Park. Having no boat of my own over the years before that and this Easter weekend, I normally either borrowed a Traditional Boat for the weekend, or stayed on a friends. It was this for reason that Jean ,my wife, never saw the board offering Astra. She would discover it for herself the following weekend.
Back in Simonstown when Astra is finally parked out in the car park next to the yacht club, the local traffic police politely take exception and give the club 30 days to move her. It was the weekend after the Easter TBA regatta that Jean and myself went to Simonstown for a breakfast. We then wnet for a walk around the yacht club. When we saw Astra in her sorry state, very much to my surprise, Jean says to me, 'You could fix her easily!' I have to say that given our own program building a 43 ft yacht of our own, I would never have taken the task on without Jean's approval. The reason for this is that once I take on a project I am then committed to its completion. This is not always as easy as it sounds, of course.

At the time, I was remembering the sad days back in 1976 or so when, due to a shortage of available moorings at the RCYC, old boats were being bought at very low prices, just to allow access to the Trot Moorings they occupied. If someone had a large boat they would buy one of the old Thirty Square class race yachts. What happened next was one of the saddest things I have had the displeasure to witness.
Lifted out by the club's fixed crane, they were laid on their sides, then a gang would attack the hull with a chain saw until all that was left was the boat's lead keel. That was then taken to 'SA Scrap Metal' in Salt River, a short drive away, and sold on. It was all so very cost effective at the time but what of the boats they were cutting up?
HAPPY SAILING!!
Roy McBride, founder www.ckdboats.com

Other articles by Roy McBride: