| | |
| --- | --- |
| Flapdoodle | |
Design by Bill Weller - USA
New... a high quality DIY folding sail dinghy. What's more, you can build it your way. Bill Weller has produced plans in easy to navigate HTML format that give step-by-step instructions plus customizing options along the way. There are over twenty pages of instructions and dozens of photographs and diagrams to help even a novice builder.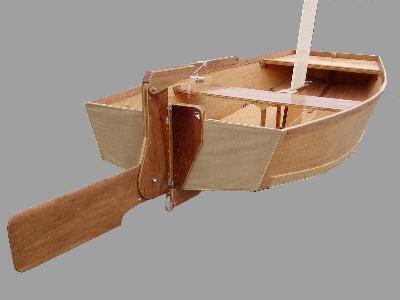 The boat has options for the sail of your choice - or none at all
Mr Weller started this project about six years ago and and finally has plans ready to sell. The availability of PVC laminated cloth was key to making it work. The name Flapdoodle Dinghy was given to it by his 80 year old mother.
Designed after 6 years of research and testing to be as simple, rugged, and painless as possible.
The classic hull shape leaves hardly a ripple at 5-6 knots with a 400 pound test load.
Triple hinges on the folding panels; metal, and rugged PVC cloth laminated to Dacron.
The PVC fabric is readily available in any color including metallic and glow-in the dark.
Unique positive locking system joins the transom, skeg, and rear seat into a solid unit.
Solid center seat for strength and ease of construction.
The dagger board is tilted to the rear to prevent scooping water under power.
Convenient, inexpensive wheeled skeg.
No special tools required.
No need to built a form to shape the hull.
No special things to order.
Folds to about 4" thick.
Length 7'10", Depth 16 1/2", Beam 47"
Light enough to carry the folded part under one arm.
The dinghy is mostly composed of hardwood plywood, but has some hardwood pieces. It folds down flat about the size of a surfboard and the main body can be carried under one arm. Open, it becomes a rigid 7'10" x 4 foot beam dinghy of classic proportions. It could be built for about $300; much less if desired by using the construction options.
Flapdoodle is modular. Repair or modify it later if you wish.
Daggerboard a building option.
Change the seat or deck width, or shape.
Choose full-featured, or simple and lighter weight.
Plans are in a 2.4 megabyte set of zipped files in HTML format that are sent by e-mail and contain:
Very detailed instructions in 21 easy to follow chapters.
Links guide you through the building options.
195 how-to photos and drawings
Construction hints
Bill has a background as an Engineering Technician specializing in design of automated manufacturing equipment.
For more information or to purchase plans go to:
https://www.duckworksbbs.com/plans/flapdoodle/