| | |
| --- | --- |
| The KD860 | |
Hello Chuck
It is some time ago that I wrote to you. As a keen reader of your unique magazine I admire the enthusiasm of your writer/readers a lot.
In the meantime I finished the design of the KD 860. A 28 ft long cruising catamaran. Again in the plywood/glass/epoxy system. I believe I found, with this design, a good compromise between creature comfort and efficient sailing behavior. Through the low silhouette of the boat, she will also sail well when reefed down. With a draft of only 0,4 m (rudders up) the boat can enter harbours and coves a lot of boats with the same length can not enter. But the boat will go to windward like any good mono hull.
This is our smallest offshore cruiser. A seaworthy fast cruising catamaran for a family of four. The performance of this boat will be exceptional on all courses to the wind. To make sure of this, the boat is light and has a low streamlined profile for windward performance. The study plans include diagrams for speed prediction and dynamic stability, so you can see for yourself.
The hulls have the proven trapezoid cross section of the PELICAN. For windward performance the boat has anti-vortex panels. These work a lot better as low aspect ratio keels and are not as prone to damage as boards. Besides, why spoil one of the best advantages of a multihull, low draft, to enter coves etc a keel boat never can enter? For an explanation how these work go to this article.
| | |
| --- | --- |
| The study plans include diagrams for speed prediction and dynamic stability, so you can see for yourself. | |
The boat is, like all our boats, of (ply)wood/glass/epoxy composite construction. Any handy amateur can build this boat without difficulties or surprises. Construction time will be around 1200 hours.
Designing a catamaran in this size is a challenge if you don't want to end up with a floating caravan.
I used our practical experience with our Pelican to design this boat.
The maximum height in the central cabin is 1.48 m. I found the solution for reasonable ergonomics by using 3 entrances. To step in the hulls, the port or starboard entrance is used. The central entrance is very convenient to step in the central seating area. As shown in the drawing below, there is ample seat height in the central cabin. There is standing height (1,95m) in the hulls.
The trapezoid shaped hulls have a fine entrance. The length to beam ratio of the hulls is 1:11. This will guarantee a fast boat.
The boat is relatively low with good aerodynamic properties. Even with shortened sails the boat will go to windward. A factor often forgotten. There is sufficient room for four persons for extended voyages.
CONSTRUCTION
The boat is designed in a way that even first time boat builders can build the boat without difficulties. All 32 CAD drawings are to a scale of (1:1). A 32 page description will aid you building the boat. All our 26 years of experience designing boats for amateurs is flowing into this design. We chose again plywood as basic material for availability world wide and cost efficiency.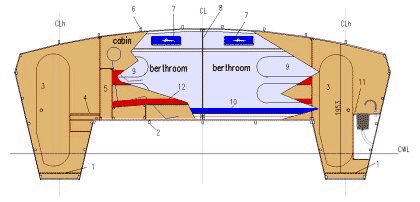 Legend
1 - floor
2 - bridge deck stringer
3 - door
4 - chard table /navigation
5 - book/instruments shelf's
6 - deck stringers
7 - hatch 450x380 mm
8 - vertical mast bulkhead 12 mm plywood
9 - lockers
10 - two persons bunk
11 - pantry
12 - U settee for up to 6
Plans are delivered as E-book, 32 pages description and 32 1:1 CAD drawings - $320
Study plans consist of 16 pages and include 10 pictures, a short construction description table of contents of the plans and the list of materials - available for $15
https://www.ikarus342000.com/P86page2.htm