| | |
| --- | --- |
| Wanderer Update | |
By Bob Throne - Willow Grove, Pennsylbania - USA
Note: This is an update of Bob's Pocket Cruiser concept article of a month ago. Once again, Bob seeks your comments
A few days after posting a draft on Duckworks I quipped in an email to my son "Yesterday I couldn't spell 'naval architect', today I are one". Well I've certainly not become one since, but the design has been massaged and tested and worried over to the point that I am increasingly confident that it's worth building and will suit my needs. There had been a half dozen drafts prior to January; there have been another four since .. and at least a dozen variations on the Carleson Hulls program. It's been quite a learning curve, but entirely satisfying both in the technical and personal sense.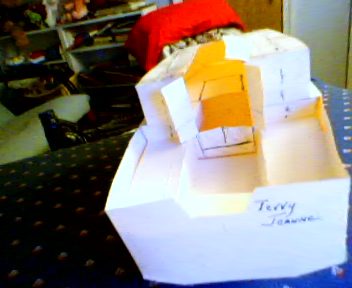 Much of that satisfaction has come from the input and coaching from folks along the way. All 15 or 20 who commented on the original Duckworks article were helpful. Thank you! I've had a great time!! I was tempted to go with a kit or plans from a proven design and I did compare more than a dozen, putting them side by side in my browser tabs and printing and measuring their drawings. I gave thought to each of you comments and I learned much. I also benefited from input from Fred Shell of Shell Boats in Vermont (followed a lead on a Swifty 15 kit and might have bought it if it had been within driving distance) and Paul Fisher of Selway-Fisher whose Lynx 14 & 16 were likewise tempting. In addition, three people generously offered more thorough feedback. Scott Widmier shared his building and sailing experience, including a phone call, especially with his Stevenson Pocket Cruiser. Gavin Atkin swapped several insightful emails with me and got me using the Carleson hulls program, opening me up to more precision and data than this old head would have got to. And John Welsford shared a half dozen suggestions in the name of "market research". He has so many clients these days that I'm lucky he found the time.
I have also read through Teale's book, plotting my work on the many charts and using several calculations, and have read both Jim Michalak's and John Welsford's how-to books, as much with an eye towards construction as design. I purchased a set of Scram Pram plan's, too, to see how it's done. To all these folks, and to Chuck Leinweber - Duckworks - for opening the door to them, I am most appreciative. Folks have been helpful and friendly .. and I now start every day with Duckworks. This said, the drawing below is entirely on my head .. I've made lot's of decisions balancing one thing against a couple of others - it's the nature of the process.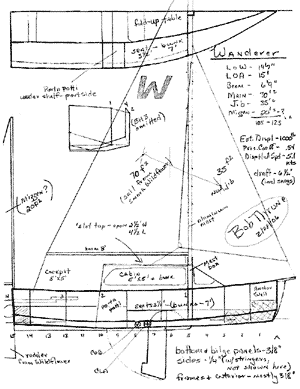 Drawing - click to enlarge
All boats since the second log was tied to the first have a heritage. In my head, at least, "Wanderer" emerges from the Stevenson Pocket Cruiser (the broad beam), Michalak's Scram Pram (the Birdwatcher) slot top, and John Welsford's lovely Navigator (some aspects of the hull shape - don't cringe, John - and the bottom up building approach). Here's a recap of many but not all of the considerations:
the cabin roof is 3" lower than my first rough drawing (and it slopes slightly to each side and forward);
there is much more rocker, and the hull shape yields acceptable figures .. It will move through the water cleanly and head up in to the wind on it's own if need be (thanks here, especially, Gavin and John);
the mast is moved back a foot and a one foot bow sprit enables me to get more sail power;
that's a big floor-to-roof mast box and I think it will have only the forestay:
the cockpit and cabin seat supports run down to the lower chine line, adding strength (as before);
single handed it sails from the cockpit - folks aboard sit on low (13") seats in the cabin to keep the weight low and forward .. I'll see if I need any sand bags in front of the mast when I'm by myself;
there is a single off-center board (wood, not steel) hinged outside the bottom and blending into a starboard skeg to the stern, with a matching skeg on the port side;
there are two bulkheads at either end of the cabin and six frames in between (the bulkheads; on the drawing are the stations in the Hulls program):
the ample windows (probably Plexiglas) are meant to make the view from cabin pretty close to being in a day sailor - but enclosed and dry;
plus the option of closing the that big roof slot and dropping the table to make two seven foot long bunks for occasional over nights;
there is a sealed flotation compartment in the bow and the cockpit lockers will be tight for more buoyancy:
with that rocker on the bottom comes a move to 3/8's there to get that bend
3'8's bilge panels, ¼ sides but with stringers which don't show on this smaller drawing;
I'm still dithering about the mizzen .. I'd like a bit more power, the trimming flexibility, and the help heading up into the wind if necessary .. But it's two more lines to handle by myself and something I've not done before;
the aluminum mast will be filled with foam and I'm thinking a ball/vane flotation on top (went turtle just once years ago - don't need to again);
with these changes my hull weight estimate is a bit lower - maybe 450 lbs - so I ran all the numbers at 800 lbs & 1200 lbs … it's a bit faster and slower, respectively, but still has a righting moment of 950 to 1150 lbs .. don't know about self-righting, but pretty steady.
I'll order that jib from Duckworks, and the Mizzen if I use it, and build a roller furler
There will be a strong electric outboard off the transom and a mount for 4-cycle for calm weather cruising on larger lakes .. can leave the sails off occasionally
In the cabin: a portta-potti will slide out from under a waist high shelf on the Port side and a simple pan sink will fit in to that shelf a similar shelf above the Starboard board case can hold a one or two burner stove if I want, and there is storage under the seats extend under the deck to make ample 7' bunks for those occasional overnight trips .. lots of storage underneath the table folds and store against the mast box.
So, it is on to construction drawings (partial), buying wood, glass/epoxy .. and build!
My drawing skills are pretty modest but Mike Mulcahy's modified 'Philsboat' comes pretty close to my vision. The Wanderer cabin will only be 5' long (with the bunks extending under the decks as so often seen), The slot stops at the mast and the roof opens/closes via two hinged pieces. This leaves a 5' cockpit; comfortable room for two, though guests will usually sit in the cabin. Those big windows make for great vision from either the cabin or the cockpit. Mike's report "sealed the deal" for me, giving elegant expression to the vision.
I was thinking two years - launch Summer 07', but I've got a pretty good head of steam up and after I get my garden in, who knows. Right now it's still too cold to get out & set up the strong back so comments are still welcome .. we'll call it the boat that Duckworks designed if Chuck & Sandra will let us. Thanks again to everyone.
Bob Throne

Editors note: You may reply to Bob in the comment feature below if your remarks are 100 words or less (he will get an email copy) or you may write directly to Bob at: revBob87@excite.com