| | |
| --- | --- |
| Something Useful | |
by William R. Watt - Ottawa, Canada
Here are five photos which may be useful to some of your readers
who are interested in small boats.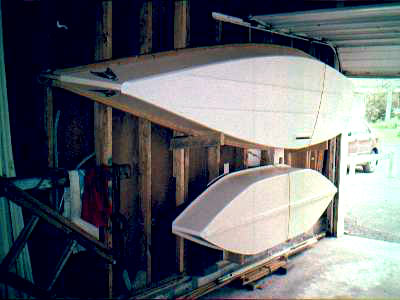 The first, (above), shows one way of storing plywood (playwood?) boats (DogSkiff 1999, Loonie 2001) on a garage wall. Daggerboard and paddles are behind the boats between the wall studs. Spars and other accessories are underneath on blocks raised off the floor.
The four photos below show a discarded child's bicycle wheel installed on the DogSkiff for moving it around, a slightly different arrangement than in a Duckworks article earlier this year.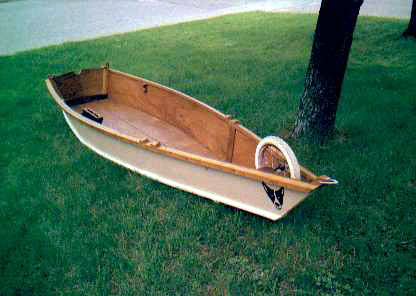 The first photo shows how two hardwood blocks were shaped and drilled to attach the wheel to the gunwales at the bow. Unfortunately there was not sufficient clearance to go over rough ground.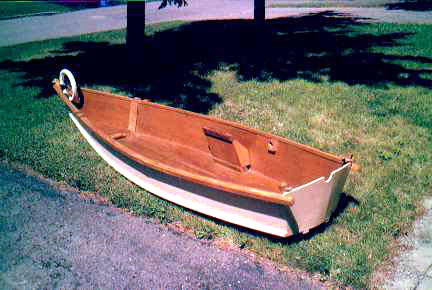 The second photo shows the blocks raised above the gunwales on pieces of plywood to increase clearance. This has worked fine. A straight stem would allow the wheel to be installed more forward with better clearance. Note how the gunwales extend beyond the transom for handles.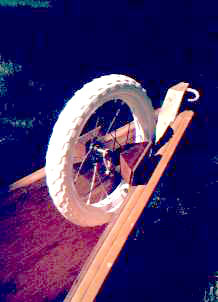 The third photo gives a closer view of the wheel. It has been cleaned and painted. The tire is solid rubber so it won't go flat.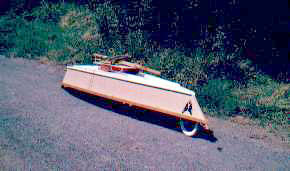 The last photo shows the boat with it's sailing rig tied on being wheeled down a path to the water.
Wm. R. Watt,
Ottawa, Canada