| | |
| --- | --- |
| Mexico | |
By Lee Martin - College Station, Texas - USA
Having just returned from 5 weeks in Mexico with my Dovekie, I wanted to mention a few things while they were still fresh in my mind.
Katie and I took our second trip to San Carlos, Sonoro. That's on the mainland side of the Sea of Cortez, about a 1 day drive from Nogales, just below Tucson, Arizona. This is part of the new "free zone" and requires no fees and very little paperwork. It took us 10 minutes to fill out the immigration form and get stamped. That's all there is. As long as you stay in the free zone you don't have to register your car or boat with the officials.
Sign seen on the road to San Carlos.

(click images for larger views)
The highway south, Mexico 15, is as good as I-10 through Louisiana if not better. Gone are the old days of potholes and broken axles. There are only 2 big cities on the road to San Carlos, and you by-pass these. The gas stations are abundant and new, with good gas that no longer requires extra filters. All gas is the same price, so no worry about small town or out of the way prices. These stations have clean restrooms. Each has a convenience store, much like our 7/11 or Circle K stores.
| | |
| --- | --- |
| We took a side trip to Baja by ferry and bus. Very scenic and unusual. We took a Panga trip to view grey whales. Pretty impressive. | |
San Carlos is a very modern Mexican city with mostly gringos living there. The marinas, grocery stores, Doctor offices are no longer 3rd world-they are most definitely 1st world. I went to a Dr. who spoke perfect English, was as good as any U.S. doc and charged $50 for an extended office visit. The grocery stores are on par with any U.S. grocery.
| | |
| --- | --- |
| | Pangas - native fishing boats. |
The marinas have floating docks, clean restrooms and all modern facilities. The workers are friendly and happy to have you there. We were told that May/June are the months to be there. The winds are moderate and the fishing heats up. Although you can't beat the Feb/march time frame we were there for Whale watching, sea lions and seals. The birding was quite good.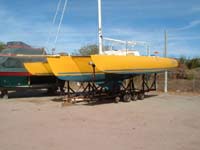 This is Norm Cross's own home built boat, "Crossfire". It won every major race it ever entered when Norm owned it. It still looks fast. It's sitting next to another famous Cross, "DEFIANCE", also an old-time race winner. Found them sitting in the marina Seco in San Carlos.
Don't go to San Carlos expecting the flavor of old Mexico. This area has been inundated by yankees. You're in Mexico, but just barely. This has good aspects, however. Everyone speaks English, you can eat out of the taco stands with no fear. The ice is made from treated water and the restaurants have a more familiar flavor.
| | |
| --- | --- |
| | Picture of Texas navy flag on Dovekie in Mexico. The Texas Navy fought five battles with the Mexican navy and won them all. |
Life is good in San Carlos!!! I recommend, without exception, that any first timer or old hand hook-up the boat and head there. The sailing is great, prices cheap, and the new Mexican regulation sooooo easy. What a place to spend the cold months. Lee

Other Articles by Lee Martin: