| | |
| --- | --- |
| The Unlikely Voyage of Jack De Crow | |
Book Review by Michael Birch - Southport, England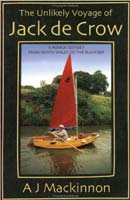 The Unlikely Voyage of Jack De Crow
Author: A.J. Mackinnon
Paperback 352 pages (July 2002)
Publisher: Sheridan House
Language: English
ISBN: 1574091522
We all love and dream of adventures with our boats, a lot of us who love Duckworks build our own boats and have adventures building and using them as well. This book is an adventure indeed. It is written by a man who appears to be naive in a lot of ways but as you progress through the story you realise after a few throw away remarks, that he is a seasoned world traveller, with the fortunate ability to attract unlimited help.
This is a charming story told in an old world, English style, as you'd expect from an English teacher well versed in the classics. He starts the book by explaining how he arrived at the name of Jack De Crow, a minor tale in itself and then continues explaining how he came up with the idea to take a short cruise on the river Severn to Gloucester.
His exploits from the very beginning are fraught with mishap and the way he tells the story, really funny. He had me rolling with laughter in quite a few places. In brief he finds an old Mirror dinghy and unearths it from the grass and weeds cleaning and painting it. He then, without a great deal of planning, puts it on a local canal and sets off rowing and sailing. His aim is to get off the canal at some point and get onto a small brook in the Welsh borders. (If you've read the tale of the pole punt in Poland, published in Duckworks, you'll get the picture) Following this little stream which eventually joins the river Severn, he makes it to Gloucester.
He then doesn't want to end the voyage and carries on to Bristol – then Bath then – London – then – then –etc to the Black Sea.
His descriptions are sometime dreamy and lyrical but the story is an affirmation of how kind people can be. It's nice to know that some people are still like that in our modern world. The first part of the book I found thoroughly entertaining, I got the impression in the second part of the book that he felt he would bore the reader with more descriptions of his adventure. A pity really, I liked his style. For what it's worth I'd recommend this book to anyone who likes a gentle read and a good laugh.
Get it from Amazon.