What is foremost in my mind is that I have seen novices reduced to tears by the difficulty and danger of trying to control a powerful high aspect rig. Having spent the time and effort to build a family cruising yacht, the family doesn't want an air of fear and frustration. Hence my attitude was to design yachts which go very efficiently under easily serviced 4-stroke outboard power, and get builders mobile as an affordable motor cat adding sail to taste. We are not talking about a conventional fishing power cat, trailerable, 25 x 8 feet with high deep hulls. and twin 200 HPs on the back giving 45 knots and scoffing juice like Billy Bunter..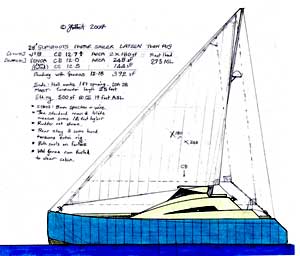 28' Gumboots Motorsailer with Lateen Rig
click image for larger view
In the Gumboot 28 case we are talking about longer lower and wider. Sail cats motor well, and tris even better if you can afford a sail drive with feathering or folding prop. We have
standing & elbow room galley (2 burner, sink and big chopping board at cooks height),
A self composting head in a sealed ventilated aft room with a shower big enough to dress in, & a sink,
an office big enough to work in,
a double bed and twin capsize bunks,
a warm lounge-viewing-navigation pilothouse where 4 people can eat or play cards,
a sheltered 8 x 6 cockpit, and 4 stowage holds.
Having built all this (or the smaller Alleycat) you can spend 20k on sails and come home from your first sail shattered, disillusioned, and angry with the designer. Or you can say - "hell I'm about stuffed I'm going to forget the daggers, rudders and rig for now and motor for a season". You'll be on a mooring and surrounded by other far more expensive boats. Off to Ebay for a 4 stroke motor from 15 to 60HP, or the dealer and drop it in to the cockpit nacelle, hook up the wheel in or outside or both. Or use the tiller thru the door where the nacelle joins the cabin.

You can now overcome windage and tide, clear your mooring and motor for 50 nautical miles on a jerrycan. You can learn the local waterway, where the winds blow, when & how hard, how the bar works.You will have a great time and any reluctant members of the family will be converted or seasick, at least you'll know. You can get to know & charge your electronics and how your boat handles, practice "person overboard" drill and check how much lee drift she has. You can check how she takes steep waves and balance her.

You can cruise about economically, and accumulate a tender with a motor big enough to act as an emergency main. A modern 6Hp is ideal, weigh 25kg and use 1/2 gal per hour pushing Gumboots at 6 knots. You can set up a bracket for it on the rear beam, and stow it in a hold. (Alleycat is its own tender but you could use a spare light motor, even an electric with a bracket so you can run it thru the dunny hole in a storm.)

In these boats you can cruise at 10 miles in an hour on an American gallon. and depending on the engine a top speed of 12 to 20.

You'll have a great time and be real glad you built the boat.

As you cruise people will want to look her over. You say sure but I'd like to look at your rig. Do so At the yacht club you'll find racing keelboat types who change rigs like we change clothes. They will possess discarded rigs with masts "too heavy" and sails ditto. Some hardly used. The owners wont want much, the gear will be stuck in shed roofs and out in the yard. Inspect it closely, measure it up and post the dimensions on the JGBuilder's group with Urgent in caps. I'll see if it works., calculate speeds for force 2, 3, 4 , 5 and 60 percent of capsize windpeed. Replace all wire if you use it.

As Gumboots/Alley barely need boards and the dagger design will be flexible, you can set a second hand jib and main on the huge mast step area provided, raising it on a halyard box if it wont clear the pilothouse. If you buy it off a local they should be curious enough to come out and help you tune it

Or you can build wooden, or adapt a couple of alloy 20 (Alley) or 25 ft ('boots) masts to set up the twin raked splayed "lateen jib" rig. You can sew sails or flip over second hand genoas.


I also should point out that if a conventional rig borrows from aircraft theory (half a plane on its side) then this is the equivalent of a delta wing. Its notion is to obtain the necessary lift area while decreasing the wingspan (mast height). This makes the plane more aerodynamic, or in the boat's case makes it easier to motor upwind. Without a slot effect (low aspect blade jib directing high speed spillage around the outside of the main to create low pressure) this rig isn't going to point high but that's the thing - you'd only choose it for a motorsailer. Gumboots (like most cats) presents so little frontal area at such narrow angles that it can be driven directly upwind efficiently under power, instead of clawing your way upwind at 40deg tacks, with the bows being blown off course every time you come over a wave. You'll go a hell of a lot fatter in Vmg going straight upwind using a gallon an hour than you would with the best of rigs. Even if your course isn't directly upwind I'd consider motoring straight upwind for an hour, so that the rest of the days sail might become a fast beam reach. It's very like cross country skiing to a higher point - you take your downhill skis and catch the lift to a higher point than your destination, then enjoy a days downhill skiing instead of a days slog.

You'll also notice this rig has a separate forestay so you can drop the furled sail to the deck, coil it up and put it in the fore-hold, still attached forrd if you wish. It would also be possible to rig a small battened beach cat main on each mast if you cant live without them.
The rig is not dissimilar to what Volvo Ocean Racers (VOR) do when they break a mast - they rig a lateen (usually no 2 jib ) off the boom or mast stump. It gets them home, often at 7 knots, but its far under standard sail area. It is used because its easy to rig and control, and it does the job. The longest sail edge is controlled and you can de-power, drop the sheet without hurting the rig Most ocean Multihull capsizes occur because sailors can't get to the rope cleat quickly enough to let go the sheet - they can't de-power the rig before the gust puts the rope clutch out of reach as hanging on becomes a priority. . .

I think it would be possible to use light battens parallel to the forestay (luff).. I also think the TLJ would work best if the foot and leach were equal length so that the stay is close to 45 degrees and the sheeting angle is constant no matter how much you roll up the windward jib. Because of the incredible wind pressure the rig can take without lifting a hull sails should be cruising dacron or even canvas. Other possibilities are stowing a jib and hoisting the other on its "wrong" mast, thus angling the rig up to 40 degrees across the boat.
A sophisticated version would see the tack on a forebeam traveler and the head on running tackle between mastheads. The fore and backstay could go thru a masthead block so that each rig could be tensioned by tightening the backstays, and bending the masts slightly. Note this also tensions the mastheads which are slightly inboard of the hull C/Ls/. The mast steps are 4 feet from the cat CL and the heads are at 7 feet.

It would be incredibly efficient to hang the foot of the lee genoa right outside the hull so that the clew is lashed to the boarding step. Every last puff coming across the boat (usually at 45 degrees). One of the biggest losses of power (and sources of annoyance) is the high speed wind funneling thru the space where the humans are, between the sails (usually the boom) and the sea or cockpit.

Jeff Gilbert 2007.

Other Articles by Jeff Gilbert: