| | |
| --- | --- |
| One-Sheet Baby Canoe Part 4 | |
By Gaetan Jette - Sherbrooke, Canada
Part 1 - Part 2 - Part 3 - Part 4
Finish and Launching
This is the last part of this series, where we will finish the boat and launch it at last!
When it came time to paint the boat, I ran into some problems. The epoxy primer I used had an awful smell. I had no choice but to apply the primer in the garage, and then move the boat back in the workshop for sanding, once that primer was fully cured and the smell had faded enough.
Unfortunately, it is hard to move a boat around through doors without banging occasionally on door frames. Because I used softwood for gunwales, these were damaged a few times. Had I known better, I would have used hardwood. Softwood is called that way for a reason, after all. I may be too perfectionist, but when it's the second time around you have to repair dents in the gunwales, and the boat has yet to be launched, that's less than ideal.
I had two choices, either learn to live with it, or make tougher gunwales. The thought of removing all that work and redo it all again was not appealing to me, however. Time for a compromise. I decided to try to cover the outwales with fiberglass cloth and epoxy, and leave the inwales as is. The keel was made from softwood, covered with fiberglass and epoxy, and it had not suffered any visible damage while moving the boat. Covering the outwales would protect the most exposed softwood when moving or using the boat.
Getting the fiberglass tape to fit snugly around a gunwale before coating with epoxy is no picnic, though. If I build another boat someday, I'll use hardwood for the gunwales right form the start: it saves a lot of time and trouble.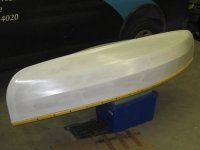 Two coats of epoxy primer were applied both inside and outside. It turned out I had the wrong thinner for the job: that thinner was for spray painting and evaporated too quickly for paintbrush use. It was nearly impossible to achieve an even coat. This meant more sanding and this stuff seemed even harder to sand than cured epoxy.
Doing the seat that way is an idea I picked up on a free plan (the Redwood Canoe) available on the Svenson website. This site offers lots of free old boat plans that I found interesting to look at.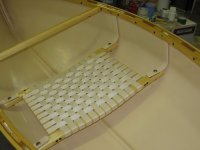 The seat frame is attached to the seat brackets with 5/16-inch stainless steel carriage bolts. The seat bracket holes for the carriage bolts had been squared with a file prior to painting. You can see the flush connector bolts on the gunwales. A piece of rubber is placed between the seat bracket and seat frame to protect the surface from damage when tightening together. It also helps to smooth out any small angle misalignment between the seat brackets and seat frame.
Printing the boat name. Those are full sheet, adhesive plastic film labels found at good office supply stores. You have to use a laser printer for this: the ink from inkjet printers is water-soluble. The blank on the right will allow to paint the background the same color as the inside of the boat (Bristol Beige), for a better contrast. The printing was done at an angle in order to maximize the letters' size.
It took a while before I chose a name for that boat. One day, while on sanding duty, I was listening to a Suzanne Vega CD and there was this song CALYPSO that I liked, but had never really paid close attention to the lyrics. I googled the name. In the Greek story The Odyssey by Homer, Calypso is a queen who kept Odysseus captive for seven years before Zeus orders her to let him go. She even helps him to build a ship.
This boat project has kept me very busy for two years. So there was a fitting parallel there. Plus I liked the sound of the name. I read somewhere that when building a boat, eventually a name will come up at some point that will just fit. It did so for me.
I was hoping to cover the boat name with a protective clear coat. Trouble is, most clear coat sprays tend to dissolve the ink of that boat name. I learned that the hard way. After doing a torture test with a screw blade on a sample, it seemed that this laser ink was probably as tough as paint. So I left it bare. To apply the label, you first wet the area with water using a sponge. The water allows to adjust the label once applied, before you commit to its permanent position by driving the water out with a squeegee.
When came the time for the official launch, I looked at the price of champagne for christening the boat. It made the price of epoxy sound reasonable...almost. I settled for sparkling wine.
People who have seen the boat so far have all complimented me on her looks. So at least that part of the design is a success. After the official boat launch, we had only one nice Sunday before the winter cold knocked at our door. This was mid-October (2006). You can't really expect more for this part of Canada.
Epilogue
I thought this instalment would conclude this series. Unfortunately, as I'm not quite a wise paddler, one outing in Spring 2007 turned into a real torture test for the boat. This caused some serious damage that will require some repairs and a few modifications. As I am writing this, this work has yet to be started.
TO BE CONTINUED...
---
REFERENCES
Suzanne Vega: Calypso, from the album Solitude Standing, AM Records, 1987.
- This is the song that inspired my boat name choice

Homer: The Odyssey, circa 800 to 600 BC
- I must admit I have only seen TV adaptations of this story, as my knowledge of ancient Greek is nil.