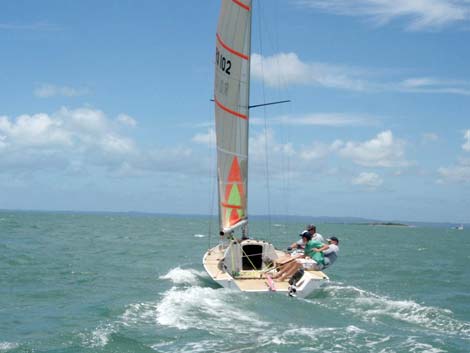 The i550 is a simple to build Sport Boat which will deliver outstanding high performance.
Specifications
| | | |
| --- | --- | --- |
| Length | 18 feet | 5,5 meters |
| Beam | 8 feet | 2.45 meters |
| draft | 5 feet | 1.55 meters |
| draft bd. up | 10 inches | 25.4 centimeters |
| Displ | 775 lbs. | 350 kg |
| Keel | 165 lbs. | 75 kg |
| Sail area | 236 upwind | 592 downwind |
| SA/D | 44.75 upwind | 112.5 downwind |
Have you always wanted a performance sportboat, but didn't have a performance sportboat wallet? The original i550 was created for the MicroTon class, and has since been upgraded and redrawn as a one-off sportboat for fleet racing.
It's ease of building for the amateur builder with "stitch-and-glue" method ensures a light, solid hull, and a quick build for even those with NO boat building experience.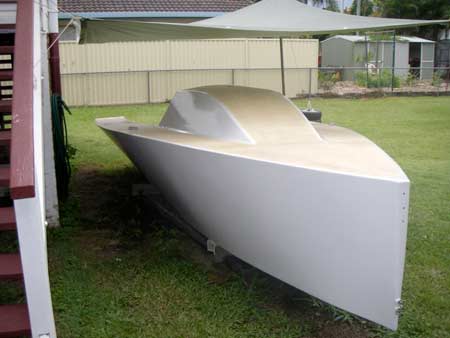 Due to it's simple construction method, there's not much to the construction process. The whole thing can be cutout, and "stitched" together in a weekend. The construction process is fairly simple and straightforward; The wood panels are cutout and "stitched" together in a string jig to keep the boat symmetric. Once the boat has been stitched, the open hull is left right side up, and the seams glued with glass tape and epoxy. Frames are set in the boat, and taped with epoxy in place. The whole interior can then be epoxied and finished before adding the decking.
Decking comes next, then the hull exterior itself. The boat is still light enough in this stage that it can be easily turned over with the help of come friends. The bottom faired and finished and the hull turned back upright. Rigging is added, and any interior details come next. Sounds simple? That's because it is. Total build time is typically about 200 man hours.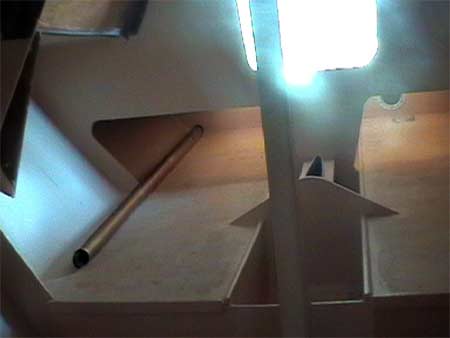 There is room down below for simple accommodations, and "camp style" sleeping. Plenty of room on deck ensures comfort both up and downwind. A bulbed keel gives stability and righting moment while allowing the boat to keep dinghy like performance.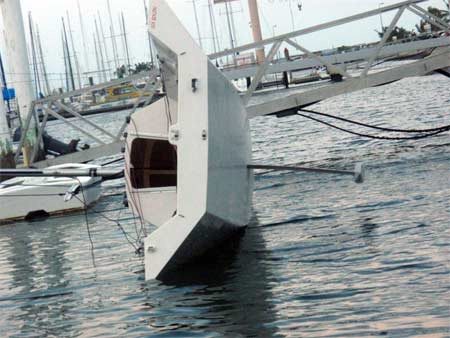 The plans pack consists of: Construction Notes, Suggested Bill of Material, profile, plan and section views, nesting diagram, hull panel diagrams, frame diagrams, interior piece diagrams, keel and keelbox diagram, rudder diagram, cabin trunk diagram, deck layout diagram, and a rigging diagram. The plans pack is all A sized drawings in a easy to work with binder. Plans include both the standard, and extended cockpit version.
The rig can be obtained through a number of sources. We've put together a rig package for North American builders available upon request. Additionally, we plan to offer hull kits, and keel bulbs in the not so distant future. Check back soon for more information.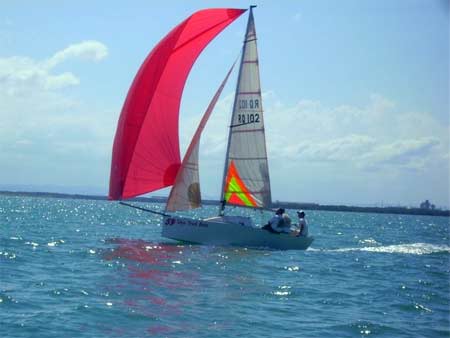 This boat has been built in 3 sizes, ranging from the i550, to the MG25, to the MG30. Plans are currently being redrawn for the latter two models and will be available soon. There are also a number of other designs coming; a smaller 15 foot sportboat, that is in the works, check back in the coming months for more details on these projects.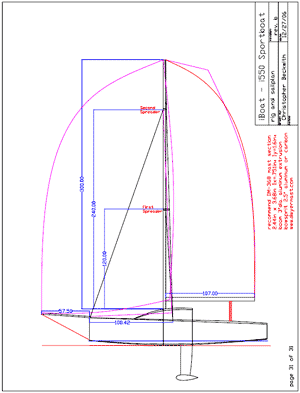 click image above for larger view
This is a great way to afford a high performance sport boat at a fraction of the cost of other offerings of this type of sailboat.
If the builder is resourceful it can be sailing for less than $5,000. If the builder uses all the best brand new sails, mast, hardware and a trailer it can be sailing for $9,000.
It is fast, speeds in excess of 16 knots are quite possible!
Several of the photos in this article were submitted by Andrew Clauson in Australia. Andrew built the boat in a few seasons time, and will be racing other 6m sized sportboats. For more information on Andrew's project you can visit his website at:
https://tokyotrashbaby86.tripod.com