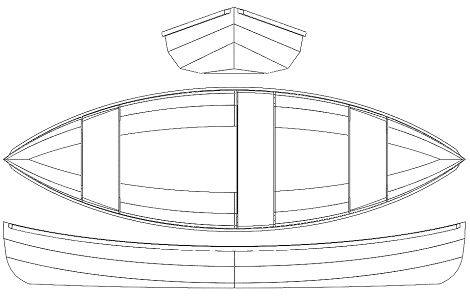 In the 1940s and 1950s, Walter McInnis was known as one of United States' leading designers of large power craft. Also an avid fly fisherman, McInnis desired a small row boat to explore streams and other shallows that power boats could not get to. He designed the "voyageur's bateau" as a hunting and fishing row boat as a replacement to the standard canvas canoe.
The hull was to be light enough to cartop by still large enough to be stable for fly fishing and provide the capacity to haul out deer and other game.
We modeled our McInnis Bateau to stay as to true to McInnis' original design as possible while making the most economical use of modern materials.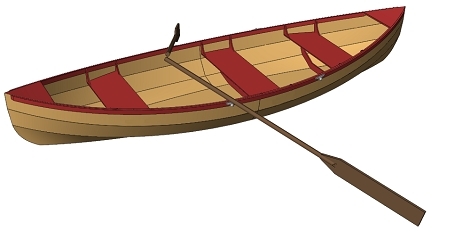 The design features a symmetrical hull shape which means the boat is the same front and back. This makes drawing and cutting out the panels easier and also offers predictable performance on the water should you need to change direction.
The double-pointed-end, canoe-like, design will allow quiet and efficient movement through the water. Rocker is minimal on both ends making this row boat more suitable for lakes and streams rather than large, open water.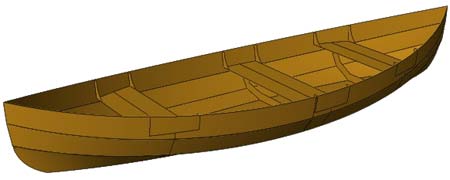 There are 2 rowing positions to accommodate for solo rowing and also taking passengers along. Tandem rowing would be difficult with this design.
The hull is assembled using the stitch-and-glue method of building. This method is very user friendly. While the design is easy enough for a careful first time builder, we recommend considering a simpler project like a pirogue or boat-shelves first.
| | | |
| --- | --- | --- |
| Overall Length | 12'6 | 3.8 m |
| Max. Beam | 46" | 117 cm |
| Height at bow/mid/stern | 22"/14"/22" | 65/36/65 cm |
| Recommended maximum weight on board | 800 lbs | 363 k |
| Estimated weight* | 65 lbs. | 30 k |
*Weight of hull: Hull weight will depend on chosen build options, quality of materials used and skill of the builder.
Always wear your Personal Floatation Device!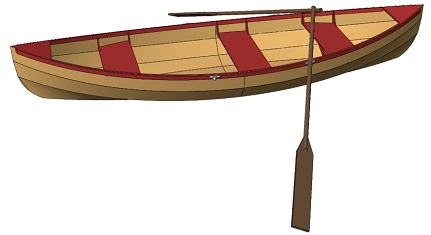 Cost to build start at about $350-$400 and goes up depending on the materials selected.
The hull will required about 65-85 hours to complete. These times are rough estimates and will vary according to the skill of the builder. Please note these are "hands on" hours and do not include the time waiting for epoxy to cure.
Visit our Customer Service Forum to ask questions or see what others are saying about this design.
Simple to follow, detailed drawings of each part with all dimensions required to layout and cut from flat plywood sheets.

Nesting drawings for the best plywood layout with all panels clearly labeled.

Drawings list

Specific and highly detailed building manual for this boat. 42 pages in all!

Bill Of Materials.