| | | |
| --- | --- | --- |
| Length Overall | - | 7,60m - 24' 11" |
| Beam | - | 2,50m - 8' 2" |
| Draft (keel up) | - | 0,31m - 12" |
| Draft (keel down) | - | 1,70m - 5' 6" |
| Sail Area | - | 32,5m2 - 349 sqft |
| Weight | - | 1384kg - 3,048lbs |
| Max Load | - | 525kg - 1,156lbs |
| Ballast | - | 387kg - 852lbs |
| Engine | - | Bukh DV7 ME - 7HP |
Whoopi is a small "modern classic" daysailer designed for th eClassic Boat 2007 design competition - "A Boat for Grandad Jack". The requirements were published in the April, 2007 issue. To the basic design requirements I have added a few more points in order to focus on a boat very simple to build and sail.
The boat can be used for:
Daysailing - locally exploring estuaries and beaches
Overnight Cruising - camping on board, anchored
Racing - Yacht club weekly race for classic boats
Her length has been selected to take advantage of max allowed dimensions for the under 25' class (7,600m); designing short overhangs a LWL around 7 meters has been achieved.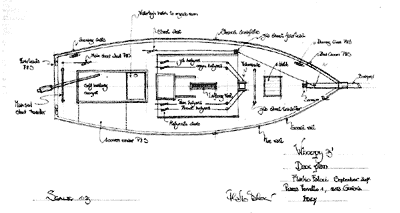 A maximun beam of 2,500m has been chosen to meet the rules for trailering as well as for best use of 4 x 8 plywood sheets.
A bit more than one meter of hull depth seems to be the best compromise betwen internal accommodations adn low hull windage.
Aiming at exciting surfing performance, the maximum length/displacement ratio has been fixed at 150. For a waterline length of 7 meters, the loaded displacement should not exceed 1900kg.
For good upwind performance, a sail area to displacement ratio of around 15m2/ton has been chosen. In the interest of light weather performance, the coefficient of sail area to wetted surface exceeds 2.20. The sail area will be around 30m2. For outstanding downwind performance, a 50m2 asymmetric will make ten knots possible.
A V-bottom hull has been selected for its simplicity and as a nice side effect, a hard chine aft will help high speed planing performance. Hull deadrise and rocker have been optimized for a Froude number FN=0.32 (or -in other words - between five and six knots), aiming at a prismatic coefficient of 0.54, and a longitudinal center of buoyancy (LCB) between 2 and 3% aft of amidships. Topsides flair has been shaped for the best compromise waterline beam, reaching a good balance between reduced hull wetted surface adn good stability sailing. A nice sheer has been sketched for good looks as well as a drier bow.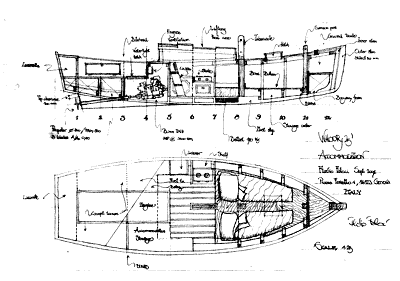 The basic layout is simple. The cockpit is long (2,400m) enough to provide - with a tent over the boom - extra sleeping space should it be needed. The footwell floor is well above the load waterline and it will be self draining. The deck house is low with an average width of 1,5m. The cabin is very simple with room for two to sleep and live. Locker space is provided under the bunks and under the forward deck.
The rig is simple and easy to build and manage. A solid mast without spreaders will be fitted. A gaff mainsail and a self tending jib will be the standard rig for cruising. An Asymmetric spi and an overlapping genoa shall be hoisted for racing.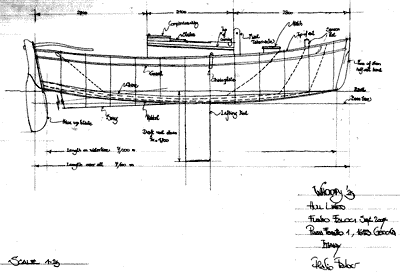 The keel slides up and down in a case which is open at the cabin top. The rudder tilts easily with aq cord that runs to a cleat on the wooden long tiller. There are three reasons for using kick up appendages:
The boat can be easily loaded on a trailer
Raising keel and rudder she can be left on a tide mooring
The keel can be build as a steel box, filled with lead nd faired with wood (easy and cheap)
Keel to sail area ratio is around 3% - typical of modern fast daysailers. Maximum draft with teh keel down is about 1.7m - a bit more than the average for this size boat. There is additional internal ballast under the cabin sole around the keel case.
Teh hull is traditionally build using marine plywood and dimensional wood (Douglas Fir). Everything on board has been nailed or screwed - there is no epoxy; no stitch and tape.
The engine is a Bukh DV ME - so rugged that it is one of the most used on lifeboats. With 7 horsepower it shold be able to push Whoopi at almost 7 knots.
I built a 20:1 model of Whoopi.

See Flavio's entry to our Design Contest #6 - Dodo