Anyone who sails a small boat for any length of time will almost certainly be overtaken by bad weather at some stage. With the wind howling and the waves building, we often wonder: "How seaworthy is my boat?" There is no question that some boats survive bad weather better than others, even allowing for various degrees of experience among their crews. But what makes one boat more seaworthy than another?
We can't answer that question, of course, until we define the word "seaworthy." Experts agree it's a nebulous term that does not lend itself to absolute definition.
It's almost easier to define seaworthiness for sailboats intended to cross oceans than it is for boats designed to sail on rivers, lakes, and coastal waters. Seaworthiness for world cruisers means the ability to stay afloat, remain watertight, and keep crew safe in the worst conditions of wave and weather. It includes the ability to beat off a dangerous lee shore in heavy weather.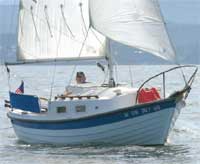 The Heavily Ballasted Skipper 20
Displacement and Inertia
Seaworthiness for boats that do not stray so far from land is a little different because they can often run for safety and reach land before wave conditions become too dangerous and before fatigue sets in among the crew.
Naval architect Ted Brewer says in his book Understanding Boat Design (International Marine): "Obviously it is unfair to compare the seaworthiness of a family daysailer with that of an ocean racer, and an outboard fishing boat does not need the seagoing ability of a bluewater motoryacht. However, all boats must meet a certain level of seaworthiness to suit their particular purpose, and they can and should be compared with others of their type."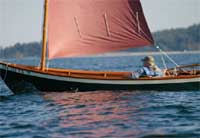 Designer Warren Jordanís 15-foot Footloose Skiff favors simplicity. John Kohnen and his Pickle pictured.
Simplicity
The type we're concerned with here is sailboats displacing no more than 3,500 pounds that are regularly trailered for afternoon daysails or weekends afloat. And what we're looking at is their ability to perform safely in the sea areas and weather conditions for which they were designed. They should be able to cope with the conditions found in the protected and semi-protected waters typically frequented by trailersailors.
The accompanying quiz can't give you a definite verification of your boat's seaworthiness but it will certainly indicate its relative fitness for its designed purpose by comparison with other types of boats. And remember, it's up to you to find out what your boat's designed purpose is, and to sail it within those parameters.
Elements of Seaworthiness
How Seaworthy is your Trailerable Sailboat?
The quiz (click image at left) will give you an indication of the seaworthiness of your trailerable sailboat of not more than 3,500 pounds displacement, used in areas and weather conditions for which it was designed. In general, that means the conditions found in the protected and semi-protected waters typically frequented by trailersailors.
We take it for granted that you have a conventional rig such as a sloop, a ketch, or a yawl. If you sail a small cutter, a schooner, a junk, or something more exotic, you'll have to play this game by ear. We also assume a reasonably normal ratio of displacement to waterline length and overall length. In awarding points to various characteristics, simplicity of design and operation has always won out over other considerations.
Choose one answer from each section, except where otherwise
stated.
Incidentally don't jump off a cliff if your boat doesn't come up to your expectations. There are certain to be seaworthy designs that fall through the cracks in our quiz.
What we hope is that taking the quiz will make you think more deeply about the many factors that constitute seaworthiness in a small sailboat, and pursue them diligently. Try to figure out why certain aspects of boat design earn more points than others, and discuss them with fellow boaters. Finally, we hope a good score will bring you improved confidence in your choice of boat and greater pleasure in sailing her.—John Vigor
There are a number of variables in our seaworthiness test, but here is an example of how three small boats with seaworthy reputations might score. For the sake of comparison, we've given each boat full credit for safety gear and reefing options and assumed their skippers were thoroughly experienced. Put your boat to the test and see how it compares. —Eds
| | | |
| --- | --- | --- |
| | | |
| The Drascombe Lugger: 134 | The Cape Dory Typhoon Weekender: 170 | The Santana 22: 182 |