By Duckworks Readers - all over the place

Despite constant distractions I have managed to spend some time in the shed and I think even you will see that progress has been made. The transom has been attached. The centercase is now firmly glued/screwed and bolted into place. The stringers have all now been attached with only the top 40x40 to fit before I begin lanking.... WHICH I AM LOOKING FORWARD TO!!!!
You will probably notice that I have found the BEST CLAMPS to use has been ROPE!!! I will though start painting the inside of bouyancy tanks etc and floor as I plank as that will be easier access.
Regards
Robbie Powick
New Zealan

Little Hunk
Here are some more photo's of my Little Hunk project. It seems the stuff I thought would take the least amount of time is taking the longest amount of time.
I have fitted the bunks,the front seats,the rear seats,the engine well,a friend of mine is making the cushions,I will be carpeting the floor and fitting all the trim,then it will be time to start painting.Once all that is done it will be time to fit the engine and controls.
Regards
Chris Nichols
Sydney Australia

How not to do it...
... especially in front of the yacht club.
submitted by Bruce Armstrong

They Broke the Ice Up
Last weekend we went to visit the kids and grandkids in Fairbanks. The snow was about gone there (We still have quite a bit.) but the melt-off in the borrow pit had about 3/8 inch of ice on it. The kids wanted to play with the canoes anyway so they broke the ice up and had a ball. Here's a couple of pictures.

Evan Hardman
Glennallen, Alaska

Goodies
Hi Chuck,
I can't believe it's been two months since you sent me the block, building brass and other goodies. Two of the pictures are of the block temporarily fastened with my "carpenters anchor" I told you about.
The other two we just took this morning as I finally got far enough along to flip the boat upside down to fiberglass the bottom. My bending to get the brass strap to fit to the stem is somewhat less than professional, but it works. Also, it took drilling the holes way off for the sheave to convince me to purchase a drill press for the next set of holes that are supposed to line up. My little 10 oz. ball peen hammer couldn't smash enough of the brass rod to cover my reamed out holes and I had to get a harbour freight 20 oz one.
I want to get some graphite for the bottom after fiberglass and wanted to find out if your graphite is compatible with West System epoxy. Please let me know and I will place an order. I am so grateful for all the help you, your wife, your forum, and your website have been to me in my first boat project.
Thanks,
Jim Kinzer

Low Pointy
Hi Chuck,
Here are a few shots of the low profile Pointy Skiff I finally finished.
Its nice and light (about 70lbs.) Just in time, I'm taking it up to the Sylvania Wilderness tomorrow.
Best,
Jim Hauer

Dorma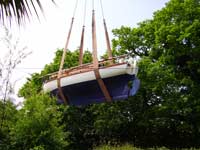 I have a pal who has just refurbished a 1930 Hillyard 24-footer and who keeps it along the creek from our little 19ft plastic cruiser. The boat, Dorma, is near the boatyard that does a lot of work on old fishing smacks, and she's among a lot of very beautiful old boats that you could not but admire. He's done a damn fine job, I have to say. I've attached a pic of it being craned over his house.
Gavin Atkin


Aber
Here are some photos of Paul Truscott's new boat on launching day. We need to carry out some rig adjustments, but the day was successful. I've just finished building her, and she is of glued-lapstrake planking using 6mm BS1088 Ochume (I never know how to spell that word) ply. She is an 'Aber' designed by the French Naval Architect Francois Vivier - principal dimensions are 4.30m x 1.48m (14ft 1-1/2in x 4ft 10-1/4in).
Sail area is 9.7sq.m. (104sq.ft) and the rig is a Dipping Lug. On this first outing we found that the sail does not need to be 'dipped' when short tacking, but for optimum performance (and with a capable crew) dipping would be desirable. I also think that we need to move the main halyard block to the forrard side of the mast to get the yard forward a bit for better trim.
The framing is a series of half-frames which also carry the thwart risers. There is built-in buoyancy forrard and aft, along with full frames.
The hollow mast is made from Hoop Pine (Bird's Mouth system) and the solid yard is laminated up from Silver Quandong.
There are quite a few construction photos on my website www.baysidewoodenboats.com.au under the 'Projects' button, but I need to update the section with extra pictures.
We are currently building one of my 'Flint' designs, and have a Stitch-and-Glue version of 'Phoenix III' under development (in the design stage). She is not the same shape as 'Phoenix III' but will use the same rig, centerboard, and rudder etc - the hull is a bit wider and she is of a simplified shape (narrow flat bottom and two strakes per side, similar to many Phil Bolger and Jim Michalak boats). I'm hoping to build one of those next, but we will see.
Ross Lillistone


Crash!
submitted by Bruce Armstrong


Greek Model Ship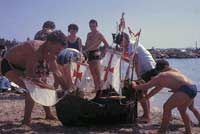 My father is busily scanning slides into his computer. I've come across one picture that seemed a good fit for Duckworks. It's a fairly large wooden model of a Spanish tall ship on the beach.
This was taken in 1967, probably at Glyfada, Greece. It seems to be very heavy, but Dad says they did launch it and let it float about, powered by the wind. He doesn't recall what sort of control mechanism may have been used, probably a line, or a boy swimming along side.
Dave Urbanek

Skiff America 20

These photos taken today show how the front bunk cushions are stowed during the day so that people can walk forward without putting their dirty feet on the cushions. I think that is rather slick. The forward drop board also stows between the cushion and the strap. That too is a neat solution.
The boat is 9 years old and still looks new. No maintenance other than some little touch ups. Nothing inside the cabin necessary to this date.
Murphy had a great time on the river. He is a very safe dog and wears his life jacket always.

Kilburn


Winnisimmet and Honcho
Today was the first day of sea trials for Winnisimmet and Honcho, two of David Nichols' Indian Girl decked canoes. It was overcast, with drizzle and a cold east wind, but Emily, Christopher, Captain Elvin, Rugs and Captain Papi took the two canoes out for their maiden voyages. Initial reports were nothing but praise for the ease of paddling, turning and great stability. Even Captain Elvin who been known for an unsuccessful Eskimo roll in the kayak was impressed. Captain Papi even stood up and did an Irish jig while the canoe was underway. We're looking forward to seeing everyone at the "official" christening and launching on Fathers Day, June 17th.
Richard Honan