I have been working on the Amphibian design, and it is complete as far as the basic concept is concerned. As previously mentioned, this will be all electric powered on land and in water, and will hold one occupant. A later version will hold two people, a little wider, a little longer..
Attached are some photos of the completed model, one tenth scale, and the layout drawing showing the major features of the design.
The vehicle is tentatively named E-PHIB, short for Electric Amphibian. Its intended use is for fun around a pond or small lake, or just a spin around town. It will travel on land, sans the water appendages, at about 15 MPH, for a distance of 15 miles, when fully charged. It will be powered by a 600 watt 24 volt scooter motor. Later, larger motors can be retrofitted, if desired. On water it will go at hull speed, which is about 5 MPH, powered by a 12 volt trolling motor head. Water distance should be about 8 to10 miles, round trip.
Driving into the water from a ramp should pose no problem. However, the tires are relatively narrow, and could get stuck in loose sand on a beach, if not careful.
The entire vehicle is made of plywood, 1/2 inch for the frame members, and 1/4 inch for the body panels. The only exception, of course, is the steel mounting brackets for the wheel assembly mounts and the steering pinion and supports. Even these are easy to fabricate from stock materials.
At this writing this is more than a design exercise, as I intend to build E-PHIB over the winter months. I have selected the power plants, batteries, controllers, guages, and body/hull materials. Only the wheels and tires remain to be reasearched.
There is ample room for three 12 volt deep cycle batteries, and a charger. Depending on the weight of the driver, the batteries can be shifted fore or aft for proper balance in the water.
There is also ample room for gear, such as a life preserver, bottled water or tool kit in either the bow or stern sections. On land there is small storage areas behind the driver, enough for a couple of grocery bags.
This design can be developed into a real utilitarian vehicle for cottage owners, or for those living on the waterways. Although it could function in ocean water, corrosion would pose a large maintenance problem, it is not recommended.
Specifications:
Land Vehicle

One occupant
8 feet long
4 feet wide max (over wheels)
3 feet high
125 pounds, without batteries
Can fit in the bed of a pick-up truck (gate down)
20 MPH max speed (downgrade)
15 miles travel distance (round trip)

Water Vehicle

One occupant
12 feet long
6 inch draw (plus 6 inch for wheels)
12 inch freeboard
5 MPH
10 miles travel (round trip)
The vehicle has front wheel brakes (disk optional), and steering is performed by twin steering levers on either side of the driver, actuating the rear wheel, which is also the powered wheel. I call this the "UniWheel" design, in which the power and steering are performed by the same wheel. The 3 wheel layout allows for easy travel over very uneven surfaces. Again, future designs will incorporate spring/shock suspension an all 3 wheels. This first vehicle is a proof-of-concept project, but should provide a fair ride and a whole lot of fun.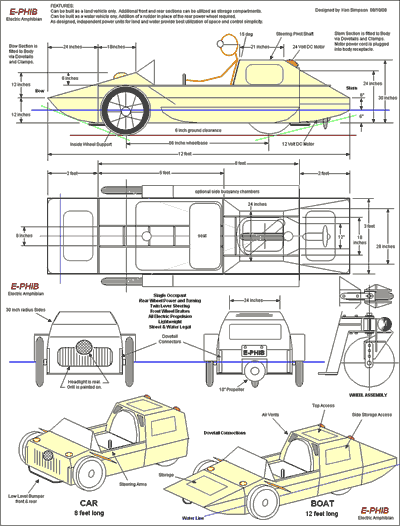 click the image above for a larger view
The design of the vehicle was determined by a couple of things: First, it had to be easy to build. It had to provide maximum buoyancy in a small amount of space, and it had to be safe to operate. All controls are simple; throttle on the right steering lever, brakes on the left steering lever. The dashboard contains a bicycle speedometer/trip meter, amp gauge, volt gauge, power on/off switch and trolling motor power switch. Varying the trolling motor speed is done by the actual motor speed control switch relocated to the right (or left) side of the driver.
Building the E-PHIB in 3 sections allows for easier storage (the body can stand on end when batteries are removed) easy transport and possible future options. There will be a time when it's use will be primarily around town, not on the water, so why carry the extra bulk. Although the 'looks' of the land vehicle could use some improvement, it does take on a 'Jeep' utility appearance, and works well within the confines of the design. Once fully assembled, the boat version has a cutting-edge look, and should perform well in the water, given it's low center of gravity and centrally mounted heavy batteries. There will also be an optional flip-top that will act a a sun shade or rain protector.
| | |
| --- | --- |
| | |
As the building of E-PHIB progresses I will keep you up to date with new pictures and revisions, which are sure to develop. If others are interested, I will gladly communicate with them regarding the design. The most difficult item to construct will be the powered rear wheel assembly, which includes the steering pivot shaft. The choice of materials and assembly strength calculations (twisting, turning, shock and wear) will prove most challenging.
If you have any questions please do not hesitate to ask, as I need all the direction I can get.
Best Regards,
Ken Simpson
*****
More Articles by Ken Simpson: