Ozarkian
OZARKIAN, DRIFT BOAT, 20' X 4', 200 POUNDS EMPTY
I do a "retro" design every now and then, an old design redone with modern techniques. Max Wawrzyniak sent me a wonderful copy of the article "Ozark John Boat" by Townsend Godsby, printed in the "Sports Afield Boatbuilding Annual" in 1956. I live on the edge of the Ozark Mountains right now and have seen have seen some of the beautiful streams mentioned in the article. These are small shallow rivers, clear and beautiful, that slide and riffle over clean gravel beds at about a walking pace. In the summer it gets really hot around here and it is still a happy way to kill time to float those rivers in aluminum canoes. In popular spots you could swear you could walk across the river by stepping from canoe to canoe, your ears treated to the sounds of birds, rippling water, and laughter, all to the beat of canoes crashing into each other. The Ozark jon boat predates the aluminum canoe by quite a bit, Godsey's article quoting a builder that had been floating the river as a fishing guide in his jon boats since 1900 and even then the design was well established.
The traditional Ozark boat is in some ways better than the aluminum canoe. For one thing it carries a huge load, being 20' long, 4' wide, and having a dead flat bottom. It is a drifting barge. Godsey gives the basic use: load with fishing guide and "sport" and gear to float 125 miles from Galena to Branson, Missouri, (first home of the mythical Jed Clampett), in five days. No motor, just a paddle for the guide to steer with. At Branson it all got shipped back to Galena (just 24 miles away by land) by rail for the next trip. In the old photos the amount of gear carried is enormous. The boats have seats in the ends but the photos show the people sitting very comfortably in canvas director's chairs.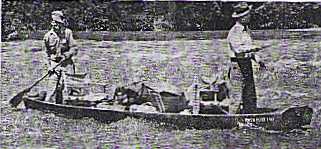 Construction in 1956 was what one could expect. You start with something you might not find at your lumberyard today - five "clean" pine boards 1" x 14" x 20' long. Three boards make the bottom with tongue and groove joints and one board makes each side, so these boats aren't too big on freeboard. I've shown wooden frames where the original boats had metal frames made from old iron wagon tires! The list of materials also included 15' of "Cow chain", whatever that is. I should add that I think a similar boat, but with pointy ends, was used in a similar way in Michigan that dragged a length of heavy chain from its stern, keeping the boat pointed reliably downstream.
Well, my Ozarkian uses standard simple plywood "instant" construction needing five sheets of 3/8" plywood. "They ain't nothin' to makin' a John boat," said Charlie the old guide. "Any hillbilly kin do it."
Kyle Kosovich in Springfield, Mo, built the prototype. He knew the history of the boats and is using his just as the old ones were used, (which is pretty unusual). Don't even ask me about putting power on such a long light hull. You are on your own there. Remember these were never used at high speeds or in big open water. They are slow stream drifters. Here is Kyle's boat in the very waters the original boats floated: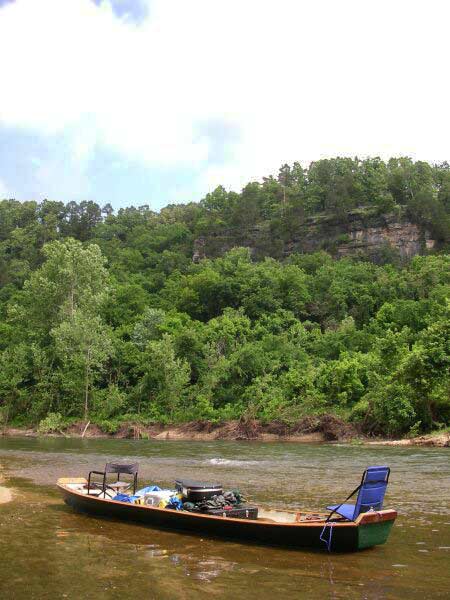 He sent another with a modern normal boat in the background to give the Ozarkian some scale: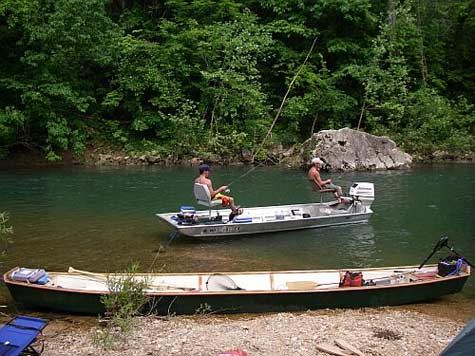 And here is Kyle's boat under construction: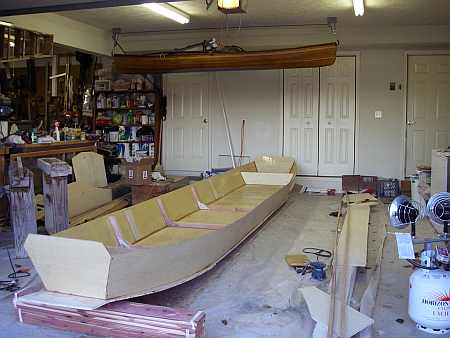 Kyle added: "It was a dream to run the river with. We floated on the Bryant Creek and caught smallmouth, and ran limb lines with the trolling motor for catfish. The trolling motor pushed it easily. This boat is great. I repeatedly over corrected it while fishing, all it takes is a little tip of the paddle to keep it straight. It is a lot easier than a canoe to steer."
Great job!