Part 1 - Part 2
Back to cruising. Arrived in Goodland, stopped at the Calusa Island marina for gas and ice. Finally, I found a place with block ice! The first on this trip. Ice makers have probably decided they sell more ice by selling faster melting cubes. I suppose the other factor is that most people today are either going out only for the day, or that all cruisers are expected to have refrigeration aboard. Went and anchored about 200 feet off the marina docks in the bay, then paddled back to the marina, having gotten permission to leave the canoe there while I walked into town for supplies, and to look around, and to have a late lunch ashore. The walk was about a mile from this marina. I could have gotten much closer, but decided I needed the exercise anyway.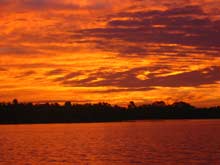 After all I had heard about Goodland, I was a bit disappointed. To me it has become just another tourist trap of overly expensive restaurants. To their credit they have thus far resisted the 50 story condos, although I did read that someone is trying to slip one in, and they are fighting it. I hope they win.
Back at the boat, just before sunset, a big trawler came in and took the end of T on the marina dock. They only stepped ashore to tie up and were gone before I got my lazy butt out of bed the next morning. I just don't get why anyone, even if money is no object, would pay all that money if not needing to go ashore. Unless you can be in a slip with a four way tie off, I would much prefer to be at anchor instead of bouncing against a dockside.
Leaving Goodland the next morning I headed off into the Ten Thousand Islands, and found Paradise. I lost all the great big boats. A week spent in the islands and the only big boats I saw were the excursion boats giving tours from Everglades City, and they stuck to the Barron River and outer gulf. There were quite a few pontoons and fishing boats around, and canoe and kayakers, but most passed by at a good distance.
I was pleasantly surprised to find so many beautiful beaches as I had expected mostly mangrove shorelines again. I am the kind of boater who likes getting off the boat and walking, so I made good use of the beaches. Even on the ones that are designated campgrounds for the paddling crowd, they seemed to stay at the campground end and not walk the whole beach. I guess after paddling all day they figure they have had enough exercise. That left most beaches for me! A further sign of people not bothering to walk the whole beach is that I finally found Angel Wings shells. Lots and lots of them, hundreds of them. I also found bay and Callico scallops, Broad-Ribbed Cardita, Rose Petal Tellin, Sun Ray Venus, Ponderous Ark, Van Hynings Cockle, and Lightning and Pear Whelks. Shelling here was much better than at famed Sanibel.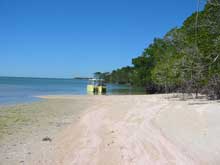 I found ideal well protected anchorages throughout the islands. I was surprised by the depth of the water, having much more than shown on my charts. This made me think of the big boats again, and I wondered if the reason they aren't here is because there are afraid of the water depths, or simply that they want to go only from marina to marina. No matter, I'm glad they're not here.
One day I took the obligatory trip up the Barron River to Everglades, in need of food, ice and beer. Again, there is the problem of where and how to get ashore if not taking a marina slip. There really isn't anyplace to anchor out of the channel as it's very shallow there. My shallow draft came in handy again as I found a spot on the wall by the Park Service Headquarters that was not signed off for the excursion boats, went ashore and got permission to stay there. They said fine, but informed me that it's just a mudflat a low tide. I figured it would be, but said I would be gone long before then. There might have been a place one could tie off to the bank up the river near the marina, but I did not go look, not wanting to stay long anyway.
After looking around the park museum and getting info, I walked to town and got my supplies and headed back out to anchor. All in all, this is a beautiful cruising area, and I wished I had the time to continue along the coast down to the Little Shark river and into Whitewater Bay. Another year perhaps, as I think the Keys would take a whole winter by themselves, what with my lazy style of non hurried cruising.
Time to head back, which was more or less the reverse of coming down. I had thought of going outside instead of putting up with all the boats on the inland route, but a look at how far off one has to go to clear the Cape Romano Shoals, I was not sure I had enough gas to get into Big Marco Pass, and if I had to go all the way into Goodland for gas, I might as well take the inland route.
The weather continued to be perfect, in fact hotter than normal for this time of year. I didn't have any delays waiting for the Gulf to calm, and in fact could have made it back in one day. Not needing to rush, however I did stop and anchor off of Naples Pass, and back at Delnor-Wiggins again. Then, instead of going all the way up to Big Carlos Pass I went in at New Pass and followed Estero Sound north, anchoring again off Big Carlos Pass.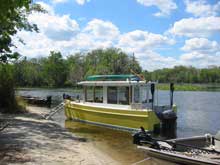 Seventeen years ago, this was all done by plotting courses, doing dead reckoning, taking bearings and plotting positions. GPS sure has made things simple. I think everyone should still know how to navigate the old way however, and have paper charts. This was simple coastal cruising, and you can't really get lost, but what would you do offshore if your GPS broke and you did not know what to do?
Anyway, I stopped in at Bimini Basin again to get beer, then the next day went back to Chester's dock. Went and did laundry and prepared the boat for takeout. The next morning Chester helped me put Drifter back on its trailer, and that is the end of my South Florida adventures. At least for this year. A friend is driving down from Duluth to meet me at Palatka, on the St. Johns River; so off for more adventures.
I arrived in Sanford on Lake Monroe, and not liking the crowded streets, or Lake Monroe, I drove north to Hontoon Island State Park. After talking to a ranger about where I could launch, and leave my van and boat trailer, I drove to Holly Bluff Marina. After checking out the prices there, I drove to my "room" for the night, the Wal-Mart parking lot in Deland. My van is equipped for comfortable camping, and I have saved a lot of money on this trip by staying at their Super Centers while on the road. Since they are open 24 hours I always have facilities available.
In the morning everything I need to provision is right there. After doing my shopping I drove the 7 miles back to Holly Bluff and launched. Went the half mile by river to Hontoon Island SP and docked at their very nice facilities. The docks are free during the day while exploring the island, but if you want to stay the night the fee is $13.50. There are some nice hiking trails on the island. One leads to an old native shell mound, one of many in Florida.
After seeing all I wanted to on land I went upstream a few hundred yards and turned into the Hontoon Dead River. This is a beautiful place, made more so by the fact that all the big boats stay out. This makes it easier to take in the great scenery. I noticed the many great places to anchor for future use.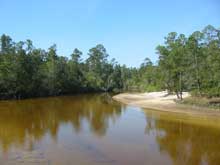 After about 11 miles you come to a very small, shallow, canal that takes you back to the St Johns about 3 miles south of Blue Springs State Park. Right when I entered the St Johns I saw big gator, about 12 feet long. Moving down river, which is north, the St Johns being one of the few north flowing rivers in the U.S., I turned off at Blue Springs and beached next to other boats there. I walked around, and found there were quite a few Manatees there as the weather had been cool. It was warming up that day however, and after seeing that there were people swimming who said the water was great, I went back, changed to my swimming suit, and grabbed my mask, fins and snorkel.
When I swam up the spring run to the spring, there was a group of divers in a class on cave diving. I was able to get in all the surface dives down to the opening I wanted while they were getting their class work in. Then I waited around to see them dive into the spring. The opening is not very big, maybe three feet at the widest place, and about eight feet long, but much narrower for most of it. There is bit more, but a fallen tree cuts that part off. It sure is weird watching them go down and disappear. One woman could not do it and came back up quickly. The instructor came up and talked to her and she tried it again, but came right back again, and stayed up. Can't say as I blame her. Diving where there is no surface, and air, overhead is not my cup of tea either.
Leaving the Blue Springs run I was going very slow as there were many Manatees around. About a mile downstream, all of a sudden the boat was lifted partly out of the water and listed to starboard. Fortunately I was driving with my hand on the shift/throttle and immediately threw it out of gear, knowing it had to be a Manatee. It apparently just had to surface right under me. I followed it for a couple of hundred feet, but it was acting normal and there wasn't any blood, much to my relief. You can bet I kept my hand on the throttle for a long ways away from the spring area.
Continuing downriver I quickly reached the conclusion that the St Johns is a fantastic cruising area. There were large wading birds everywhere, and gators too. Big gators. Boat traffic was a lot less than on the ICW, and I found many totally out of the way anchorages. Most of the west side of the river is taken up by the Ocala National Forest. Then, south of Lake George, the east side is taken up by the Lake Woodruff Wildlife Refuge. There are small creeks going off the St Johns into the refuge and the area is almost primal. Birds and gators everywhere, and no place where you can go ashore to walk as it is a thick tangle, jungle like.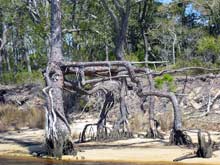 I anchored for the night in one of these small creeks, or rather tied to overhanging branches. Four feet away the mud bank was well packed and looked like a well used gator spot. As the sun set and darkness took over I started to hear a wild screeching. Very creepy. Looking around I thought "Creature from the Black Lagoon". I awoke in the morning, nothing having got me, to see all kinds of birds having their breakfast. Wonderful to watch while I had mine. I was able to take a photo that had five large wading birds in one frame, only 50 feet away. There was a Limpkin, a Green Heron, a Great Egret, a Snowy Egret, and an Ibis. While I was taking the photo a flock of eight Wood Storks flew overhead! It turned out it was the Limpkins making he creepy noises the night before.
I was in no hurry to get going and made myself another cup of coffee while watching nature's show. The Great Egret seemed to be confused as to species. It seemed to be interested in the Ibis. Whenever the Ibis moved, so did the Egret, staying within a couple of feet. Eventually they all flew off, and I had to leave also. I had to pick up my friend, Doug, in Palatka in a few days.
Cruising out of the refuge area back into the St Johns I continued north to Lake George. Just before getting to the lake I came upon a small sand beach, and a sandy shore area with palm trees, at the north end of Blue Island. Yea! A place to go ashore and stretch my legs a bit. Granted, I could always stop at one of the small towns, or fish camps, but always prefer a more natural setting. Decided I might as well have a break and made coffee.
After getting through the shoals at the south end of the lake, it is 9.5 miles to the other end. The lake can be rough, but wasn't today. Very calm. Since the marked channel is right down the middle there isn't much to see as the shores are a long ways away. I didn't like Lake George any better than Lake Monroe. To me they are both essentially a big hole filled with water. What I mean by that is that they do not have a lot of bays, and no islands that I could see. I don't find much of interest in large expanses of open water, which is why I am not a blue water cruiser. For me, the interest is in where water meets land. That is where the greatest amount of nature is to be seen.
Anyway, finding the lake not to my liking I decided to waste gas and got across in 45 minutes. Once across I found a whole string of marinas and fishing camps that seemed to be the extent of Georgetown's riverfront. Past this the river returned to its scenic beauty. Passing Welaka I saw it had a city dock, but needing nothing I just filed that away in memory for possible future use. Since it was getting dark I tucked myself into the NE corner of Turkey Island for the night.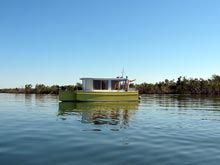 The next day I came upon the Seven Sisters Islands, which is another beautiful area to anchor between the islands. Again, many birds and gators, and large turtles too. I counted 19 lined up on one log alone. It was here that I came across a 15 foot gator that moved so fast off the bank into the river, kicking up a big wave, that I decided I had to be really careful about staying away from them if I was in my 11' canoe. Best to take the bends out near the middle. Fortunately, the water stays deep enough that I can pretty much go right up to the banks and don't need to use the canoe to get to shore.
Downstream there is a large horseshoe bend in the river with a Bascule RR bridge, the Buffalo Bluff Bridge. Try saying that three times in rapid succession for proper radio procedure when calling for it to open! Since both sides of the bridge had great cruising grounds I was under this bridge 5 times during the next week. Good thing it was already open for three of them.
Around the bend is large Murphy Island, a state conservation area, with another great cruise in the small channel between the island and the eastern shore. They call this Murphy Creek, and the guidebook refers to the common mouth of Murphy and Dunn's Creek, but it is really just a channel while Dunn's is a real river. Many nice places to anchor there also. As you come to the end of Murphy Island you come to the turnoff into Dunn's Creek. The book says that it is not as shallow as formerly reported and that the minimum depth in the creek and across the bar into Crescent Lake is six feet. This is an understatement. I found very few places as shallow as six feet. In fact this creek was much deeper than the St Johns River. I found depths up over fifty feet deep! It does go down to six at the bar however, but you really don't have to cruise this ten miles worrying about water depth. Side canals are something else though.
On the way in I stopped off at the Georgia Boys Fish Camp, and quickly put the trolling motor down. Drifter takes a fairly large turning circle with the outboard, but with the bow mounted trolling motor I can turn her in her own length. Very handy and whole lots cheaper than a bow thruster. I bought the Motor Guide with the wireless remote, both foot and hand controls. The Minn Kota's have to be retro fitted at an additional $150.00 cost for remote. Using the hand control, which clips onto your belt and has a wind up line like some key fobs, I found it enjoyable to cruise small, shallow, waterways while sitting on the roof for a better view. I sure wish someone would invent better storage batteries as this means of propulsion is sure nice.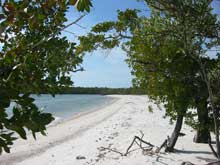 The people at Georgia Boy's are very friendly and helpful. They even gave me a ride to the store and back.
It was time to get back to the St. Johns and up to Palatka as My friend, Doug, was supposed to be there tomorrow around noon. He's one of the many people who hate cell phones, so I could not call and find out where he was. As it turned out he didn't show up until ten PM, but no problem, as Palatka has a free city dock, and, now and then I do like a little civilization. As always, the boat draws people to talk to, which also gets me info on the town. Had a nice walk, cleaned up the boat, emptied the garbage and filled the water tanks while waiting.
After provisioning the next morning we took off up river, south. I had found a dock at the Murphy Island Conservation Area. with several miles of paths for public use, so we stayed at the dock that night after hiking the island. The next day after cruising around the area we found ourselves back at the dock for a lunch stop, then on to the Seven Sisters again.
When, after a few days reversing my route back south, we got to Lake George and found it was very rough this time, with high west winds. I have never been seasick, lucky me, but since Doug can get sick he had taken a bonine earlier. Still, to make the crossing easier, I took the back way around Drayton Island to the lake, then stayed near the western shore. Even then, it was a rough crossing. The eastern side of the lake must have been really bad. Stopped at the sand beach again then went back around the north end of Blue island and into a creek behind a small unnamed island. Took this as far as we could go, then turned back about 200 feet to a wider spot and anchored for the night.
Woke up at first light with branches brushing the cabin side. The anchor wouldn't hold in the soft muck and we had dragged that 200 feet back until the boat got hung up. The funny thing is that we somehow dragged right down the middle of the very narrow channel around a bend. I anchored where I did because I had though that if the anchor didn't hold, we would only go back about 20 feet and end up in a patch of marsh grass. Oh well, the anchor had kept the bow upstream, so just put the trolling motor down and went back to deeper water before stopping again for breakfast.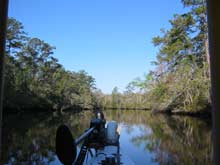 Did I mention that the trolling motor, sitting between the hulls, doesn't have to go down lower than the hulls as the outboard does? This means I can go in whatever will float the boat. I have a 16 foot push pole also.
Continuing the reversed route we got stopped for a break back in that same spot on a creek in the Lake Woodruff Wildlife Refuge where I had anchored before. I got a good laugh, as Doug, after taking a look around, said "Jeez, Creature from the Black Lagoon". After several more days taking him through the areas already described, including the Hontoon Dead River and Blue Springs, we went back to Holly Bluff Marina and pulled the boat out. We then drove back to Palatka where Doug picked up his car. Thus ended the St Johns River exploration.
We now headed for the Florida Panhandle and the Ochlockonee River. One more aside. While tied to shore for the night in the Hontoon Dead River, we had a Limpkin stay within 20 feet of us for nearly three hours. It would go into the water, pick up a snail, walk a couple of feet up the bank, eat the snail, drop the shell on the ground and repeat this over and over. At the end of three hours, there was quite a pile of shells. Having recalled the hike to the shell mound across the way on Hontoon Island, I started to wonder. The park says the shell mound is the result of a thousand years or so of native people living there. Since the only shells I saw on the hike were snails, maybe it was a thousand years of Limpkins living there. There goes my perverse sense of humor again, sorry.
Arriving in the area we were faced with the typical problem of where we could keep the trailer, and now two vehicles, while on the Ochlockonee River. We first went to the State Park, looked over the ramp, and talked to the woman at the gate. She didn't know if overnight parking was allowed, but, being very helpful she said she would try to get in touch with the Park Super and find out. This could take awhile though, as he was somewhere in the park with officials from Tallahassee. We left my van and the boat there and took off in Doug's car to check out other places.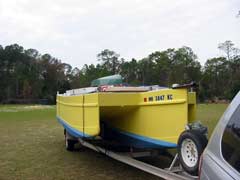 On the way to the park I had noticed a sign saying storage, including boats. But that turned out to be just in the process of being built and was not open yet. Coming into the town of Sopchoppy we saw a sign for the Sopchoppy City park, and drove down there. There was a nice ramp and a campground. No official around, so we drove into town and located City Hall. After talking to the two women there, and being assured that the Sopchoppy River is navigable down to the Ochlockonee, we were given permission to leave the vehicles and trailer at the park for 4 or 5 days. We gave her the makes and license plates of our vehicles, which she relayed to the woman who checks the park and collects the campground fee. When asked, they said no charge. Great! We went back, picked up my van and boat and got back to the park.
Before we had left Sopchoppy we picked up a few provisions, so as soon as I got the top up, we loaded up and launched into the Sopchoppy River. It was already getting dark, so off we went, stopping to tie up at the first nice overhanging branch, once clear of the houses on the bank.
The next day we slowly made our way down the Sopchoppy, through a back channel in the salt grass marsh and over to the Ochlockonee River at the State Park. It's a very beautiful park, and, surprisingly, had very few people using it. I don't know why, but was glad for the gift. We walked the trails, than headed off up river. We saw one huge gator, 16 feet long, the biggest I saw on the trip. It must have been 2 ½ feet broad across its back! Saw several smaller gators, but lost almost all of the big wading birds that were on the St Johns. Making up for it however, was the fact that this area had numerous sandy beaches with water deep enough to beach the boat and hike ashore, in pine flatlands. Beautiful!
We spent the day exploring different channels on the Ochlockonee and tied to an overhanging branch for the night. I really like the kinds of trees down here. They overhang enough that you can tie to them far enough out to still be floating. I may beach during the day to explore, but won't stay that way for a night. Too uncomfortable a motion. Yes, you can always do the two anchor river thing, or a stern anchor, with bow tied to shore, etc. But a branch out from shore needs only one line, with no muddy anchors in the morning.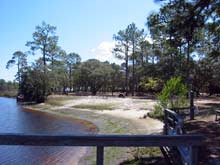 The next day we were exploring channels and we found a dock and gravel ramp. Tate's Hell State Forest the sign said. We took a nice hike on the forest roads, then headed out again. When it got late in the afternoon, we decided to go back to another dock we had passed sometime after the first one. This one had four campsites, a pavilion, and satellite toilets. A nice place, but no one here, so we stayed for the night.
The next day we headed back downriver, and I realized we were no longer on the Ochlockonee. The numbers on the GPS were too far west. I didn't have any maps for the area's rivers. Looking on a portion of my gulf chart, and on the biggest scale roadmap I had, I concluded we had turned off into the Crooked River. Seeing as how it was very nice, and we didn't really care, we just continued down river. I knew we would not be able to get all the way to Carrabelle, as the guidebook mentioned that there was a very low fixed bridge and that past that the river was shallow. No matter, I really did not want to go to Carrabelle anyway, as I would have been tempted to take the outside route back through Apalachicola Bay, around Alligator Point and into Ochlockonee Bay. It says this is very tricky with many oyster bars and shoals, so after going as far as we could we headed back upriver, got back on the Ochlockonee and back to the State park.
Since there was still a lot of daylight left, we continued down the river to its mouth at Ochlockonee Bay on the Gulf, then turned around and went back to the State Park area and anchored for once. No good overhanging trees here. The next day we made our way back up to the City Park at Sopchoppy and pulled the boat out. Doug had to start heading north. I wouldn't have minded just dropping him off and heading out again, but did not want to overstay our welcome. That is how places get closed off to people. This way, the city is likely to remember that we weren't any trouble and let other cruisers use the facilities. This ended my winter cruise of Florida in Drifter, but not quite the end of my trip.
After Doug left I headed west to check out a few other State Parks, including Three Rivers, Falling Waters, and Blackwater River State Park. I never launched Drifter again, but took hikes, and canoed the Blackwater River. This is a beautiful sand bottomed river, but too shallow for anything except canoes, kayaks and people tubing. Since a park concessionaire was renting tubes I concluded there weren't any gators here. I guess there don't like the clear sand bottom.
This park also was not crowded. In the main parking lot there were only six cars and what looked like at least a hundred spaces. Too early for the locals I guess. I fooled around here until April 1st, then started my trip back home.
I had decided that April 1st was a good time to clear out because, one, the bugs were starting to come out. Two, while hurricane season doesn't begin until June, I know the south has severe spring electrical storms and tornados and I wanted to get north of Tornado Alley before than. Looking back on the extreme bad weather that came through after I left I decided I had made the right choice.
Don't think your small boat is only for overnights or weekends. Living aboard a small boat can be great fun! I had a great time, made more so by the fact that Duluth had a bad winter. An early March storm left sixteen foot drifts on the Park Point area. Boy, am I glad I missed that. Now I am waiting for summer temps to arrive here so I can go further north and explore Voyagers National park, a roadless water park perfect for Drifter.