This time we have the following boats:

Friday, May 23, 2008
Hi,
I recently happened across your website and was pleased to find that you have many of Weston Farmer's designs available. I thought you, and particularly Dave Farmer, would be interested to see a "Sun Dance" I built a couple of years ago. The only modification I made was to add the hatch in the foredeck. It folds back flat towards the windshield and when standing in the hatch one can reach the bow for handling mooring or anchor lines. I thought it would be a good idea on a small boat with a lot of camber to the deck. It has only been in the water once for sea trials and got right up on a clean plane with a borrowed 18HP Johnson and 3 people on board, just like Mr Farmer said it would.
| | |
| --- | --- |
| | |
The reason I was looking at your website is because I am thinking about a trailerable motor cruiser, or motor sailer. My wife cannot be out in the wind and sun anymore (we are both in our 70's) so something with a pilothouse seems to be in order. Weston Farmer's "Poor Richard" looks interesting, but is a little bit small. I am thinking that enlarging it a bit, or maybe just spacing the frames of 3 or 4 inches, would do the job.
I recall having seen "Poor Richard" before. It probably was published in "National Fisherman" in the 1960's when I was the owner and manager of a yacht service company in Grenada in the West Indies. I bought the "Sun Dance" plans about 20 years, or so, ago directly from Weston Farmer's widow after an article about the boat was pulished in "Wooden Boat"
Bob Petersen

Hi Chuck,
After 2 months of learning and building I finished Ross Lillistone's Flint row boat. The detailed plans from Duckworks provided the guide to an easy build, a fit like a glove process. The boat is very easy to construct for a rank beginner. The very detailed plans are all I really needed, he covered it all. The few times I was looking for second opinions, to second guess my own decisions, help from Duckworks forum members came quickly and usually set me back on track. Ross was very helpful with advice, and quick to respond.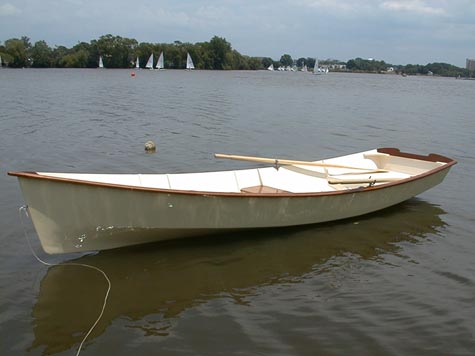 I have a small outboard for salt water fishing excursions and the local Cooper River is my exercise haven. The boat rows with so little effort I have to learn rowing quickly because this boat is fast.
She's very stable, I leaned over the bow to grab the line before realizing it might not be a good idea, no problem.

Yours,
Bruce Erney in NJ


Well, the N500 is a done deal! You may recall that I bought the 500th set of Navigator plans sold a few years ago. The maiden voyage took place this morning, with Robert Lee, his grandson Taylor and I aboard. First Robert took the helm and then he turned her over to me and I put her through all the paces I could with the wind we had - 5 to 10 and fairly steady - SHE FLEW !!!!!!!!!!!!!!
The boat points extremely well and responds well. She is VERY stable AND no leaks! There are only 1 or 2 minor issues to deal with and those can be done at a later time.
Robert carried her home and seemed to be quite well pleased with her - he Christened her at the ramp before launch. Wayne took "several" pics at the pier and also under sail - he followed us out in his Montgomery 17 - a fast boat - BUT when the wind kicked close to 10, the 500 was a "Streak!" - didn't leave Wayne too far behind, but sure did right well!!!!!!!!!

Bill Tosh

Hi Chuck:

This project is not exactly a boat building project but a boat use or misuse project. I am currently a hot shot truck driver and on 24 hour call and have no shop to build a boat in. I can only dedicate a little time here and there to my boat obsession so I decided to put an idea to work. I purchased two Pelican Colorado canoes on a dead head backhaul from Houston, Texas at Ship to Shore boat supply store. I fashioned a brace system to connect them and added a transom to use a small 3.5 hp Tohatsu motor I had purchased, thinking that I could use it on one canoe. Ha Ha! Too heavy! Now I have a poor mans pontoon boat that glides through the water at idle with the outboard.
I am working on a sailing option next. Just thought it was an idea that might get someone boating that has a schedule as mad as mine.

Always enjoy the mag,
Robert Edge

Hello Chuck and Sandra. I am happy to tell you that yesterday we launched "Esperanza". Here is a link for the pics. She was built from plans from Jim Michalak for his RB42.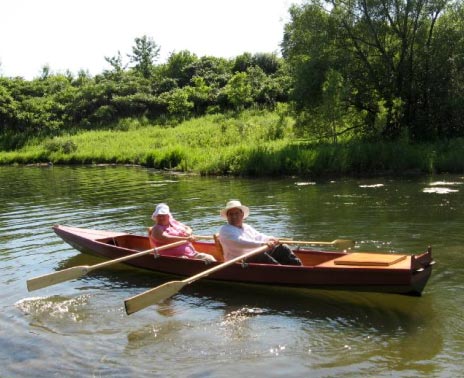 Thanks so much for your great service and website that made it possible.
Best Regards
Daniel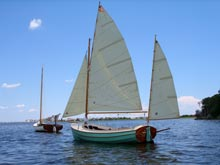 Well all, almost 9 months to the day I launched "Slig Jig" my new John Welsford designedNavigator on Barnegat Bay on Wednesday in the company of 9 other boats and 18 people. She was very well received. I got a pretty good first test with a light land breeze in the morning and a very good sea breeze in the afternoon. I am very pleased to report the boat is very stable, comfortable and capable. At no point in the afternoon breeze did I feel uncomfortable.
I was not able to get the most out of her because I found I do not have enough weight in the centerboard to get it to sink all the way and the bridle on the gaff stretched preventing me from setting the main correctly. I expected a couple of hiccups and all in all this was fairly minor. Needless to say I am busy correcting the things I observed needing to be changed and hope to get out very soon. The only sour note of the day w as about 15 miles from home I hit a very large piece of a truck tire tread that was laying across the entire lane in the road that literally ripped one of the trailer bunk supports right off the trailer and knocked the marker and tail light off as well. Both sides of the car had black scuffs too. That woke me up!
Happy sailing, Kevin

To Chuck and Sandra,
Thank you both for all your efforts in helping me to get my little sailboat rigged in time for our vacation to Cape Cod. WE MADE IT!! The very first sail was one in winds 20-25 knots. Really too much to go out in with such a tiny boat but I was chomping at the bit to try it. It sailed very fast for it's size and type, but the strong winds overpowered the sail which has no reef points or way to shorten sail and so turns were tough. I liked the running rigging Chuck suggested (which even in that strong a wind didn't need to be doubled up for mechanical advantage).
| | |
| --- | --- |
| | |
The only problem I have is that because the boom extends aft beyond the rudder post, (where my swivel block is mounted) many times when I tack the main sheet gets wrapped around the rudder. I'm thinking of moving the anchor point forward on the boom to see if alleviates the problem. More of a problem that first sail was the surprising realization that half way across little pleasant bay the water was only 18" deep!! I ran aground and did some cosmetic damage to the rudder which twisted and cracked all the fairing compound and paint. But structurally it was fine.
After that day the winds were lighter like 12-15 knots and things went much smoother. Although the weather was kind of sketchy that whole week with rain on and off and thunderstorms popping up here and there I still managed to get out on the water half a dozen times. Thanks again for your help, you guys are great. I've already recommended you to two of my sailing friends and they were very impressed with your website.
Happy sailing! Bill

Hello Chuck,
I thought you might enjoy some pictures of my newly finished Tender Behind, from John Welsford's plans.
It was not my first boat. I did a Pygmy Coho and a Simmons Sea Skiff and an Uncle John's piroqe. Back to the TB - I did it by the book: all marine ply and I even bought the sail from duckworks - interlux paint and about 100 hours+ to make her. I did it in the winter months so the time was over January to March and I was always waiting for the epoxy to dry.
Peter
Hello, Chuck, I still have a lot of work to complete my model, radio equipment, stanchions, genoa tracks, compasses, etc. but I could not wait to try it out in the nearby pond just with a fishing line attached to the bow.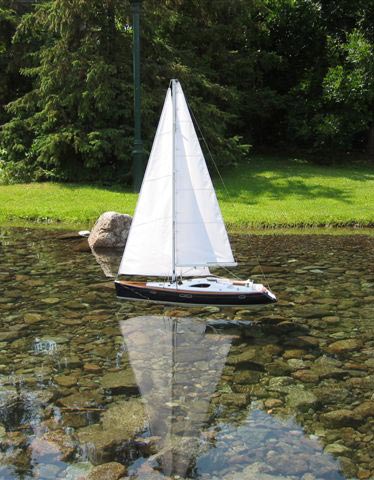 The results were great with barely no wind which confirms to me that I will have to replace that huge genoa by a jibsail. I am still thinking of an article but I didn't have time, anyway here are those first trials.
with regards
Gilles Brouillette

Chuck: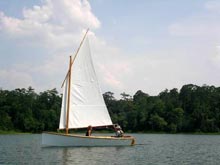 Got the Goat Island Skiff launched Saturday. Light wind, but otherwise a good day. I was impressed with the good shape of the Duckworks sail, especially since this was the initial use and the wind never got over 6-8 and was usually less. Didn't seem to need much adjustment. Here is a picture that shows the sail and a video I uploaded to YouTube. The video isn't quite as sharp as I had hoped, the camera was set on 320 x 240 instead of 640 x 480. Oops.
Olivier (Chamel) was quite the proud papa as he sailed Tiffany around.
Gary Blankenship