| | |
| --- | --- |
| | Windsurfer on Christmas morning with Mike and Michele |
Like baseball that anchored the American conscious in "Field of Dreams," boats have been the anchor of my marriage. From the beginning there have been boats, some small, some large, some built, some bought. Some boats we loved and some we hated, some were beautiful and others ugly, but always there were boats.. Through forty-three years of married life I am certain we have never been totally boat-less..
When Chuck asked me before the Texas 200 this year if I might be interested in writing an article for Duckworks Magazine from the perspective of "The Other Woman", I said "Sure" thinking of a brief humorous piece on the trials and tribulations of marriage to a confirmed boat builder. There is that, of course, but reflection over the last few weeks made me realize that is only a small part of this three-way relationship. Sometimes on my part it has been a definite love-hate relationship, often covered in jealousy and lack of understanding.
| | |
| --- | --- |
| Mike assigned as topmastman on foremast, certifled to sail as volunteer crew | |
Tallship Elissa furling topsails- Mike sailed as crew as Top Mastman

Not only was Mike a dedicated volunteer in maintaining the Tall Ship Elissa's woods and decks, he was also a qualified crew member and sailed her as a volunteer, serving as a foremast topsail man on the highest riggings into his fifties.
Perhaps all young brides should consider DNA, pedigree and genealogy when marrying, but also check for boatbuilding tools when he moves in. As a young college bride I longed for a water ski pulling power boat like all my friends had. I got Mike and a handcrafted classic wooden Cajun pirogue, difficult to row or paddle and impossible to stand up in without going head first into the bayou. Forty-three years later I wish we still had that pirogue, although Mike doesn't remember what we did with it. I do, however, still have Mike, many, many boats later.
It was not until several years ago while doing genealogical research on family ancestry that Mike's boat building genes became crystal clear to me. Family legends are rarely true, as made evident on "Antiques Roadshow." The legend in the Monies family of descent from Spanish nobility had always been untrue Mike and I realized- Monies is a name as common as Smith among Portuguese sailors and whalers throughout the Pacific Islands and the U.S. eastern seaports. When we lived in Hawaii, everyone said, "Oh, you marry local boy, move Hawaii, how lucky."
| | |
| --- | --- |
| Jackie, Malia and Michele launching the Lightfoot "High Spirits" | |
| | |
| --- | --- |
| | Lightfoot 21 cat ketch with cover in our backyard slip. |
| | |
| --- | --- |
| "High Spirits" under sail on Clear Lake, Texas | |
Letter from Bob Johnson to Mike "High Spirits" (Bob's first independent design)

The significance of the Lightfoot 21 Cat Ketch is she is totally wood, the first boat that Bob Johnson designed as an independent marine designer. She was built in 1979 right before Bob started the Island Packet yachts with his first Island Packet design.
Mike went on to become a broker with Houston's leading yacht dealer at the time, selling mainly Island Packets and Pacific Seacraft yachts, along with other leading production boats of the 80's and early 90's.

Mike helping to deliver an Island Packet off coast Florida as yacht broker
But the Internet and genealogy gave the answer. Mike's ancestors are the famed Louisiana "Islenos", Portuguese-Spanish fishermen and sailors, boat builders for centuries, first off the coast of Portugal and then off the African coast in the islands there. They came to Louisiana, settled in the swamps far below New Orleans made famous by the pirates, never coming out to civilization, never learning to speak English. They built boats and fished until modern times and Katrina wiped out their communities and life.
That day on the genealogy website everything clarified. Mike couldn't help building boats. It was as etched on his DNA as the color of his eyes, hair and skin. You can't go against centuries of the sea, even if you don't know they are there. All we knew was his father and uncle built boats and fished. No one knew why. We knew one uncle drowned young, in a boating accident. His father had been a Navy deep sea hardhat diver, another uncle in the merchant marines. Jobs to them were incidental to the real purpose in life, boats and fishing. Now everything became more understandable.
All marriages that last a long time are filled with Life. Life happens. Some parts are happy and joyful, others not so, tragic and sad. I believe it is often boats, specifically building boats, that gets men through these times. Like Jethro in NCIS, they go to their basements and build boats. Jethro's character is probably most dear to those of us who are boat widows, as he sits alone in the dark, building boats with hand tools, boats he never sails.
| | |
| --- | --- |
| | Lazy Jack Schooner built in our back yard slip |
Reading letters from readers of Duckworks, I realize I have been somewhat blessed that my house has rarely been draped in boat parts. Mike didn't use the piano to hold up parts while they dried because it was too hot/cold/rainy for the epoxy/paint/glue outside. He pointed out this week I should mention the hazards of a boat builder's wife in losing her kitchen implements to the builder. Her favorite measuring cups, spoons, sifters and colanders are all fair game for use in mixing and measuring epoxy, paint, glue, varnish. Her panty hose are sacrificed to straining varnish. I pointed out he forgot to mention all the wooden spoons.
At two a.m. you find boat builders reading boat pornography in their dark offices. They buy books and boat plans for boats they will someday build. While I have no idea how many hundreds of boating books Mike owns, he does. He is leaving them to a boating library upon his death! No one buys him a book without consulting his data base. He has cornered the market on lighthouse and boat related merchandise gifted to him by family. Our children give boat parts and materials for all holiday and gift occasions. We currently have seven boats in our back yard, while Mike cuts wood for two Oz Puddleduck Racers out in the Boat Palace as I type this. The plans for next year's Texas 200 Laguna just arrived from Duckworks yesterday.
| | |
| --- | --- |
| Mike at helm with Malia at age three (lifevest under parka) | |
While searching the internet last month, I stumbled across an ad from a woman in Clear Lake, Texas, our longtime home port. She was looking for her 52 foot sailboat that was missing, along with her husband and the contents of their bank account. I thought out loud, "Well, thank God, I have never had to look for mine like that." That is absolute truth. Boat builders are never far from their boats. You have only to go out to the garage, back yard or boat slip to find them.
Mike used to complain that his wife and children never came and spent time with him while the worked on the boats. We knew if we needed to talk to him, we'd have to go where the boat was. He pointed out that he always came in for meals and to sleep. Perhaps gaining a little wisdom or understanding in my mature years, I used this ploy to get him to come home to Oklahoma more frequently from his job as a traveling sales representative. After several years of long, long sales trips, I bought a $250 boat I had seen sitting behind a local business for many years. Its owner had not only sunk it three times, he had left it to sit at the bottom of the lake on its mooring for almost a year. As a final indignity, he moved it with a forklift and put a hole through its hull big enough to stick your head through. He offered to move it for me with that same forklift but I declined and hired the only truck in the county that had a hoist and moved it to my backyard.
Don't tell me boat widows don't know how to get a man to come home.
| | |
| --- | --- |
| | Paceship 23 "Sea Biscuit" arrives in back yard |
| | |
| --- | --- |
| "Sea Biscuit" in ice storm and snow in Oklahoma | |
Over the years, Mike has made many sacrifices for his family when it comes to boats. One involves a boat so embarrassing that even today I will not reveal its name or make. He bought it at the Houston Boat Show because his pregnant young wife was afraid to sail on the one he wanted to buy. I should have feared the one he bought for me! Even today I know what a bad decision that was, but he did it because I wanted headroom and a full cabin when we cruised. She was an embarrassment to Mike but he sailed her so I would go out with him.
The boat he actually wanted to buy at the boat show is the one that now sits in the boat stall out in the Boat Palace being restored as "The Sea Biscuit" for next years' Texas 200. Perhaps this is the end of a love story, but I know better.
One of the remarkable things about boat builders is they are able to own and love many boats, even loving boats that belong to others without being covetous. Men think they are not supposed to shed tears, yet one of the few times I can remember Mike crying was when Hurricane Alicia struck Houston. He was in charge of hurricane preparedness for our marina and condominiums' homeowners there on Galveston Bay and Clear Lake. While all our personal boats, including our schooner, came through unscathed in our slip behind our home, all the marina boats and almost all the others sank. Most ended up piled 50 feet high in our club pool. Millions of dollars in beautiful boats were total losses. Mike had to help pull them from the pool, grounds, canals and marina for the insurance appraisers. He was as pained as if each had been our own loss.
| | |
| --- | --- |
| | Hurricane Alicia damage at Bal Harbour marina, Clear Lake, Texas. |
| | |
| --- | --- |
| | Bal Harbour marina and clubhouse grounds covered with boats after Hurricane Alicia. |
| | |
| --- | --- |
| | Owner surveying sunken boats at Bal Harbour marina. |
Coming across the Texas City bridge toward Clear Lake one night, I saw flames exploding into the sky twenty miles away. I realized the marina where Mike worked as a broker was on fire. Knowing our boat was moored exactly where the fire seemed to be centered, I knew Mike would be right in the fire's path. I also knew he would be saving boats if he could. Shut out of the marina by police and fire fighters, his children and I could only hope for the best as boats exploded and the out of control fire consumed even more boats. Mike and the other brokers moved sailboats and motor yachts to safety through the fire, saving ours and many other boats. Yet I can still see the sorrow over the loss of the many they could not save. Again, millions of dollars in boats sunk and totaled despite great effort. Boat builders feel pain at a boat lost. These boats are living souls to them, not inanimate hulls.
Because this is a love story I have to add that I have come to appreciate boats and those that build and sail them. The young bride ran sails up and down the mast as crew until she was nine months pregnant. I spent the due date for my baby sleeping on a sail boat 90 miles from my obstetrician. I tried to learn to understand wind direction, point of sail and what it takes to move a boat through the water. Took sailing lessons from the Annapolis Sailing School and even single-handed in a twenty foot boat with no motor. My ancestors were obviously not sailors, for I never learned to sail.. But I loved Mike and I came to love boats in my own way, learning to appreciate beautifully crafted traditional boats with their wood, bright work and varnish gleaming.
The part of the love story I have trouble writing is where my husband gave up the other woman and chose his family instead. Somehow I don't feel as though I won any victory. Mike built his dream boat, a beautiful blue water sailor, a Ted Brewer designed 32 foot schooner, classic and elegant. A bare hull without so much as a porthole when she arrived, she is as a lovely and elegant today as when Mike built her, with gleaming bright work, handcrafted woods and everything a sailor would want to go to sea. But she went to sea without Mike and saw the oceans and faraway places she was built for without him.
Lazy Jack schooner, designed by Ted Brewer and completed from a bare hull by Mike.

The Ted Brewer schooner is of course the sister ship to the Lazy Jack schooner made famous by the "Good Old Boats" editor, who also wrote a book about her. Her sister ship also won her class in the Great Cheasapeake Schooner Race. Only about 20 were ever built.
| | |
| --- | --- |
| | Lazy Jack on beach (with present owner, not Mike) in Carribbean |
| | |
| --- | --- |
| Lazy Jack 32 schooner at anchor in Maine (present owner, not Mike) | |
| | |
| --- | --- |
| | Cockpit of Lazy Jack with fine oak and mahogany woodwork done by Mike. |
| | |
| --- | --- |
| Interior of Lazy Jack cabin. | |
When boat builders experience personal loss or tragedy, it seems to be the process of building that holds them together and gives solace. It is not so much the sailing, as the building that is the compulsion. A person wanting a boat just goes and buys one and goes sailing or boating. A boat builder has to build his boat and may then never sail it, just starts another. In our house there are always multiple boats under construction, boat plans taped to walls, boat plans being bought, boats being thought about or dreamed about.
Yet after forty-three years we are still here and still building. Unlike the missing Houston husband, Mike hasn't sailed away in our 52 foot ketch and cleaned out our bank account, even when he had the chance. Perhaps that is why I love Jethro on NCIS so much, never sailing the boats, only building them and never, ever telling how he gets them out of the basement.
Only a boat widow would understand. That's true love.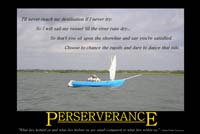 * Michele wanted me to explain the significance of the poster and its quotation. She was the daughter that helped build the schooner, holding the tools, tightening the bolts, from the age of three into her teens. She later worked with me in our yacht maintenance service, scraping and refinishing woods, on Pacific Seacraft and Island Packets mainly. It is her Dad's boat building and patience, perserverance and hard work that she credits with shaping her life ethics. Hence the song, "The River" which she chose to dance with him at her wedding and why the words are on the poster.