"That's one serious sailing tool!"
That was the first thing out the mouth of my boating friend when he got a good look at the new, Alinghi knife by Wenger, makers of the genuine Swiss Army Knife. Indeed it is.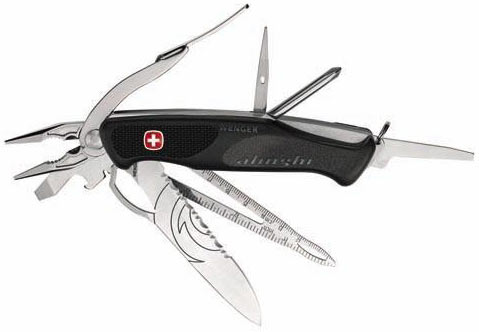 The Alinghi knife is a heavy-duty combo knife/tool designed specifically for the needs of the sailing sportsman. Of course, it will also hold itself well for power boaters, but there are very dialed-in tool selections that cater to sailing.
By now, all of us are very familiar with the venerable Swiss Army Knife, that remarkable outdoorsman's tool that comes in dozens of tool combinations for virtually every need and is a must-have personal tool. The Alinghi Knife continues that tradition by incorporating seven unique tools that are very useful for the sporting sailor. Sorry to say... this big dude does not have a toothpick or a set of tweezers, so you'll still need to carry that familiar red pocket machine that you've owned for years.
The big item piece in any combo knife is, of course, the blade. The Alinghi features a four inch, locking cutting tool that is comprised of a forward half smooth edged blade and a back half that is serrated. Etched on the blade surface is the logo of the Swiss Alinghi Sailing Team, the reigning America's Cup Champions.
Also on board is a nifty and compact, fold-out, needle nosed pliers, A Phillips screwdriver bit, a flat bladed screwdriver, an awl, a larger flat blade screwdriver and can-opener combo tool. Topping out the list of goodies is a yachtsman's tool, which is essentially a marlin spike coupled with dual measuring indicators etched onto the surface in both millimeters and inches. It can be used as a shackle opener.
All the tools in the set are made from highly corrosion resistant stainless steel and the cutting blades are verified at a hardness of 55-57 HRC. Two highly reputable labs have tested the stainless for all the tools in the knife; One from the Swiss government and one a private institute. If you know anything about the Swiss and their total fixation with quality in all their products, you can guess what this knife has been through in order to pass the certification process. Interior tool dividers are made from a treated aluminum, which is also highly corrosion resistant. All of the metal components are selected from metals and corrosion treatments that will guarantee a tool that will have a very long service life for the owner.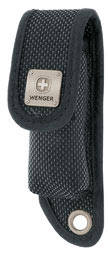 The physical size of the Alinghi Knife is fairly substantial at 5 x 1 1/8 x 1 3/8 inches. It has some heft, but it is not, by any means a heavy weight item that you will find to be just too bulky to carry around on your belt. The outer grips are Polyamid materials, that are partially cross-checked for a better grip.
The Alinghi Knife is available at pretty much all the better nautical supply outlets and will set you back $135 as a suggested retail price. It comes with a product specific carrying pouch in a very tough Cordura-like material. There's a flap on the pouch that goes over the tool and is secured with the ultra industrial Velcro that does not come apart in the water. The pouch has a hefty, stainless grommetted drainage port on the bottom, as well as a stainless grommetted tie-down opening on a bottom tab so that you can secure the tool in the cockpit of the boat, should you choose to not wear it on your person.
Personally, I think this tool flat rocks for the guy who is running around on power boats and/or sailing a lot. It is a compact and professionally executed tool which will do just about all the "gotta get it done now" stuff on a boat. The price makes for an attractive and practical purchase and to tell you the truth... If I didn't already own one, I'd be putting this dude on my Christmas list of stuff I really want for the coming sailing season.
Chris Ostlind
Lunada Design