The model yachtsmen of Wick,
Bowdoin the polar expedition schooner,
a modest wall-banger and
a 'no blah blah's of Dum' rounding!
The photos above are taken at the Wick Model Yacht Club which has been running in its current form since 1926 and they race two classes of yachts, club member Kevin Patterson tells me, a 4' class based loosely on the Marblehead class but with rules far less stringent, and a 5' class with rules specific to the club.
The yachts which are mainly wood (cedar or yellow pine) or fiberglass but fiberglass is not allowed. They are typically around 17lb in weght and there is no restriction on sail area but draught is limited to 20". Most of the yachts sailed have a fixed skeg, have no steering control, no vane or braine gear but the former is not discouraged. Adjustment to the boats is by sail only.
Racing is held on Sarclet Loch, a natural loch near to Wick with racing held in the spring on Saturdays, but where exactly is Wick some of you may well be asking ?
Wick is an estuary town in the north of the Highland Council area of Scotland and in case you are wondering how I know that, I got it from a trusted friend, Wi(c)kipedia - (no relation!)
---

At the last Schoonersail event held by the Ancient Mariners at Onepoto lake in Auckland, New Zealand in December 2008 a good time was had by all. In the dinghy-towing event won by Murray White sailing his schooner Black Joke, a close tussle ensued between Murray's other black schooner, Black Pearl sailed by Brian Bassett and Richard Gross's schooner Poppy G .The two boats had rubbed hulls in a jostle at the top mark as this close-up rounding photograph by Leon Duddy recalled and not a single `blah blah' was heard from either sailor – that's good sportsmanship of both gentleman sailors for you! A feature of Ancient Mariner's windling attitude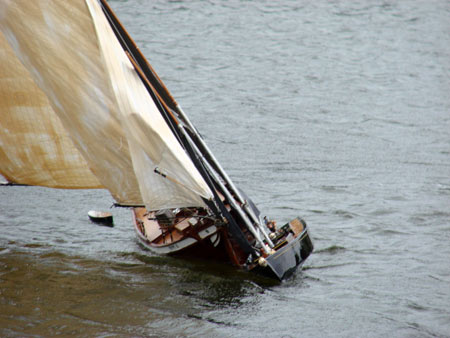 Blah Blah`s here Blah Blah's there
Blah blah protests filled the air.
Verbal exchanges of blinkety-blanks,
The blah blahs of Dum, yes Sir! No thanks!
(From: `The PlumDum Regatta')
By Dumfrey Rangoon Snr.
---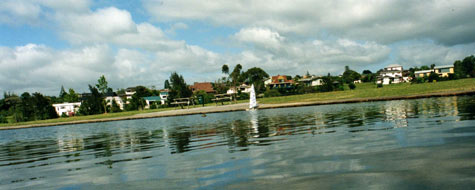 A clear Summers day, no other boats on the pond and just one solo-sailing sailor still managed to find a way to bow-hit the stone wall. That takes rare seamanship and supreme skill. True he was multi-tasking, sailing, popping a couple of Tic Tacs into his mouth and photographing the scene all at the same time. In addition the pond water was slopping uphill as you can see!!! I know that you are dying to know the name of this multi-talented model yacht sailor, so… (well on second thought we won't go into that. He is an extremely modest sort of chap and shuns publicity, acclaim and adulation, so let's with great haste move on shall we?)
---

Beautiful blue skies over Auckland's Hauraki Gulf, long humid days, racing that could be viewed from the land, more friendliness and fun, lots of colour and altogether a grand long overdue regatta with America's Cup boats in the Louis Vuitton Pacific Series. It should have happened long ago instead of all the prolonged bickering , court arguments and stand-off one-upanship palava between AC holders, Switzerland and America's BMW Oracle which has greatly tarnished the great event overall (and which) as far as I am aware, is still not settled.
Praise must go to both Louis Vuitton and to Emirates Team New Zealand (and a host of other sponsors) for their foresight and efforts in making the event possible. I believe that it brought a measure of keen but relaxed racing and maybe, just maybe others will learn from it and realize that one can be keenly competitive without constant snide verbal `chomping' of each other with jaws-like molars, and without bad sportsmanship, anti this team and anti-that team abuse from players and spectators alike and patriotism taken to ridiculous extremes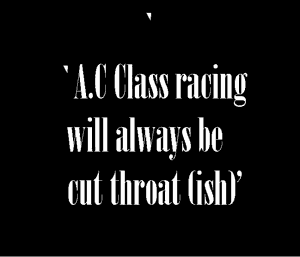 A `friendly and `fun' regatta by and large it was, spoilt only by AC holder, Alinghi's decision to forfeit their match against Emirates Team New Zealand saying that the race was meaningless as no competition points were offered and leaving a large spectator fleet assembled on the water most disappointed. Pity about that, then again some things will never change despite all the charm offensives in the world. Not only that, AC class racing will always be `cut throat(ish)'.
Well who won the regatta then? (Does it really matter ?) Oh I suppose so though for me the big winner was the event having brought big boat yacht racing `a la America's Cup' back to this city in clear airs and given it a better image in the eyes of the populace many of whom were sick of all that went on between two billionaire factions. Suffice then just to say that Emirates Team New Zealand won the best of five races Final over Alinghi by a three to one margin.
---

| | |
| --- | --- |
| | |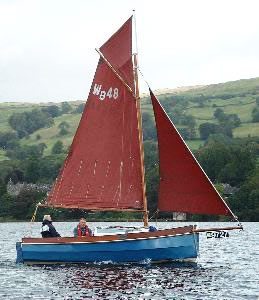 A really beautiful display scale model of a small open clinker-built Winkle Brig gaff-rigged sloop, plus a detailed and interesting story by Tony James on these boats appeared in the February issue of Marine Modelling International. I am sure that it would have set a few UK modellers thinking what a fine RC sailing model such a boat would make for it lends itself to the inclusion of oodles of detail. The boats were used for the dredging of oysters, cockles and winkles in shallow creeks on the River Thames. I don't know whether any plans exist but I believe that a good ferret around on the internet could well (with time and patience) result in some success perhaps from one of the many owners of restored boats listed and shown on one or two websites.RM Even without WB plans, most of you would be able to fairly easily scratch- build a good little model for 2 channel RC operation,(say to two or three foot LOA plus bowsprit) that would prove I am almost sure to be an easy-to-carry, good sailing little gaff-rigged Winkle Brig look-alike model. A model as attractive as WB 48, Roger Parish's Partan in the third photograph above. Depends how keen you are and how much interest the MMI article has been to those who manage to get a copy and read it.
---

Graham McAllister of Sheboygan, Michigan (I wrote about him a few months back) has produced a new Footy, the `Pond Sprite' shown in the first photograph below, a narrower in beam than his Kittiwake K2 models boat with less severe curvature of the hull as well as less rocker.
In the second photograph above is one of the new 50" Tippecanoe RM boats from that company in Everson, WA, one of the latest additions to the ever-growing range of boats, and very nice too! Of more interest to the competitive minded, moreso than the windler, but hell, you can windle with anything, even a bottle or plank boat – it is the attitude that sets the scene.
---
My friend Bill in Ma, USA took these photos (above and below)) most way back in the black & white film days of John Hartshorne of Cohasset, Ma who served as an officer aboard the Gen W.A Mann high speed troop transport near the end of World War II. The photographs are of his superb sailing model of Admiral Donald McMillan's 136' polar exploration schooner Bowdoin that he (John) sailed regularly in a tidal river at the foot of his property just fifty yards from the Hartshorne property.. The real schooner, designed by William H Hand Jnr in 1921 and built in East Boothbay, Maine was launched in 1913.
Today she plys the coast of Maine and is owned by the Maine Maritime Academy. She is a National Historic Landmark. A photo of the original Bowdoin is below right.
| | |
| --- | --- |
| | |
| | |
| --- | --- |
| | |
---
| | |
| --- | --- |
| | |
I came across this tee shirt by Snorgtees on the internet, then a few months later saw a guy wearing the same design shirt in Takapuna on Auckland's North Shore in New Zealand. Tee shirts it seems travel far and wide without air tickets and visas! Clever design this one but it could of course mean several things to people with even vaguely `naughty(cal)' minds! (Well, were I so blessed I'd be hesitant indeed to even `suggest' it.) The second photograph shows a lovely sailing model of the Olin Stephens designed Dorade built by Doug Kuhn of Surrey Park Boat Club in Melbourne, Australia. The model is built to 1/20 scale and is 850mm in length. At 52 feet LOA the yawl Dorade was considered tiny for an ocean racer but after her rig was modified she won the Transatlantic race by two days over the second finisher as well as Britain's Fastnet race.
The third and larger photograph depicts a five-schooner tussle in Maryland U.S.A at a US Vintage Model Yacht Group/Great Schooner Model Society regatta in the waters off the Calvert Marine Museum. Exciting huh?
---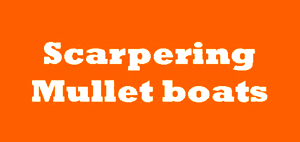 The mullet boat in its full size guise still lives on in Auckland, New Zealand, and the fleet still race for their own holy grail in the form of the Lipton Trophy in the waters of the Hauraki gulf each year with fierce competition usually prevailing. It is an impressive trophy too and it has often been said that mullety men would kill to have their boat name engraved on the precious piece of yachting hardware retained in the Ponsonby Cruising Club.
A mere `few' years ago there came a surge of interest when Dave Moore produced a sailing model of one of the well known boats, then another (and from memory) yet another and sailed them on the waters of Onepoto lagoon, after which someone produced another and made a mould of its hull and a few more boats started appearing. This is all in the past now for I haven't seen a mullety on the water for absolute ages actually (I tell a lie I saw a solitary one only yesterday!)
| | |
| --- | --- |
| above, vintage mullet boat model. below John Stubbs mullet boat | |
| | |
| --- | --- |
| Right: Dave Moore with his first mullet boat model, a famous Auckland boat `Nomad' | |
The first mullety model built by Dave Moore (whom I believe is now engrossed in lawn bowling) is of a particularly unique mullet boat that was literally dug up from a mudflat then painstakingly totally rebuilt, so the model is most likely the only one of its kind in existence. With hope I therefore ask, where are mullety models ? Get them back on the waters of Onepoto with the Ancient Mariners fleet please for they are an important New Zealand part of model yachting.
-30-