An exciting Open 70 Volvo Class boat, Victor
sailing models, Don Brown's Dolfyn and a
masterpiece of the Maltese Falcon!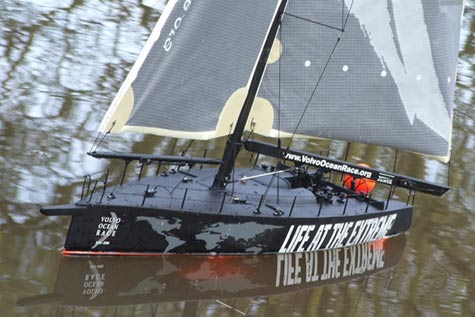 The Volvo Open 70 racing yacht with canting keel is the current class of boat designed specifically for Volvo's Ocean Race and has been hailed as the F1 of the yachting world. Now a fabulous looking RC model of the boat is available in Britain, 960mm long with a fiberglass hull and adjustable side stabilizers.
Called Life at the extreme and finished in black it was featured on the cover of the April issue of this years Marine Modelling International and within, the kit available through retail model shops in Britain, the kit review (and presumably the build of the model) done by John Trimmer of the Poole, Dorset Model Yacht Club. I believe that the kit which is supplied only needing batteries is supplied to shops by a wholesaler CML Distribution in Britain, and fossicking around on the internet I have discovered another similar kitset model Killer Whales. Although not a racing model yachtsman myself, the presence of two similar but differently finished boats would suggest that some racing might eventuate if and when boats are sold to individuals. And at what cost ? Well the price I have seen listed is one hundred and seventy UK pounds, the Killer Whales model slightly cheaper and you should be aware that the distributors CML don't deal with consumers.
---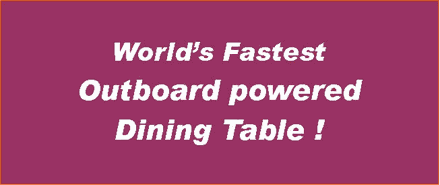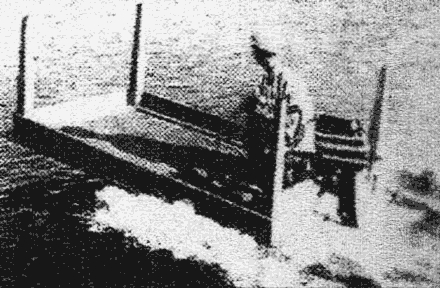 A bit of `Funning' (perhaps) though the image is of a genuine table-top outboard powered skimmer `borrowed' from an old issue of my friend Bob Hicks excellent monthly Messing about in boats. The table legs are `up' and the table top is `down' so the boat I have named Upsy Downsy …the fastest outboard powered dining table anywhere ! Go on then, show me a faster one!
---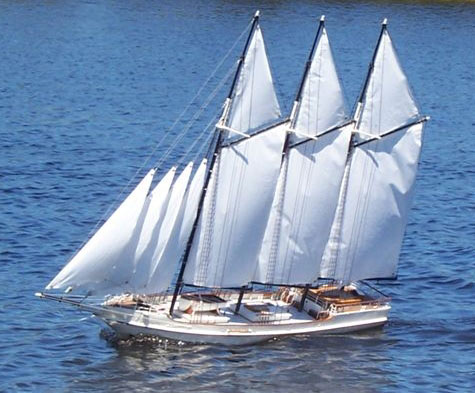 A very stylish boat is the Lady Annette named after a late wife and built by Rick Mayes in Queensland, Australia. Fibreglass-hulled she carries 5.5 kgs of ballast and has an all-up weight of 18kgs (40 lbs), The overall length of the boat is 1700mm.
One of some fifteen to twenty of these hulls were produced, whereupon many boats of different appearances emerged, Rick deciding to be different and opting for a three-masted schooner. He built her with a ply deck and cabins with planking glued to the deck, black trace rope inserted between the planks to represent corking. Three channel RC is used and the four jibs can tack over. The model tends to be the envy of many who admire her sound sailing abilities and gracious appearance, her sails made made from one and a half oz spinnaker cloth obtained from a sailmaker. Masts are hollow fiberglass fishing rods, arrows used for the booms and gaffs.
---


The real Dolfyn left,
Don Brown above
When Don Brown retired early in 1988 he had been sailing for some time, had owned a couple of yachts having taken up sailing when he finished gliding some years after his gliding partner had been killed. As a retirement present he bought Dolfyn built in 1972 and purchased by a New Zealander who had set off to sail the boat from the UK to New Zealand.
He had only made it as far as the Mediterranean where he sold her to an American who sadly died shortly afterwards, whereupon the Dolfyn, a 31' yacht fitted out by Westerley Yachts in the 1970's languished ashore for a long time until the man's estate had been sorted out. Eventually bought by a couple who set out to sail her back to Britain, they put her ashore in France and had her brought back overland to the UK.
Don Brown spent a whole winter working on Dolfyn and then for a few years sailed her extensively from his home port of Pwllheli in north Wales in the Irish Sea, many times over to Ireland and as far north as the Hebrides and south to the English channel. For family reasons he eventually had to stop sailing and was forced to sell the boat. He then built RC model aircraft gliders later deciding to build an RC scale sailing model of Dolfyn at a scale of one and a half inches to the foot which gave the model a 48" length including the bowsprit, and a fourteen inch beam whereupon it very soon became a much admired model.. He sails the model at Lyn Pardarn at a point called Llanberis at the foot of Mount Snowdon in Wales where it gets quite windy forcing Don to reef down the model. He also fitted the model with a motor for those rare windless days and has built many more model boats including an American schooner (seen in the final photo above).
---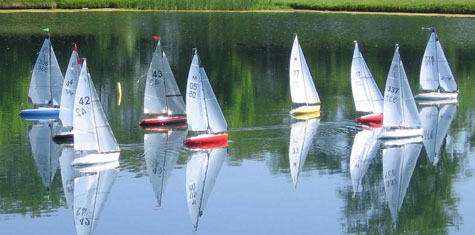 Now here's a photograph to gladden the hearts of those of us who take delight in the sight of a good fleet of sailboats all pointed in the same direction. This excellent shot was taken at an Ann Arbor Model Yacht Club in Michigan, USA event where the One Design Kyosho Fairwind yachts caught the eye of someone with a camera. Kitset boats they may be but they are sound little performers with a huge following in the US that have got a lot of people sailing. Hey! That's good, share the pleasure of model sailboats is my motto!
---
An old navy toast: `May no son of the ocean be
devoured by his mother'.
---

| | |
| --- | --- |
| Larry Schaber with his Mary J Ward schooner | Australia II |
| | |
| --- | --- |
| Soling One Meter | Soling Half Meter |
| | |
| --- | --- |
| Ruby B | Kit parts |
Perhaps there are some still not aware of a company in America called Victor Model Products and this scribbler has for some time wanted to do a story about the company and the wide range of boat kits they produce, if for no other reason than to tell those still unaware about them. I know, I know, there are quite a few companies producing kitset boats of great popularity, I have just mentioned one of them (Kyosho) in the previous item.
I had heard about Victor by way of David Goebel some years ago and became interested in the kit they produced of a lovely little schooner marketed as the Mary J Ward one of which Goebel had in his own collection. From his website I learnt the name, George Dornis (whom I have since shared some communication with) but I realize that I am treading on unsure waters when I say that I believe that this modest gentleman and his wife Ruby actually own the company while themselves working alongside their small band of fellow employees.
Were I living today in the US, I probably would be sailing something from Victor Model Products and while I am besotted with schooners, now at the age that I am at and uncomfortable to some extent with larger and heavier (and requiring bending to launch and retrieve ) models I would probably go for one of their lighter, smaller and simpler boats. Old age is a right bastard isn't it? Anyway that does not arise and it is now much simpler to continue to spread the gospel of sailing delights through my writing about this wonderful hobby, and hopefully enthuse others.
In showing you a few photos above, what I would like readers to do is to go to
www.victor-model.com and check out the range of their boats in their website, making sure you have a look at their new victor gallery. Victor Model boats, I think step up the standards and go the extra mile in detail.
---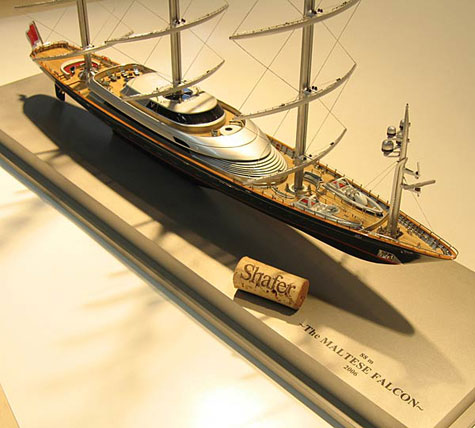 | | |
| --- | --- |
| Rob Eddy | |
To modelmaking of a different nature. Rob Eddy is a model shipwright par excellance whose` custom classic yacht' model work is commissioned by owners of such boats usually in the `comfortably off' wealth bracket. Robert H Eddy & Associates who work out of Camden, Maine in the US have a great many models to their credit, many of which can be seen on their website.
In 2006 they were commissioned by Thomas J Perkins, the owner of the one hundred million (US) dollar clipper yacht Maltese Falcon, to produce a desktop model (shown above which was produced in the scale of 1/16th " per foot of the real yacht. The model was to take 2,150 hours while presenting many problems, about 250 hours devoted to experimentation in various stages of its development.
Robert with whom I have enjoyed occasional communication over several years and is seen above, has been a modelmaker almost all his life and his modelmaking goes back to the days of plastic kit modeling of Revell products. The journey has been a long one but development of his skills has made it worthwhile and brought acclaim and rewards.
---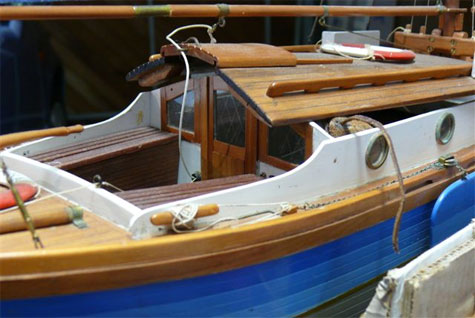 I've got this tiny pet mouse, Oskar (Oskar de Cervantes if I am introducing him to anybody with close up mouse vision!) who lives most nights under the cabin hatch of a model yawl-rigged barge yacht called Joanna in our garage. Oskar says he's sailed around Cape Horn not `twunce' but twice and shows a tattoo of an anchor on his underbelly, to which I say "YEAH! YEAH !...IN YOUR DREAMS OSKAR !"
I make sure each night that I press the hatch cover down securely but he must have a way of flipping it up to get inside when he gets back from his food-foraging burglary rounds of the neighbourhood , because next morning, there he is inside. I've warned him that if and when I ever get Joanna on the water again, I'm going to put a screw-down thingy on the hatch so he can't get inside. " THERE ! I'VE CAUGHT YOU ON FILM YOU RODENT RASCAL!"
-30-