A Lightweight, Traditional looking, Open Power Cruiser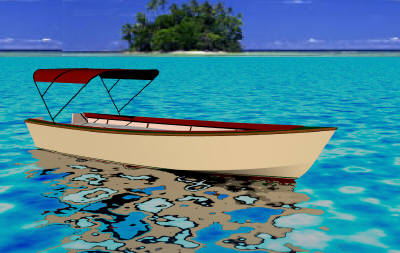 Breaking camp early, the early morning fog lifts as you slowly explore and work your way through the endless estuaries, inlets and headlands. The smell of the coffee and the warmth of the mug within your hand, reminds you of the simple pleasures of life. A life away from the endless grind of work and suburbia.
Exploring your way around a small headland, you notice a small break within the giant boulders. An opening finally appeared with clear waters, a sandy beach, and grasslands behind. The excitement begins to build as the kids begin jumping up and down and pointing. We've finally found our next campsite and even better, there's no one around for miles
Overview
The BOSUN'S MATE 23 is designed to be versatile and functionable, fulfilling a number of tasks and requirements and, yet remain pleasing to the eye. The BOSUN'S MATE 23 plans are large scale drawings printed on 2' by 3 ft sheets or D size and are drawn to a very high degree of accuracy in both metric and imperial measurements. We also provide building notes and material list.
Overall, the BOSUN'S MATE 23 offers a great opportunity for those weekend fishing & camping adventures, or a reliable workhorse for those professionals on the water. But just as important as all the above, it's also designed for those on a tight building budget.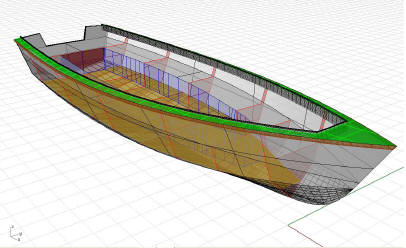 Boat Specifications
Length of Hull:
7m (23 ft)
Beam:
2.13m (7 ft)
Depth:
1.23m (4ft)
Transom Shaft Length:
L/S & S/S
Weight (boat only):
324kg (722 lbs)
Rec. HP:
10-15 hp
Max. HP:
30hp
Main Motor Weight:
94 kg (207 lbs)
Number of People (Basic):
10
Max Load (Basic):
993kg (2189 lbs)
Design Brief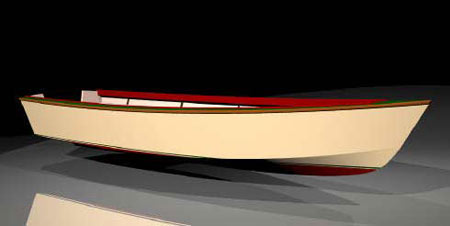 Approached by Warren Jacobsen of JACOBSEN TIMBER BOATS, we were asked if we could design a boat of similar nature, only lighter in construction, to the one he was building at that time, a heavy "traditional plank on frame" boat.
With rising fuel costs, could we design a workboat to suit his professional client's needs, i.e. a fisherman's workboat, that would not only suit that market, but would also appeal to the recreational fisherman and coastal explorer market. Overall, our main priority had to a simple open plan design, with the priority being the reduction in fuel consumption without, compromising the strength, durability and safety.
On discussion the points noted were:
It had to be an open boat,
Length overall - around 23 ft (7m)
Beam overall 6-7 ft (1.82 - 2.13m)
A recreational boat for camping and fishing expeditions
Workboat for Professional net fisherman/ crabbers and the like.
A multitask design.
Loads of storage compartments and seating
Lighter in construction
Easily built.
Easy to handle getting on and off the trailer.
Long range
Minimal Horsepower requirements
Less fuel consumption
The fraction of the cost of a similar size new alloy power boat.
Overall, it had to be a simple design, pleasing to the eye, but capable of many concepts and tasks.
Arrangements: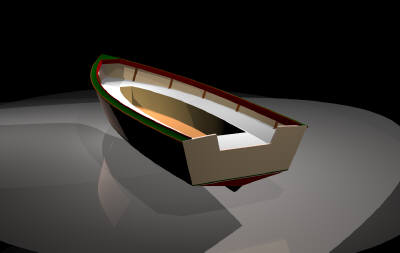 The BOSUN"S MATE 23' cockpit length is 19ft (5.79m) long! With its all round seating and storage compartments beneath, it is well laid out with heaps of room for those family expeditions or as storage for the professional. The seating height is 16 in (.406m) above the sole, but allowing for a 2"(50mm) cushion or squab, she'll give a comfortable seating height of 18" (457mm). (In other words, not having your knees in your face as some boats do!)
With a constant seating width of 19" (482mm), the BOSUN"S MATE 23 has got ample room to just lay about sun baking or to just curl up and read a book, waiting for the fish to strike the bait.
In regards to freeboard, at the miship section her height is 2ft- 4in (696mm), whilst at the bow where it counts, her height is 3ft - 2in (973mm).
All in all, the concept had to be kept simple, yet fully functional with storage everywhere, to suit your personal needs or desires.
Construction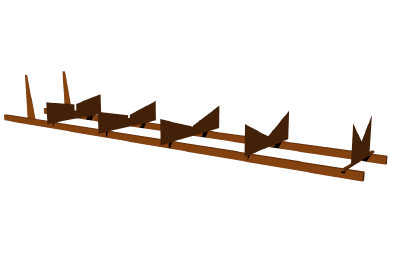 The BOSUN'S MATE 23, designed to ABS Power Boat scantlings, is built of Marine plywood, using the Stitch & Tape method. Built upright from the start, the BOSUN"S MATE is sandwiched in epoxy, and directional E-glass fabrics.
This results in a stronger, tougher and more durable "Composite" boat, yet still retaining its lightweight construction.
Further more, she can be built for just a fraction of that of a purchased alloy boat of similar dimensions. In today's present world of tight budgets, you can now afford to build the BOSUN'S MATE 23 at your own leisure, but also within your own budget.
Plans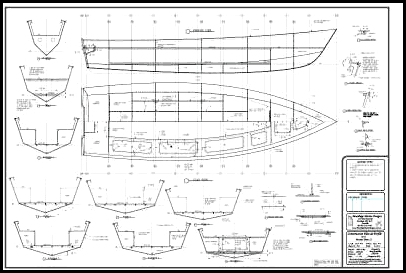 Plans for the Bosun's Mate 23 are extremely comprehensive, with 9 sheets (D size or 2ft by 3ft) of drawings, complete written specifications and builders manual.
| | |
| --- | --- |
| Drawing # | Drawing Description |
| 1 | Profile & Arrangement Plan sheet |
| 2 | Lines plan sheet |
| 3 | Cradle & Set-up Construction sheet |
| 4 | Bulkhead & Frame Construction sheet |
| 5 | Laminate schedule & Constrution sheet |
| 6 | Construction Plan & Profile |
| 7 | Construction Sections |
| 8 | Panel Construction & Lofting Sheet |
| 9 | Panel Construction & Lofting Sheet |
*****
Bosun's Mate 23 and other great plans from
Mark Bowdidge are available from Duckworks