The Float Pod Concept of the OneUglyBoat 18 ft Deck Boat uses a different approach to making a boat unsinkable and therefore ultimately safe. That concept incorporates a number of floating pods that are fastened together into an unsinkable floating platform with the boating structure built on top. The unsealed boat's structure allows a small amount of water to enter the float pods around the foam floatation, but also allows water to exit the boats interior through these same entry points.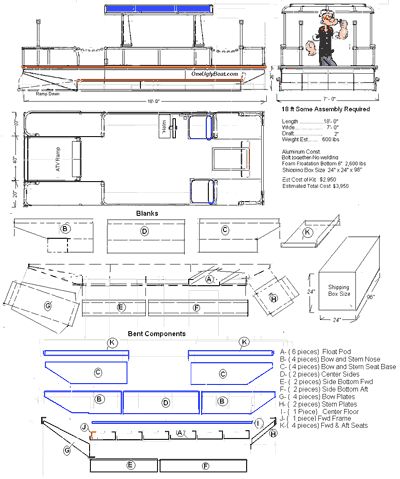 click image for larger view
With six construction foam filled float pods, water space for the 18 footer should reduce the floatation by about 2-3 gallons or less than 50 lbs of floatation. Because of this new approach, there is no need to have the boat's hull welded or sealed to keep water out. With a normal boat structure the same water tight integrity that keeps the water out, also keeps the water in allowing the boat to fill up with water during a swamping, or from rain water accumulation. The idea is demonstrated by a comment my Father once made in observing flies on the inside of a window screen at our house. Dad said, "ever see flies on the outside of the screen trying to get into the house?. Hmm.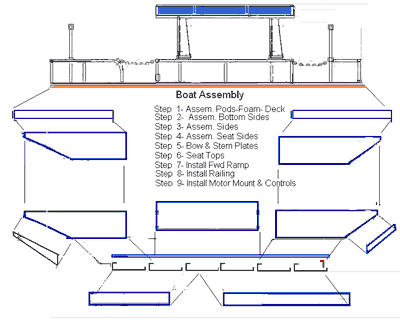 click image for larger view
The Float Pod building concept also gives a great deal of flexibility for the size of boats being built. You can build any size boat you want by simply adjusting the length and the number of pods in your boat. Using a 24" wide Pod requires 6 Pods for an 18 foot boat. (plus nose and stern structures.) A 20 ft boat requires 7 Pods Etc. As you can see, a single set of construction plans can be used for any size boat. In fact, because of the simple bending system used, the only components you will need to buy for a kit should be the plasma cut nose and stern plates shown in the plans. Everything for the Float Pods can be purchased off the shelf by your local sheet metal shop. This alone will save you a great deal of money on any shipping or mark-up on flat structures.
We show the boat being made of .125 marine aluminum, but galvanized or painted steel could also be used without greatly increasing the weight by using lighter scantling on the structures. What the boat will be used for will be a factor on which material to use. For a construction company hauling heavy materials or equipment steel can be used. The size of the float pods can be adjusted to give the needed displacement to carry the load. For a Sea Scout Troup a smaller lighter boat may be chosen as a boat building project.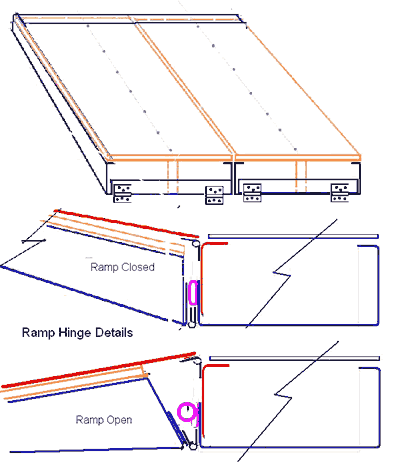 click image for larger view
The design also offers a very workable plan for carrying an ATV on board for hunters, law and drug enforcement agencies, and game wardens wanting to explore river islands or inaccessible shore line property The strength of the boarding ramp can be adjusted to meet your hauling needs. Exit ramp height is at the level of the boat's inside floor.
All the hand rail and bimini frames shown in the drawings can be fabricated by your local sheet metal shop, or we can ship the components to you for assembly. Floatation foam and plywood components come from your local home supply store. Fasteners can be purchased locally, or we can ship them. A trailer kit or plans can also be provided. Assembly should be doable by anyone with basic tool handling skills.
*****