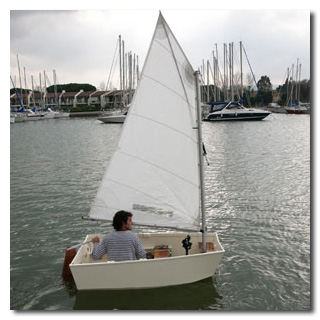 Deckster
| | | |
| --- | --- | --- |
| Length | - | 170cm (5'7") |
| Width | - | 115cm (3'6") |
| Weight in deck stow mode | - | 25 kilos (55lbs) |
| Weight fully assembled | - | 30 kilos (66lbs) |
| Carrying capacity | - | Two adults or 150 kilos (330lbs) |
| Max outboard size | - | 3.3hp |
| Sail area | - | 2.5 sq metres (25 sq feet) |
The Deckster is a hard dinghy with a difference - it has a hole in it! A removable front panel allows it to be stowed around the mast on the smallest of yachts.
Peddle it, row it, motor it, sail it and stow it! The all new Deckster stowing dinghy does it all. The optional removable bow section allows this dinghy to find even a home on the smallest of cabin tops. Thanks to it's innovative and well thought out design it is more capable than many other much bigger boats.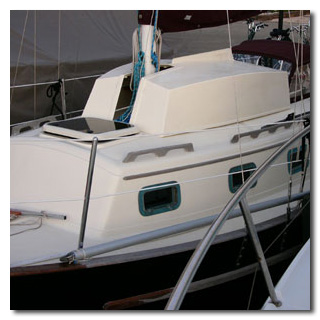 The Deckster stows on the cabin top around the mast. Of course you don't have to cut out the bow section. There are still a lot of good reasons to build a Deckster.

The Deckster can take an outboard up to 3.3 hp but it also rows well, and with the adjustable thwarts it is always possible to find a comfortable position whether alone or carrying a passenger. If you prefer not to row, then take a look at the Hobie Mirage Drive option. This incredible contraption takes the effort out of rowing by using leg power, leaving your hands free and allows you to sit facing the right direction!
The photo below shows the Deckster with the optional Mirage Drive in place. This whole section is easily removed for stowage. No one is likely to steal a boat that can't float!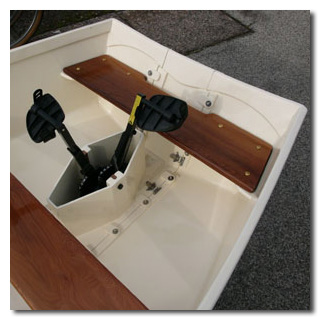 | | |
| --- | --- |
| The Deckster is an open plan dinghy with fully adjustable, removable thwarts. It's wide stern follows the shape of the cabin top where it will be stowed, giving immense stability for such a small craft. The Deckster is very stiff under sail and surprisingly capable too. Not to mention great fun. | |
| | |
| --- | --- |
| | If you can use a tape measure and a jigsaw, then building a Deckster from our plans could not be easier. The fully illustrated instructions cover every aspect of construction, step by step. There are no patterns and no complicated offsets to worry about. It's a bit like a child's 'join the dots' puzzle in a sense. |
| | |
| --- | --- |
| The Deckster is built using the 'stitch and glue' technique, using plastic electrical cable ties which are readily available, inexpensive and easy to work. There are no screws or fastenings in the dinghy's hull at all. By the end of one day you will already have a basic dinghy shape. | |
| | |
| --- | --- |
| | Every step is explained in detail, leaving nothing to chance. What kinds of wood to use, how to use them, wood working techniques, as well as comprehensive information about every aspect of boat building from sharpening and using tools to how to paint and varnish. All from a boatbuilder with over two decades of experience. |
Will the Deckster fit on my deck?
Until now, stowing a hard dinghy on the deck of most small yachts has never really been an option. The Deckster however has an optional removable bow section that allows it to be stowed around the mast on the cabin top, thereby permitting even the smallest yacht to carry a very competent, tough and stable, hard dinghy in a safe and seaworthy manner.
The Deckster's shape mimics the shape of most decks (when viewed from above). The dinghy's wide stern offers great interior volume, stability and stiffness under sail.
This innovative design also allows for companionway hatches and deck camber to a maximum depth of 180mm across the full width of the dinghy.
Use the image below to determine if the Deckster is suitable for your deck. Use masking tape to transfer the dimensions to your cabin top.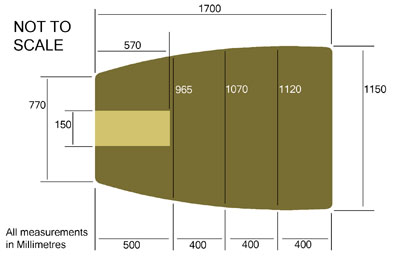 ---
FAQ's
Q: How long will it take to build my Deckster?
Much will depend on your skills and available workspace, but it is possible to have the basic hull pieces cut out and glued into a boat shape in less than a day. As the Deckster has many options it is difficult to estimate how long it will take, but the basic boat can be made very quickly. With all the options included, it should be possible to build a Deckster in about 40 hours. As with most projects, it's the details that take the most time.
Q: How much will the Deckster cost to build?
You will need to cost in two sheets of marine plywood and about three litres of epoxy glue for starters. That should give you a basic price. Add to that some paint and the usual sundries such as brushes and sandpaper, and this will give you a rough idea. Of course much will depend on the quality of the materials used, and where you purchase them.
Q: What is the Deckster's carrying capacity?
Two adults or approximately 150 kilos.
Q: Is there a sailing version?
Absolutely. The Deckster was specifically designed as a sailing boat and full instructions on how to rig your boat are included in the plans. The Deckster uses a modified Optimist sailing rig.
Q: What is the biggest outboard I can fit?
The Deckster has been tested with up a 3.3hp engine
Q: How well does it row?
The Deckster rows very nicely. The position of the rowlocks can be changed depending on the number of occupants.
Q: How much does the Deckster weigh?
The Deckster weighs about 25 kilos in deck stow mode and about 30 kilos when fully assembled.
Q: I don't have any experience, can I still build a Deckster Dinghy?
You do not need to have any experience building boats, you only need very basic woodworking skills, and a few tools such as a jigsaw, a drill and a plane. The plans have been specifically created in an illustrated step by step style to guide you through the entire building process.
Q: What are the Deckster's Dimensions?
The Deckster is 170cm long, and 115 at it widest point.
Q: How does the removable bow section seal?
In order to make the removable bow section watertight, the Deckster has a double seal system using neoprene cord which is very effective and easy to install or replace if necessary.
Q: Tell me more about the plans
The metric plans have about 100 pages, well over 100 photos and lots of other useful information. The plans come in a pdf format and are about 6mb in size. Click here to purchase plans from Duckworks.


Deckster Sailing

Sailing in light airs

The Hobie Drive in action
Click HERE to purchase Deckster plans
*****