Forest & Stream -

Free Plans

Click the PDF icon below for instructions
then either the metric or imperial drawings
A classic rowboat designed for modern construction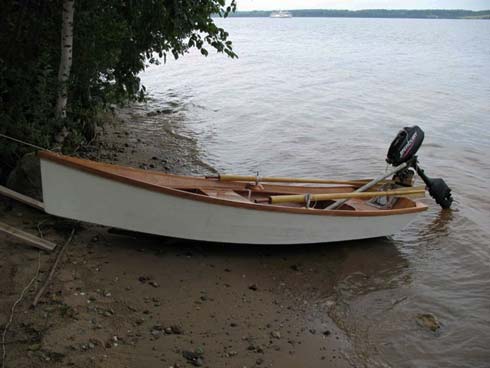 Essential statistics
| | | |
| --- | --- | --- |
| Maximum length | - | 3100 mm (10' 2") |
| Maximum width | - | 1156 mm (3' 9.5") |
| Full Load draft | - | 90 mm (3.5") |
| Weight | - | ~50 kg (110 lb) |
| Passenger Capacity | - | 2-3 |
| Navigability (wind force) | - | 2 |
Introduction
"Forest Stream" lines were developed as a result of summarizing high quality reliable ships construction methods in 1890 of the one before last century. The boat was «brought back to life» on the basis of modern composite technologies and up-to date construction techniques. It is very light under oars. Transom piece is used for low power (up to 3 horse power) outboard motor installation. Keel line bending helps running in shallow waters. Foodability is provided by a considerable amount of foam plastics (pvc) under the deck along the boat. Closed kit lockers distinguish the boat from the original. Due to light weight of the boat it can be transported on the top bonnet of a motor car (class C).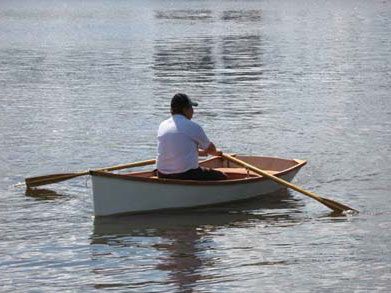 These plans were submitted by Sergey Sinelnikov - https://sailboats.perm.ru for free distrubution to Duckworks customers and readers. He has obviously done a great deal of work on the design and the plans. They seem clear and complete. You get 7 sheets of drawings which can be printed on a standard printer. Here is an example: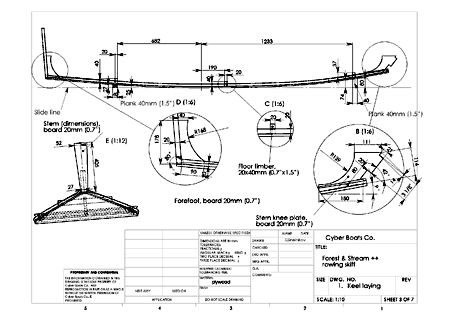 The drawings even include plans for a pair of oars.
You also get a 12 page instruction manual - Here is a sample from that: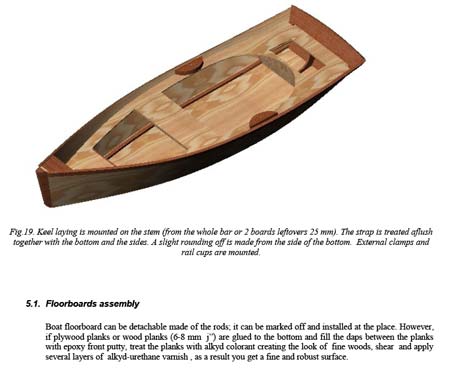 You can tell from reading the instructions that English is not Sergey's first language, but it is easy enough to understand and the sketches and renderings are first class.
Here are some pictures of the boat: (click images to enlarge)
If you decide to build this boat, please send us a picture.
*****