Another design/build is complete, and I am excited. This one is called the KAYAK+, for a good reason. In its lower form (7 inch freeboard), it performs just like any 8 foot long Kayak, albeit made from quarter inch plywood. In the full form (10 inch freeboard), with a 36 pound thrust electric trolling motor, it becomes a great little cruiser.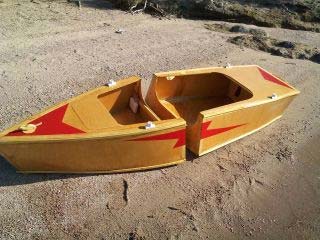 Full Form Hull assembles in two parts and is easy to transport in almost any vehicle.

Of course it utilizes the 'Tape and Glue Process' of assembly and weighs only 40 pounds dry. Two 3/8 inch bolts hold the two halves securely together. The parts fit nicely in a pickup or SUV - no trailer required.

The most unique thing about the design is it' twisted side panels. These provide a wider beam at the center chine area. Yet, it is narrow at the bow and stern, developing greater strength while allowing easier paddle movement over the gunwale.

In test outings, I have subjected the hull to full immersion in order to qualify the built-in buoyancy compartments. I even got in the boat without sinking it, while full of water - safety proven.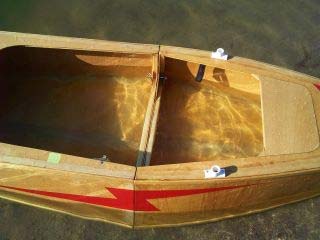 This is as much water as the boat would take.

Since these tests I have put a fair amount of time in the boat. It handles well, is stable (thanks to the wide beam at the chine) and with the 36 pound thrust motor speeds along above 4 MPH for hours. All minor quirks have been remedied, and the assembly documents are up to date. This should be an easy boat for anyone to build. There are no fancy curves and there is minimum of complex cuts. I like to keep it simple, as you know.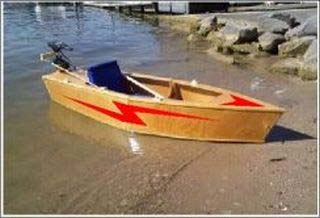 KAYAK+ beached, ready for another foray into the unknown.

There are a number of options available with this design. I have completed a canopy covering the occupant compartment. This is a necessity here in Arizona. Also, in the works is a 3 foot center extension that will provide room for two occupants. Finished with cup holders and tie-downs for the paddle, as well as additional gear, the little boat becomes a weekend explorer.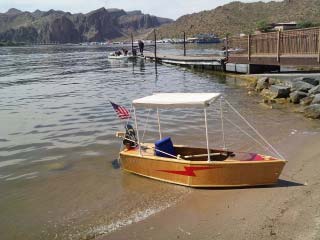 Canopy raised on a sunny August day in Arizona. American Flag is also an option.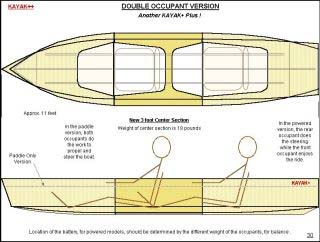 The center section design is under construction. Photos will follow soon. I call this the KAYAK++ because it accommodates two !

I must tell you that this boat has attracted a lot of attention. Other boaters are curious as to what it is and some ask where I bought it. I tell them all to go to Duckworks for more information. I am having a good time enjoying the early mornings on the lake. I know that whoever builds this little boat will be very pleased with the results. It's an easy build; two sheets of ply, some glue and fibreglass cloth, and a jig-saw. I prefer the Marine Spar Varnish finish, but paint of various colors would also suffice. I even have carved a little Roadrunner as a mascot, proudly displayed on the bow.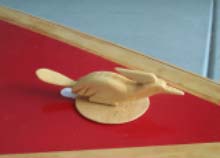 I am including a YouTube URL video of the boat underway, depicting the wake left behind on still water.
https://www.youtube.com/watch?v=yDaf2c94Yc0

Best regards and happy boating,
Ken Simpson


*****