S & G 3.65 meter "V" nose punt
As the sun dipped towards the horizon, Jeff Lord and I sat around the patio table, discussing his new boat concept. Producing a hand drawn sketch on a carefully folded sheet of paper, he asked "Could we design a boat to suit this drawing?" With our coffee's in hand and looking over his roughly drawn sketch, we discussed and drew slight variations of the boat, all the time keeping in mind it's purpose and nature. Overall, the idea looked like an interesting concept, and would be a real challenge to design in plywood. So in the end, we agreed upon a concept and proposal to design.
Overview
The Mangrove Jack 3.65 "V" nose punt is designed to be a compact "V" nose punt. Designed as a fishing vessel suited to sheltered and semi-sheltered waters, the Mangrove Jack 3.65 offers a great opportunity for those weekend fishing adventures, designed to be tough, reliable and seaworthy for those who love to venture out on the water.
The plans are large scale drawings printed on 2 ft by 3 ft sheets (or D size). The CAD plans are drawn to a very high degree of accuracy in both metric and imperial measurements. Included also is a building manual and material list.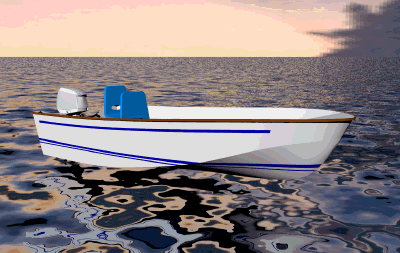 Boat Specifications
Length of Hull:
3.65m (12 ft)
Beam:
1.44m (4 ft - 9in)
Depth:
.781m (2ft - 7in)
Transom Shaft Length:
S/S
Design Brief
Jeffs Brief:
"Having been around boats of one sort or another nearly all my life, having built 2 and modified another, I currently own an aluminium RANGER 3300 punt , which I am sorry I ever bought. I was after a lightweight plywood/composite boat, but after months of searching, I could not find what I wanted that would suit my needs.

Above: The initial hand drawn sketch that Jeff drew of the Mangrove Jack
What I was looking for was "V" nose tunnel hull punt, (a composite/ plywood design), with large "V" chines to provide extra stability when fishing and also for the boat to sit level when beached. I had been toying with the idea of building a V Nose punt of my own design, but how do you know if the design will work, let alone can it be built?
It also had to be lightweight for its size, with a high freeboard, quick and easy in it's construction and easily handled by 2 people. Is this possible? I asked Mark "
Jeffs later comments about the design:
"When I saw Mark's web site and spoke to him, I met a kindered spirit, and I asked him "Could he design the boat for me?". Well, I love what they've done! The interest shown in the design is great and it shows that Mark can turn a ham fisted amatuer designers sketch into a beautiful and sea worthy boat. I have printed off the drawing to show to the TREASURER. We think it looks excellent."
Design: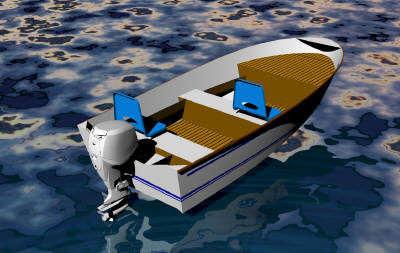 The Mangrove Jack 3.65 "V" nose punt is designed with seaworthiness and stability in mind, when on the move out fishing or crabbing. With her high topsides and swivel seats for comfort, the bench seats are designed to provide full buoyancy and storage compartments, capable of supporting the boat in the event of swamping.
The large foredeck, measuring 1064mm (3ft-6in) in depth, provides a great area for casting nets and storing the crab pots. Easy access to the lockers beneath the foredeck, is provided by two large flush deck hatches for all the necessary boat gear (anchors/ warps life jackets etc).
Moving aft, standing on the level cockpit sole, the spacing between the foredeck and the middle seat is 758mm (2ft- 6in) , providing ample room for the everybody when out and about. The midship seat also incorporates a storage compartment for all those drinks/ food etc.
Throughout the boat, along the topsides panel, the Mangrove Jack "V" nose punt includes built in plywood side pockets for all those fishing bit's and pieces. The spacing between the aft seating arrangement and the middle seating arrangement is 740mm (2ft-5in), providing ample leg room or area for those eskys of ice to store the "catch of the day". The rear seat, moved away and forward of the transom, allows for a engine well between the rear seat and the transom. This allows for easy cleanup's in the accidental spillage of fuel or oils. With room between the rear seat and transom this allows for comfortable handling of the boat without feeling like the motor is tucked up under your armpit. Overall the Mangrove Jack 3.65 "V" nose punt is designed to be very comfortable, stable and seaworthy, and most importantly-practical.
Construction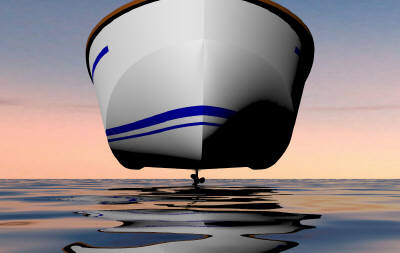 The requirement of the Mangrove Jack 3.65 "V" nose punt was simple. It had to be light, quick to build, easy on the pocket, and yet still retain its strength, seaworthiness and performance. The Mangrove Jack 3.65 , designed to ABS Power Boat scantlings, is built of Marine plywood Sandwiched in epoxy, and directional E-glass fabrics using the Stitch & Tape method, the overall design results in a stronger, tougher and more durable "Composite" boat, while still retaining its lightweight construction.
The Mangrove Jack 3.65 "V" nose punt is designed with full seat bulkheads, every "compartment" is self contained or, you can install on/ off drainage from front to rear. This means if you happen to spill water or fuel in the aft compartment, it stays there! It doesn't "swish" around the rest of the boat, covering everything and making an oily mess. The same applies to all areas within the boat. Everything is contained!
Overall, the Mangrove Jack 3.65 "V" nose punt is lighter and can be built for just a fraction of that of a purchased alloy boat of similar dimensions.
Plans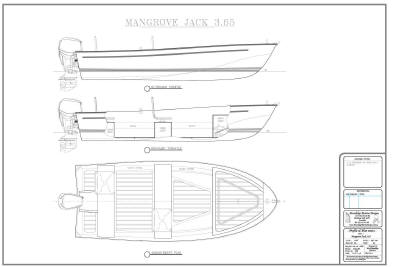 Click the image above for a PDF Plan sample
Plans for the Mangrove Jack 3.65 are extremely comprehensive, with 6 sheets (D size or 2ft by 3ft) of drawings, complete written specifications and builders manual. Please read our Back Up Policy. This is an ideal project for the first time boat builder.
| | |
| --- | --- |
| Drawing # | Drawing Description |
| 1 | Arrangement plan & Profile |
| 2 | Cradle Construction & Setup Sheet |
| 3 | Laminate Schedule & Construction Sheet |
| 4 | Construction Profile & Plan Sheet |
| 5 | Panel Meaurements & Lofting sheet |
| 6 | Plywood layout sheet |
All plans provided are drawn on 2ft by 3ft sheets
The plans also include a materials & construction manual