A Proven Yacht Tender & Recreational Fishing Boat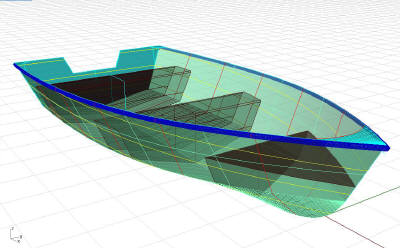 A few years back, whilst still living aboard our 42 ft catamaran, we were approached by a couple asking could we design and build a new plywood composite tender/ fishing boat for their yacht. With their inflatable tender seemingly always in a state of repair, could the design be similar to the one we designed and built for ourselves. After much discussion and taking note of their requirements and wants, the Mushulu 12 (named after their trimaran) was designed and built.
Year's later and after moving back on shore, we decided to build the Mushulu design again. Launching her at the local boat ramp, the Mushulu 12 design received a lot of compliments and interest, which in the end, resulted in many orders for the design.
Overview
The Mushulu 12 is designed to be versatile and functionable, fulfilling a number of tasks. Not only a yacht tender, but also as a fishing dinghy suited to sheltered and semi sheltered waters. The Mushulu 12 plans are large scale drawings printed on 2 ft by 3 ft sheets (or D size). The CAD plans are drawn to a very high degree of accuracy in both metric and imperial measurements. Included also is a building manual and material list.
Overall, the Mushulu 12 offers a great opportunity for those weekend fishing & camping adventures, or as a reliable and seaworthy yacht tender for those who live on the water.
Boat Specifications
Length of Hull:
3.66m (12 ft)
Beam:
1.67m (5 ft - 6in)
Depth:
.701m (2ft - 4in)
Transom Shaft Length:
L/S & S/S
Weight (boat only):
48kg (107 lbs)
Rec. HP:
10hp
Max. HP:
15hp
Main Motor Weight:
51 kg (112 lbs)
Number of People (Basic):
4
Max Load (Basic):
256kg
Design Brief
The brief for the Mushulu 12, (a composite/plywood design) had to be lightweight, easily carried or handled by 1 to 2 people, quick and simple in it's construction and without costing an arm and a leg to build.
Initially designed as a Yacht tender, this also meant it had to be a performer. Not only in recreational use, whether it be fishing or just plain exploring, but also as a tough and rugged yacht tender. With higher than normal topsides of 457mm (18") instead of the typical 300mm (12"), it had to be designed to be used as a carrier of people and stores, water and fuel runs, or just plain recreational fishing.
Most importantly, you had to feel secure when out and about.
Arrangements:
The Mushulu 12 is designed for seaworthiness and people's safety in mind. With high topsides and comfortable seating heights of 406mm (16"), the seats are also designed to be full buoyancy compartments, capable of supporting the boat in the event of swamping.
The forward compartment seat, not only doubles as a buoyancy compartment, but also a storage compartment for all the necessary boat gear (anchors/ warps etc). The rear seat, moved away and forward of the transom, allows easy and comfortable handling of the boat without feeling like the motor is tucked up under your armpit.
The spacing between the aft seating arrangement and the middle seating arrangement is 914mm (36"or 3ft), providing ample leg room, and if as a yacht tender, heaps of room for those bags of food shopping, water jerry cans and fuel drums.
Between the middle and forward seating arrangement is 762mm (30"). For those long days out fishing or on excursions, seating width is paramount in order to be comfortable. Here, the seating is 300mm (12") in width.
Overall this design, has proven to be very comfortable, stable and seaworthy and most importantly-DRY.
Construction
The requirement of the Mushulu 12 was simple. It had to be light, quick to build, easy on the pocket, and yet still retain its strength, seaworthiness and performance. The Mushulu 12, designed to ABS Power Boat scantlings, is built of 6mm (1/4") and 12mm (1/2") Marine plywood, sandwiched in epoxy, and directional E-glass fabrics using the Stitch & Tape method. Overall this results in a stronger, tougher and more durable "Composite" boat, while still retaining its lightweight construction.
The Mushulu 12 boat (without the motor) weighs approx 34kg (74 lbs) and is easily handle by 2 people, for hauling up the beach, loading onto the box trailer , or as a car-topper. When compared to an alloy boat of the same dimensions, the Mushulu 12 weighs approx 56 kg (125 lbs) less!
Designed with full seat bulkheads, every "compartment" is self contained. This means if you happen to spill water or fuel in the aft compartment, it stays there! It doesn't "swish" around the rest of the boat, covering everything and making an oily mess. The same applies to all areas within the boat. Everything is contained!
Overall, the Mushulu 12 is far lighter and can be built for just a fraction of that of a purchased alloy boat of similar dimensions.
Plans
Plans for the Mushulu 12 are extremely comprehensive, with 6 sheets (D size or 2ft by 3ft) of drawings, complete written specifications and builders manual. Back up service is also provided as needed. Please read our Back Up Policy. This is an ideal project for the first time boat builder.
| | |
| --- | --- |
| Drawing # | Drawing Description |
| 1 | Arrangement & Profile sheet |
| 2 | Cradle Construction & Setup Sheet |
| 3 | Laminate Schedule & Construction Sheet |
| 4 | Construction Profile & Plan Sheet |
| 5 | Panel Meaurements & Lofting sheet |
| 6 | Plywood layout sheet |
All plans provided are drawn on 2ft by 3ft sheets
The plans also include a materials & construction manual
*****
Mushulu 12 and other great plans from
Mark Bowdidge are available from Duckworks