Multipurpose, Inverted Vee, Row/Power Dinghy
The Unicat 2.4 is a multipurpose dinghy for use as a tender, fishing boat, or general messing about on the water. Stitch and tape construction provides a boat which is light, durable, low maintenance and very easy to build.
The inverted vee hull gives the Unicat great stability without sacrificing performance under oars or motor. Load capacity is 230kg or 3 persons, this is provided by the high freeboard and flat bow.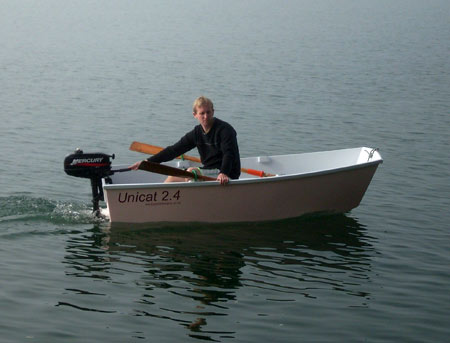 The T shaped seating arrangement allows passengers to be placed to allow correct trim of the boat in all load conditions. The seats are fully enclosed, giving great reserve buoyancy and enhancing the safety of the boat. Watertight storage compartments can also be installed to store small items such as keys, cellphones and food.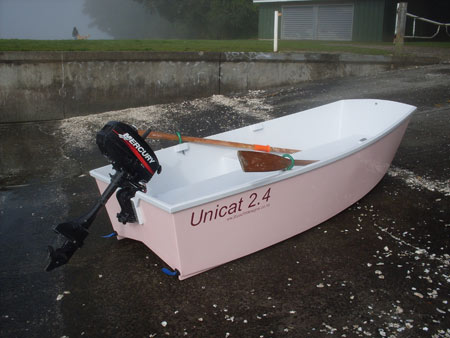 A 3.5 hp outboard motor will push the Unicat onto the plane at speeds of up to 9 knots. (depending on loading condition and propeller design). The dinghy can take an engine up to 5hp.
The unicat hull is designed to be easy to row. This is achieved by minimizing the submerged transom area, reducing drag. The weight of the motor will push the transom lower in the water for higher speeds under motor.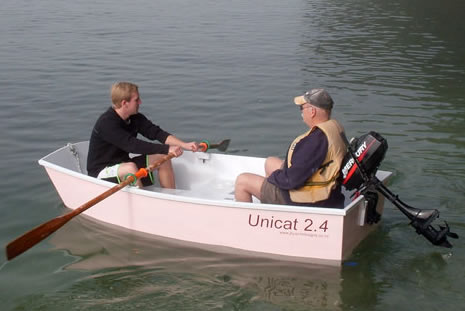 Construction is 4mm Meranti plywood or similar. Stitch and tape construction is quick, easy, and produces a boat which is lightweight and high quality. Plywood panels are joined with 250 gsm fiberglass tape, on both the inside and outside of the hull. The hull is sheathed with fiberglass on the outside. The seats and floor are reinforced with fiberglass on both sides of the plywood.
Construction of the first boat took 6 weeks, including 4 weeks of fairing and painting! This was with 2 people working afternoons and weekends. We both have boatbuilding experience, so amateur builders should expect to take a little longer.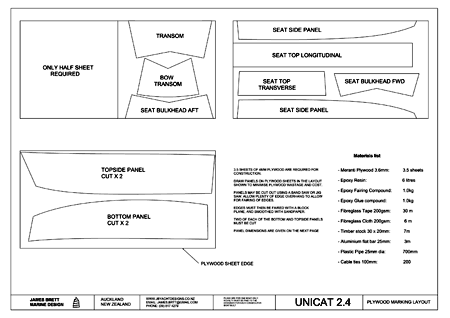 Price includes a 10 page A2 format plan booklet with step by step instructions, and a Unicat logo sticker to give your boat a professional look.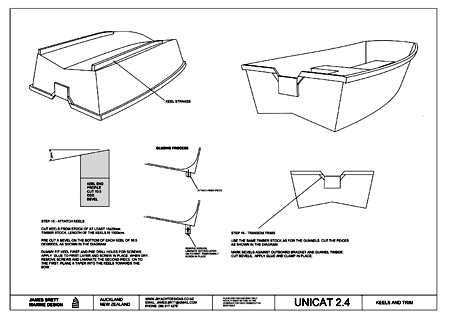 James Brett
Marine Designer
Auckland, New Zealand
Email: james.brtt@gmail.com
Website: www.jbyachtdesigns.co.nz
*****