Paul did not look at me as he said "That was horrible!"
"Not very seaman like at all" I replied. What we were shamefully lamenting was a particularly inept situation we had just put my newly christened Mikesboat design, Embers Watch, into.
We were approaching camp 3 of the Texas 200, a loosely organized and surprisingly well attended boat trip up the Texas coast. Promoted by Chuck Leinweber of Duckworks Magazine it took place from Port Mansfield up to Magnolia Beach Texas. Over five days and 4 night encampments, 25 to 40 extremely varied vessels ranging from 8' to 30' sailed a bit less than 200 miles through the big bays and ICW inside the barrier islands.
| | |
| --- | --- |
| | A 28' Shearwater ready to launch |
| | |
| --- | --- |
| An 8' Puddle Duck Racer, one of three. | |
Not everyone made it through to the end, and a couple of those stories make for enlightening reading, but this is about my son Paul, and me, and Embers Watch.
I built her over a 7 or 8 month period starting the end of 2007. As I have to build outdoors and without permanent shelter, I began by making the bulkheads, leeboard, rudder and stock, and oars while waiting for weather warm enough to cure epoxy to move outdoors.
| | |
| --- | --- |
| | Piano Abuse! |
The picnic table/workbench where 4 Michalak boats have been built
(so far!)
The design, a prototype, was drawn up by Jim Michalak upon request of Mike ________ for an enlarged Pickup Pram, one of Jim's first designs, well proven for years. Hence the name Mikesboat. I chose this design over Family Skiff because it could sleep 3 with a minor modification and I hoped to get both Paul and younger son Sean, to go along. Paul did so, but Sean went to China and India on a college trip instead. As much fun as we had sailing, Sean probably had the better trip!
Early in February I started going 3D with some of the parts already fabricated and progress was swift.
| | |
| --- | --- |
| | Sean and bulkheads. |
| | |
| --- | --- |
| Start of sides to bulkhead installation. | |
| | |
| --- | --- |
| | All central bulkheads in place. |
| | |
| --- | --- |
| Less than one days work outdoors! | |
But such heady progress was not to last as mother nature had her way and I lost 5 or more weekends and numerous days to rain. In hindsight, a $200 or $300 instant garage/shelter would have been very worthwhile. Sean was able to come home from college a couple of times and help, but Paul's new job had him traveling around Europe and the USA. So this was essentially a 95% solo build.
I finally put up a hodgepodge temporary shelter which Michalak likened to a temple to the weather gods!
| | |
| --- | --- |
| | Great designs AND a great sense of humor! |
The two other sailboats I have built were both equipped with polytarp sails They worked great and are cheap! But I was now of an age (I turned 61 June 10; 2nd day of the Texas 200!), that I felt I deserved a "real" sail and when my daughter Kathleen offered to buy me a Sailrite kit for Christmas, I did not say no. The Sailrite Kit for the mainsail was truly fantastic; computer designed and laser cut panels, thread, bolt rope, grommets, hand sewing needle with waxed twine, and detailed instructions give proof to the professionalism of this company. But be forewarned; the actual sewing, while not too difficult, was quite time consuming and took my wife, Rebecca, and me two or three days of part time work. However, the results were satisfying and the sail sets perfectly as designed, to my eye.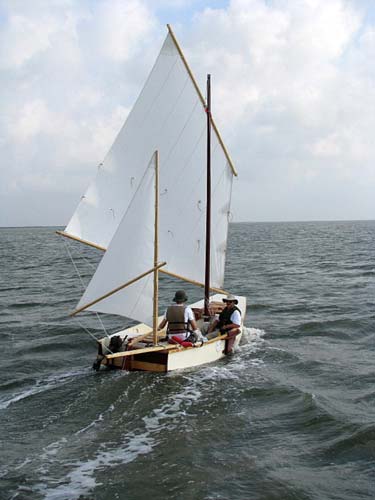 If you checked out the Mikesboat link earlier, you will have noticed that Embers Watch does not carry the originally designed rig. Since I have the most experience with the balanced lug rig on my WOOBO, "Chispa", I wanted this rig with an added small mizzen to enable easy heaving to for reefing and comfort at anchorage when cruising. Jim kindly drew this up for me and I believe that it is a perfect match for this design. The mizzen could be left off for simplicity, and she will still sail well as I found out the few times I tried it.
The complete build plus the rush to finish the sail, trailer, rigging, painting, etc., is documented on my blog in real-time agonizing detail. The masochists can detour there now, while those of you I have not yet driven away can rejoin me on the trip.
| | |
| --- | --- |
| | Paul at the tiller. |
| | |
| --- | --- |
| Army Hole prep for last day's sail. | |
| | |
| --- | --- |
| | The first campsite was characterized by MUD! |
The first boat to arrive that June 9th sacrificed the shoes of the first man to jump overboard in the shallow waters of the shore to haul his boat onto the bank. More than knee deep and STICKY! Embers Watch with her 6" draft and Pram bow, which hung over the shoreline, allowed us to disembark with little difficulty.
Now I don't mean to belittle this site. Once aware of the mud it gave little problem and there was a house on our side of the canal which had several TREES which meant SHADE, which was in short supply in the South Texas sun. So most of us gathered there to lay at the base of the trees or sit at the picnic tables underneath them. Someone asked "Whose house is this anyway; who does it belong to?" A slow drawl from around a tree trunk replied "I don't know, but it might be that fella crossing the field with the shotgun…" Gotta love that droll humor!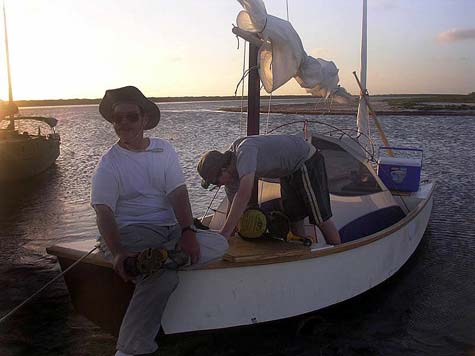 Camp 2 was supposed to be a dredged future expansion area next to the Padre Island Yacht Club in Corpus Christi. But upon arrival, the Vice Commodore was waving all boats to slips on the docks right in front of the Club House. What a great group of people; showers, hot water, air-conditioning, Bar-BQ pits, and those slips at our disposal. Also, free rides to shopping areas where one could re-stock with ice, beer, food items as needed, beer, long sleeve shirts and long pants, beer, plastic cups to replace those coffee mugs left at home, and alcohol replenishment! We never drank while we sailed, but we did not sail all day…
Thank you PIYC!
| | |
| --- | --- |
| Ember's Watch leaving PIYC | |
Which brings us back to Camp 3. Information gleaned from the Vice Commodore and weather led to the change of Camp 3 to Paul's Mott (no relation) from Deadman's Island.
| | |
| --- | --- |
| | This Google Earth image shows both Deadmans Island and Paul's Mott |
Several of us arrived on the shell beach and deployed anchors ashore before it was decided to relocate around a small point to the lee side. Perhaps 100 yards out and over and another 100 yards back. What could possibly go wrong?! Well, start by coiling up the anchor line on the fore deck of Embers Watch and carefully placing the anchor on top (so as to not scratch the new paint). Slowly sail away from the beach. Then notice VERY shallow water on the point and gybe in some haste to avoid it. Though the Mikesboat design has a relatively gentle gybe, she still rocks a bit. Now watch the anchor slide off the foredeck and sail away from it – for a short distance… As the anchor rode snubs up and almost stops forward motion, the bow is hauled around. The mainsail, whose sheet was released as the anchor set it taken aback and another gybe ensues, this one not gentle at all. I am almost thrown off the foredeck where I was trying to haul in the errant anchor. When it is finally stowed away properly and we are sailing again, Paul says "That was horrible!"….. I don't know how many saw this and refrained from mentioning it, but rest assured Embers Watch will soon have a draining anchor well in the bow. Lesson learned!
| | |
| --- | --- |
| Two views of the encampment at Paul's Mott... | |
| | |
| --- | --- |
| | ... Perhaps my favorite of the four. |
The Texas 200 was a complete success. Even those who had to bow out proved the basic concept sound as is shows this was no walk in the park. The normal winds reaching 20-25 mph in the afternoons, sometimes gusting over 30 mph,
coupled with the long fetch of bays like Matagorda and Aransas produced good sized waves and challenging conditions. Our 17' pram took it all on with style and grace (well, whenever we didn't get in her way!). Am I bragging on my homemade, prototype, maiden voyaging, 200 mile trip making boat?
You betcha!
And I brag to have been a participant in the first group to complete Chuck Leinweber's Texas 200 event. I suspect I am not the only one to be proud of what
we were a part of.
"Next year in Texas!"
Bill and Paul
S/V Embers Watch
*****