This journey really started thirty-odd years ago when I helped my older brother build boats. They were Muskoka Seafleas; a pair of 8x4 sheets of plywood with some vertical wedges to give the boat some depth. As an enterprising seventeen year old, Stewart setup a boat building business, I was the child labour. Hull number five was my boat and number six was to be our final boat, she was never launched. I did, however, have great fun with number 5, "The Kidd".
Fast forward thirty years. While on a business trip to Victoria I spent the weekend in Vancouver with my best bud Garry (aka Meatball) and we went kayaking. Had a great time in spite of my arms being so sore I had to make a midnight run for some Rub A535. Reminiscing some time later, Garry commented that he wanted to build a kayak. So after some investigation (love the internet) I realized a skin on frame kayak was in reach from both a cost and skill perspective. I found several free plans on-line and while I was not worried about my ability to translate a table of numbers into something that looked like a boat, I did not find a design that I really liked. Ross Miller's Egret finally caught my eye. I decided that I would splurge a little (after all I would have her for many years) and purchase the plans. The second factor that sold me was her reported stability. I had watched a youtube video of a first launch of a very unstable boat design and that sealed the deal.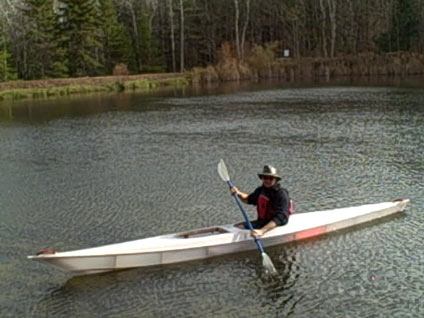 Ross Miller's Egret finally caught my eye.
Having just moved to a horse farm where we only needed half the barn for the horses, I not only had the means, I now had the place. With fond memories of boat building with my older brother I invited two nephews to join in the fun. I bought some cedar from a Mennonite saw mill, plywood and other supplies from Noah's Marine Supply in Toronto and we were ready to go. The strong back was constructed from the scrap wood pile (every good farm has one).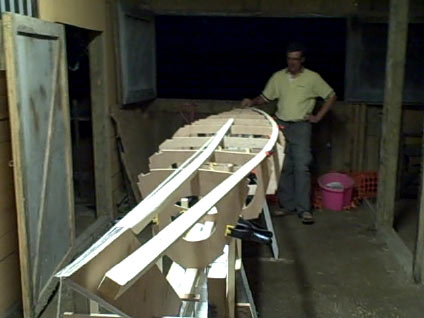 I bought some cedar from a Mennonite saw mill.
I setup shop and started work. The frame came together quickly, as expected, so I got mine off the strong back to make room for hull number two. The cockpit was a challenge; I had never bent wood before and after a couple of failed attempts with the steam box I ended up using some plywood and a low pressure weather system that caused enough humidity to enable me to make the needed bends for the carling. Varnishing the frame was another challenge, all those hard to reach nooks and crannies.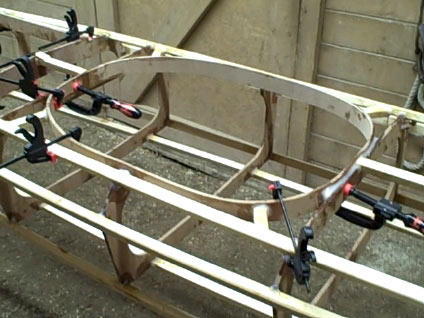 The cockpit was a challenge; I had never bent wood before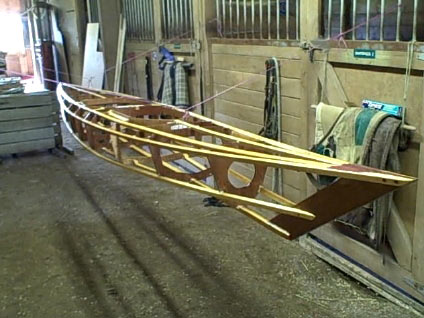 Varnishing the frame was another challenge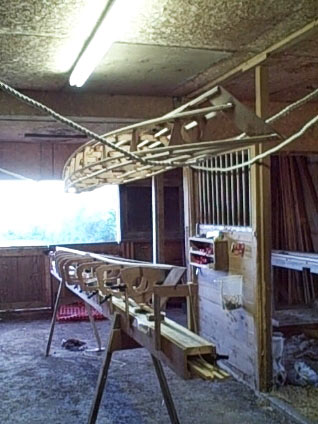 Making room for hull #2.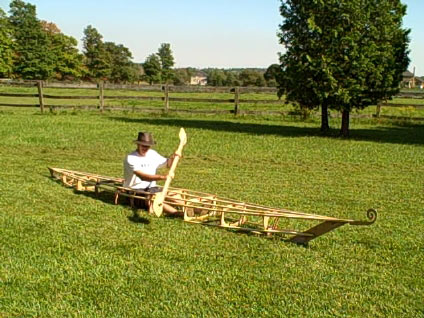 Lawn paddling the frame
A very enjoyable part of the journey has been the anticipation, finding a suitable design, naming her, adding fun little details that were not in the plans, picturing the not yet covered frame with skin on slicing through the water. Finally the day came when she was completed just enough to be watertight, I headed up to the nearest lake, an eight minute drive north. To call it a lake is an overstatement: pond, an understatement. Just big enough to move around and see what she will do speed wise. Being early November in southern Ontario (Canada), it was 5ºC. After a few minutes of pictures we headed home.
With the lakes turned into rinks, I have time to tinker and finish the details. I sorted out the steam box and successfully bent wood for the coaming and lip. All that is left is the final paint, install coaming, trim and deck rigging. Again I find myself surfing the web with the growing anticipation of where shall we go? Whale watching in Quebec? Explore caves and wrecks at Five Fathoms Park? Cross Lake Ontario?... perhaps the first season we'll explore the smaller lakes and rivers around here before venturing out too far. Hull number two is on the strong back almost ready to come off. Number three is a pile of plywood bulkheads and cedar stringers. Hull number four?...
Paddle Safe.

*****