Bufflehead
Progress is Jim driving away with his Bufflehead Eden, sent in another e.' We'll meet again in a few days in Cedar Key for his launch & the 25th Cedar Key small boat meet. Eden's not done, but is sailable.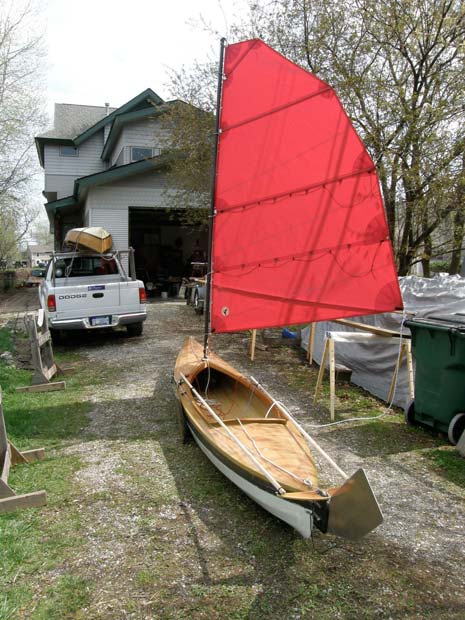 Hull paint is incomplete. The carbon showing on the sheer strake will be painted something to contrast with the kevlar sheer tape above, & white below. The sprit boom is a quickie experiment while Eden waits for her half wishbone.
~Hugh
Update
Chuck:
Here is an updated sketch of our 18' houseboat.
Harold Duffield
oneuglyboat.com

No Boat too Small for a Wheelhouse
Chuck and all,
have you ever found yourself thinking something like "wow, I really hate that rain on my face on the way back home... but my boat is just too small to fit a wheelhouse…" Have you?

Well, then let me tell you that you were wrong. No boat is too small for a wheelhouse. OK, a cayak might be. But I guess that in principle, the attached photo (sorry for the limited quality - I only had my mobile phone with me) proves the statement. At least we can legitimately claim: "if you can fit an engine to it, you can also fit a wheelhouse!"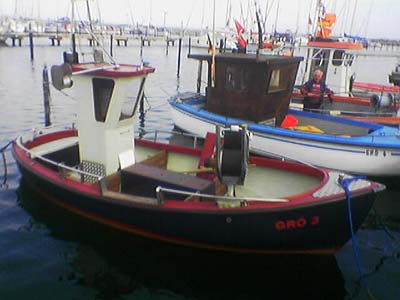 By the way - what about a "one sheet wheelhouse" beauty contest? Anyone interested? ;-)

FYI… the photo shows a 15ft (estimated) GRP commercial fishing vessel in the port/marina of Groemitz, Germany (Baltic sea), fully licensed to German SeeBG workplace safety standards - I assume that is why they decided to fit the wheelhouse in the first place.

Best regards,
Mario Stoltz
Hamburg, Germany

The Canoe as Art
I had to share this with you. Joseph Layer took it of the interior of the Chestnut canoe at the CENTEX Messabout last weekend while the boat was still on the SUV.
One shot (upper, left) is the original and you can see the top of the SUV below, and in the second (lower, left) he has cropped the bottom of the photo off so all that is left is the interior woodwork. Without a scale figure to go by, it is easy to imagine this as a large building interior. Quite a sight when used as computer wallpaper. Way to go, Joseph!

For reference here is also a shot (above, right) of the canoe on the ground, which Joseph told me he plumb forgot to photograph.

Steve

When Paper Boats were King
Hi Chuck,
Hope all is well! I'm at my Dad's and while reading through the spring 09 issue of Invention and Technology, I came across an interesting article about Paper Boats. In 1867 there was a boat paper boat company that claimed to be the largest boat manufacturing company in the U.S. offering more then 3 dozen designs.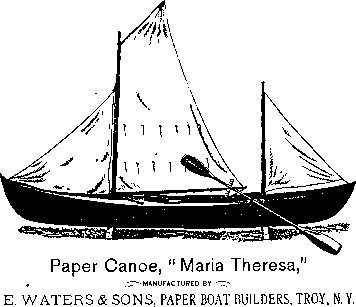 I thought some of the Duckworks folks would find this interesting. If they can find a copy of Invention and Technology, it is, again, in the Spring 09 issue. Otherwise, the author has a web page with most of the same information and some additional links at https://kcupery.home.isp-direct.com/
Tim Ingersoll

Common Tools Defined
DRILL PRESS: A tall upright machine useful for suddenly snatching flat metal bar stock out of your hands so that it smacks you in the chest and flings your beer across the room, denting the freshly-painted vertical stabilizer which you had carefully set in the corner where nothing could get to it.
WIRE WHEEL: Cleans paint off bolts and then throws them somewhere under the workbench with the speed of light. Also removes fingerprints and hard-earned calluses from fingers in about the time it takes you to say, "Oh sh!#..."
SKILL SAW: A portable cutting tool used to make studs too short.
PLIERS: Used to round off bolt heads. Sometimes used in the creation of blood-blisters.
BELT SANDER: An electric sanding tool commonly used to convert minor touch-up jobs into major refinishing jobs.
HACKSAW: One of a family of cutting tools built on the Ouija board principle. It transforms human energy into a crooked, unpredictable motion, and the more you attempt to influence its course, the more dismal your future becomes.
VISE-GRIPS: Generally used after pliers to completely round off bolt heads. If nothing else is available, they can also be used to transfer intense welding heat to the palm of your hand.
WELDING GLOVES: Heavy duty leather gloves used to prolong the conduction of intense welding heat to the palm of your hand.
OXYACETYLENE TORCH: Used almost entirely for lighting various flammable objects in your shop on fire. Also handy for igniting the grease inside the wheel hub out of which you want to remove a bearing race. (And when you can't get that rounded bolt off with the Vice Grips just use the Blue Wrench!)
TABLE SAW: A large stationary power tool commonly used to launch wood projectiles for testing wall integrity.
E-Z OUT BOLT AND STUD EXTRACTOR: A tool ten times harder than any known drill bit that snaps neatly off in bolt holes thereby ending any possible future use.
BAND SAW: A large stationary power saw primarily used by most shops to cut good aluminum sheet into smaller pieces that more easily fit into the trash can after you cut on the inside of the line instead of the outside edge.
TWO-TON ENGINE HOIST: A tool for testing the maximum tensile strength of everything you forgot to disconnect.
CRAFTSMAN 1/2 x 24-INCH SCREWDRIVER: A very large pry bar that inexplicably has an accurately machined screwdriver tip on the end opposite the handle.
PHILLIPS SCREWDRIVER: Normally used to stab the vacuum seals under lids or for opening old-style paper-and-tin oil cans and splashing oil on your shirt; but can also be used, as the name implies, to strip out Phillips screw heads.
STRAIGHT SCREWDRIVER: A tool for opening paint cans. Sometimes used to convert common slotted screws into non-removable screws.
PRY BAR: A tool used to crumple the metal surrounding that clip or bracket you needed to remove in order to replace a 50 cent part.
HOSE CUTTER: A tool used to make hoses too short.
HAMMER: Originally employed as a weapon of war, the hammer nowadays is used as a kind of divining rod to locate the most expensive parts adjacent the object we are trying to hit.

Tidy-Trax
Hi Chuck ,
I thought you would have interest in this great find/tip for your readers…
There's a new solution to doing away with the constant trail of muddy footprints that appear on your boat from people hopping on and off with wet and dirty shoes. Tidy Trax is a revolutionary "hands free" shoe cover that lets you go on board with dirty shoes without a single footprint left behind.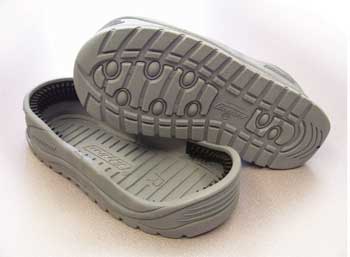 Tidy Trax are designed for you to easily and conveniently slip your shoes in and out of, eliminating the need to bend over to take them on or off. Made out of a durable foam, they're incredibly lightweight, easy to clean and perfect for any kind of boat as they have great traction yet don't leave marks or scratches on any surface.
Perfect also for when you're back on land and have to get back into your car or home with wet and muddy feet.
No hands! No mess! No hassle!
Please let me know if I can provide additional information, images or a sample.
Best Regards,
Marybeth Grass
Publicist
Orca Communications Unlimited, LLC
"America's PR Firm for Inventors & Entrepreneurs"
marybeth@orcacommunications.com

J.D. Power and Associates Reports:
Boat Manufacturers Hone in on Improving Customer Satisfaction and Quality While Facing Challenging Market Conditions
Bass Cat, Bennington, Cobalt, Grady-White, Nautique, Regal and Sea Ray Each
Rank Highest in New-Boat Owner Satisfaction in Their Respective Segments
MIAMI: 12 February 2009 —Despite challenging economic conditions, overall customer satisfaction and quality across the new-boat industry has increased considerably since 2008, according to the J.D. Power and Associates 2009 Boat Competitive Information StudySM released today at the Miami International Boat Show.
Now in its eighth year, the study examines the sales, service and product experience of new-boat owners. Owner satisfaction with new boats is measured in seven segments: fiberglass bass boats; coastal fishing (17 to 30 feet); express cruisers (24 to 33 feet); small runabouts (16 to 19 feet); large runabouts (20 to 29 feet); pontoons; and ski/wakeboards. Overall customer satisfaction index scores are based on performance in eight factors: cabin; engine; ride and handling; helm and instrument panel; design and styling; sound system; water sports; and fishing.[1]
The study finds that customer satisfaction across the boating industry has increased considerably—up from an index score of 813 on a 1,000-point scale in 2008 to 830 in 2009. While all boating segments improve in 2009, the express cruiser segment (up 38 points) and large runabout segment (up 25 points) primarily drive the overall satisfaction increase. In addition, the average number of problems new-boat owners experience has declined by
33 problems per 100 (PP100) boats in 2009.
"The industry-wide drop in problems experienced is again driven by considerable improvements in both the express cruiser and large runabout segments, which, combined, drive a decline of more than 100 PP100 from the 2008 study," said Todd Markusic, senior director of the powersports practice at J.D. Power and Associates. "In a time when sales are down nearly 30 percent and consumers are scrutinizing their discretionary spending, enhancing satisfaction and improving quality is vital. Ensuring the most satisfying experience possible during this down time will not only enhance customer loyalty, but also will likely secure even more sales through recommendations and referrals once the market improves."
The marine industry has been impacted considerably by current economic conditions. The study reveals the following boating industry trends in 2009, which are heavily influenced by the current market situation:
Many dealers and manufacturers in 2009 are scrutinizing the expense of participating in boat shows. The study reveals that 20 percent of new boats are purchased at a boat show, which demonstrates the value of these events to manufacturers and dealers.
The median owner-reported price paid for a new boat increased by approximately $1,500 from 2008 to $31,495 in 2009. This marks the smallest price increase in the industry during the past three years.
The amount of time boat owners are running their engines has decreased steadily, by five hours each year since 2003. In 2009, owners run their engines an average of 59 hours, which is down considerably from 83 hours in 2003.
Bass Cat ranks highest in the bass boat segment for a fifth consecutive year, performing particularly well in ride and handling, fishing, and design and styling. Ranger and Stratos, respectively, follow Bass Cat in the segment.
Coastal Fishing Segment (17 to 30 feet)
For an eighth consecutive year, Grady-White ranks highest in the coastal fishing segment, performing particularly well in fishing, ride and handling, and design and styling. Following Grady-White in the rankings are Boston Whaler and Century, respectively.
Express Cruiser Segment (24 to 33 feet)
Regal and Sea Ray tie to rank highest in the express cruiser segment. This marks the third consecutive year that Regal has ranked highest. Sea Ray performs particularly well in ride and handling while Regal performs particularly well in the cabin factor.
Small Runabout Segment (16 to 19 feet)
Sea Ray ranks highest among small runabout boats, performing particularly well in the engine, water sports, and design and styling factors. Regal and Monterey, respectively, follow Sea Ray in the segment.
Large Runabout Segment (20 to 29 feet)
For an eighth consecutive year, Cobalt ranks highest in the large runabout segment. Cobalt performs particularly well in water sports, design and styling, and ride and handling. Regal and Sea Ray, respectively, follow Cobalt in the segment.
Bennington ranks highest in the pontoon segment, performing particularly well in design and styling. Manitou follows Bennington, while Premier ranks third in the segment.
For a seventh consecutive reporting year, Nautique (manufactured by Correct Craft) ranks highest in the ski/wakeboard segment, performing particularly well in instrument panel, water sports, and ride and handling. Mastercraft ranks second.
The 2009 Boat Competitive Information Study is based on responses from 9,790 owners who registered a new boat between June 2007 and May 2008. The study was fielded from September to November 2008.

KAYAKING AND RAFTING EVENTS AT THE 2009 TEVA MOUNTAIN GAMES
Bud Light Lime Steep Creek Championship
Nearby Class V Homestake Creek which drops 480' per mile, will be the race site for this extreme kayak competition. Boaters will sprint through numerous waterfalls up to ten feet high in a race against the clock and Mother Nature.

Bud Light Lime Pro Kayak Freestyle
After qualifying, pros will once again try to impress spectators and judges in Vail's whitewater park. Each competitor will have two minutes to use all three features in the park and score the most points possible.

Bud Light Lime 8 Ball Sprint
The 8 Ball Sprint is a kayak race beginning with competitors starting in a "floating start" format at the covered bridge. When all of the competitors are as close as possible, the horn will blow and they will sprint 200 meters down river to the finish line at the International Bridge. Along the way, boaters must avoid being pushed out of bounds by the "8 Ball Kayakers" who will be situated throughout the course.

Teva Raft Cross
Similar to the kayak paddlecross, the Raft Cross is a raft race for experienced Class II / III whitewater paddlers. Male and female raft teams will have a chance to showcase their speed and run a timed qualifying run through the heart of Vail Village on Gore Creek. Along the way, rafters will have to navigate upstream gates, and don't forget RAMMING IS ALLOWED.

For a full event listing and any additional information on the 2009 Teva Mountain Games, call 888.883.VAIL(8245) or check out www.tevamountaingames.com


Bonefish
Designers report on KSS 82 Bonefish, an Expedition Catamaran.
Another example of the versatility of the Kelsall design office and of the KSS (Kelsall Swiftsure Sandwich) build system takes to the water.
As a go anywhere, long range power catamaran, I like the way she looks. She is purposeful, practical, with elegant proportions and with a fine standard for finish, fittings and furnishings, where many catamarans in this style tend to look heavy and cumbersome and over-stylized.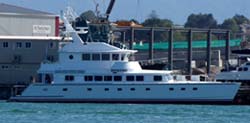 Bonefish is afloat, in Tauranga, for final fitting out and checking of systems. She was too tall for the boat shed and the top of the upper saloon and flybridge were put in place after moving to the water. To give an idea of the size of this vessel, a friend came with us on one visit. We went into the factory. She looked around and asked– where is this big boat you talked about. We were standing underneath the bridge-deck.
This 82 ft. x 36 ft., KSS design began as a power sailer. A power catamaran design, which also carries a substantial sloop rig. With plans for operating a lot of the time in shallow waters, the hulls are designed as power cat hulls, with the props and the rudders within the 1.4m., depth of the hull and long low aspect ratio keels. The overall beam is wide and has heaps of stability to support the rig. This is just one of the many advantages of twin hulls. There is no rig at the present time but all is in place to install at a later date. Another very important catamaran advantage is the initial stability. Compare the motion in harbour of the conventional mono power yacht with that of the power catamaran. Relatively small waves from passing boats will start a rolling motion on the mono which does not happen on the catamaran.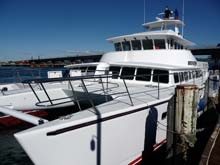 The project started a long time ago and it has not been without incidents, set backs and many time consuming additions and changes along the way. No work was done on the boat for a number of years.
Bonefish is the project that brought me to NZ, for which I will always be thankful. She was built in Mount Maunganui, after being moved from the initial build location N of Auckland. Two hulls, up to the knuckle and the majority of the panels of PVC foam and fiberglass to complete the structure were moved by road. That is where I got more closely involved in the day to day build and employing an entirely new build crew.
After the move, I and the American owner, John Tucker, ran the project for four months. To quote the owner, "The move halved the wages bill and doubled the production". We had an enthusiastic, happy crew, most of whom were boat building for the first time, who learnt quickly, doing a great job. The owner took over and I moved on, in order to concentrate on design work.
As designer, it is good to see her afloat and being prepared for her roll on the water, in spite of the extended time and some unusual circumstances between first panel making and launch. She is an example of what can be achieved on twin hulls, with KSS and the skills of NZ boat builders. As designers we enjoy the challenge of custom design for the owner who is looking for something a little different, combined with an efficient building technique. I congratulate the owner on the standard of finish. In normal circumstances, the efficiency of KSS allows builders to compete with the series producers with their high initial investment in tooling.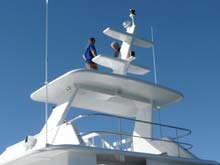 For all catamarans, weight is one of the most important factors. When afloat, as designer, we always look first at the WL. Without the rig in place, a heavy item has been removed from the weight list. The three fuel tanks each side are large and spread to forward in the hulls for true long range, but also allowing fuel transfer between tanks if needed for trimming of the weight distribution. As expected at this stage, the bows are riding high and the floatation line at the transoms is slightly higher than the designed WL. She does have an unusual feature. The owner chose to put in a extra transom step which is below the designed WL. It allows easy access to the water but looks a bit strange to the experienced eye.
Twin 425 hp diesels will give close to 20 kts., on the slim displacement hulls, driven by variable pitch propellors.
A bonefish is a fighting sports fish for the sea fly fisherman. I understand that the taste is good but with too many bones to be enjoyable eating. They are found in shallow waters such as the Bahamas and some islands in the Pacific. Bonefish carries two smaller boats and a crane to lift them on board, which will be used to reach the shallows where the fish are found.
The layout –
Bonefish is laid out as a private owners yacht, with exceptional facilities for the owner and guests. Port side is the owners private cabin with lower saloon and circular stairs to the upper level, to starboard. The skippers cabin is forward on starboard side, opposite the galley and dining area. Two three berth guest cabins are forward in each hull.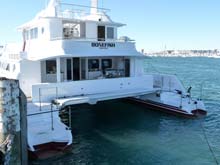 The second level saloon/and helm station is exceptional, with spiral stairs to the flybrigde.
A neat feature is the high coaming which surrounds the second level, accessible through a sliding door beside the helm. From there, there is access forward.
There are numerous layout options on this size and style of catamaran. The ability to carry an efficient sail plan on a power catamaran provides the best of both worlds for ocean crossing. Ie sail when conditions are good, such as on trade wind routes and turn on the power when conditions are less favorable for utilizing the power of the wind.
Contact <Derek@kelsall.com>

***SAVE THE DATE***


TAMPA BOAT SHOW ANNOUNCES DATES: SEPTEMBER 11 – 13, 2009
44th Annual Show Features Largest Selection of Boats and Marine Accessories on Florida's West Coast
TAMPA, April 20, 2009 – Thousands of new and seasoned boaters are expected to visit this year's Tampa Boat Show, the fall's hottest destination for boating enthusiasts. In its 44th year, the Tampa Boat Show is the largest boat show in the Bay Area and will unveil hundreds of the latest boats and marine accessories, on land and in-water, from top manufacturers at the best deals of the year.
When:
Friday through Sunday, September 11 - 13, 2009
Friday and Saturday: 10:00 a.m. – 8:00 p.m.
Sunday: 10:00 a.m. – 6:00 p.m.
Where:
Tampa Convention Center
333 South Franklin Street
Tampa, FL 33602
Admission:
$9.00 for adults
$5.00 for Youth 13-15 years
FREE for Children 12 years and under
*Adult tickets purchased online prior to September, 11 2009 receive a $2.00 discount!
Features:
Hundreds of the latest boat models, newest marine products and boating accessories will be featured at the 2009 Tampa Boat Show. Show features include the Party Barge, Affordability Pavilion, Green Boating Zone, free boat rides and much more!
"In its 44th year, the Tampa Boat Show continues to provide visitors with the opportunity to experience all the marine industry has to offer and view, board and buy everything needed for boating fun," said Larry Berryman, show manager for the Tampa Boat Show. "Whether you come to view the latest products, or take advantage of the variety of features, this three-day event showcases hundreds of retailers and manufacturers offering the best bargains of the year."
Consumers interested in learning more about the 2009 Tampa Boat Show can visit TampaBoatShow.com for complete details.
Members of the media interested in attending the show are encouraged to visit TampaBoatShow.com to sign-up for a press badge. Members of the media in need of additional information should contact Dana Fennewald at (312-946-6256, dfennewald@nmma.org).
EDITORS NOTE: Preview photos and b-roll available upon request
About the Tampa Boat Show
The 44th Annual Tampa Boat Show is produced by the National Marine Manufacturers Association (NMMA), the world's largest producer of boat shows. NMMA is the leading association representing the $37.5 billion per year recreational boating industry. NMMA member companies produce more than 80 percent of the boats, engines, trailers, accessories and gear used by boaters and anglers in North America. For more information about the NMMA, visit www.NMMA.org.
###

WATERCRAFT RESCUE INNOVATOR SHAWN ALLADIO TO PARTICIPATE IN EUROPEAN TRANSPORTATION CONFERENCE
Annual Italian conference focus is on all forms of transportation
TUSTIN , CALIF. , (3/5/2009) – Orange County, California based Shawn Alladio, founder of K38 Rescue, has been asked to present information about personal watercraft (PWC) rescue team organization, training programs and technical elements of using PWC for water rescue.
This year's Italian International Conference on Safety in Transportation (ICOSIT) will be oriented primarily to land and marine transportation issues. K38's expertise in quick response under normal conditions of water safety as well as major disasters on or adjacent to bodies of water lead to Alladio's invitation.
Alladio's company, K38 Rescue, has been involved in the practice of water rescue service and the training of water rescue specialists in the use of PWC for nearly two decades. Alladio and members of her international network of K38 rescue affiliates have provided water safety services for a variety of international events including surfing contests and PWC races. Alladio organized and conducted several days of disaster rescue work using PWC in New Orleans in 2005 immediately following hurricane Katrina. Her work in the flooded portions of that city was recognized in a human interest story in New Yorker magazine.
For the past several years Alladio's K38 Rescue organization has enjoyed the use of Kawasaki JET SKI® watercraft as part of a sponsorship arrangement with Kawasaki Motors Corp., U.S.A. With these JET SKI watercraft K38 has managed the water safety and course marshal responsibilities for the International Jet Sport Boating Association World Finals championships. Alladio has also developed a national professional association, H2O Responders as part of the American Watercraft Association.
At the ICOSIT Alladio will be presenting an overview of these professional boating safety and rescue initiatives. She will also provide in-depth briefings about organizing professional training for the use of PWC by boating rescue agencies.
In 2009, K38 Water Safety celebrates 20 years of service to recreational, occupational and event management water safety and education. K38 has trained thousands of personnel from fire rescue, lifesaving, military, law enforcement and search and rescue agencies and is the worldwide recognized authority in the occupational use and application of Personal Watercraft. K38 is represented through accredited affiliates in 14 countries worldwide teaching water rescue, racing, officiating, event management, operations, swiftwater, flood, big wave, towsurfing and industry support using JET SKI watercraft for rescue or patrol applications. K38 is founded by Shawn Alladio a professional IJSBA racer for 2 decades, National Safe Boating Council instructor and water rescue professional. K38's motto is 'The Life You Save May Be Your Own'
# # #