This time we have the following boats:
G'day guys,

I took the liberty of sending some photos of "Okwata by Jem Watercraft"
I was privelidged to have been given the opportunity of building the prototype of this lovely design.

As a genuine recreational/touring kayak with good capability for the odd venture in open water, I think she has few peers.
Will post more piccies as I get the chance to use this one more.

regards,

Mick
Chuck and Sandra - I don't think I ever sent a good picture of my Tender Behind with the sails I got from you last fall (sails and plans from DW thankyou very much). When I got the sails it was already late in the sailing season and I only had it out one time and there was no wind as you can see. BUT, they sure look good.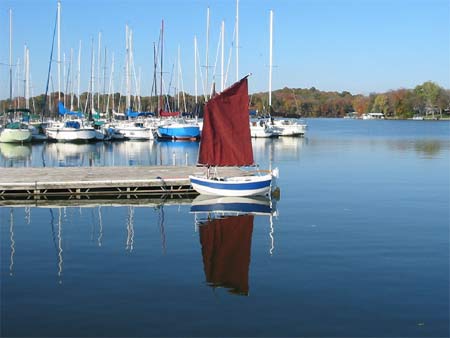 Still winter in TN although there are some nice days. The biggest factor I guess is that the lake waters are still quite cold. Another month or so and we'll try her out again. Meanwhile, I have started on the parts for my Houdini.
George Cunningham

Hi Chuck,
I thought I would share a few pictures of the skiff that my son, Ben, and I built. It is the "Little Gem" designed by Ken Swan.I named it the "Rachel LeAnne" after my daughter. It is 13'6' loa and has a beam of 54''.We built this over a 4 year period,as we had time and money.Easy boat to build but we decided to add a few personal touches to the design as we went.This of course added time and money,but made this a more enjoyable project for us.
We added the larger C shaped rear seat,the lattice style bow seat,the shaped transom,to name a few.Ken was very helpful whenever I contacted him and would highly recommend one of his designs as a first boat.
Thanks for listening,
Andy Campbell
Sutherlin, Oregon
I know you've seen allot of Toto's, but it's probably one of the best "One-Man, One-day, get out on the water" boats there is to build.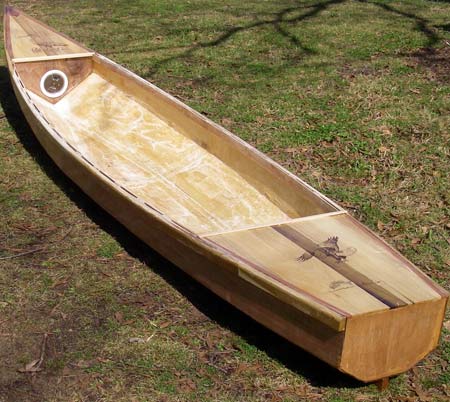 I've kept a brief blog on this build also, I may try to "throw it together" and send it to you when the painting is complete.
Glynn Sirmans

Dear Sir,

As an "old" french student of Westlawn Institute of Marine Technology, I permit myself to write you to show you a new little boat: Souriceau 4,75m.

She is sailing for 1 month!

Here is the LINK you can discover her.

Best Regards,

Eric Henseval

Eric Henseval Yacht design
rue de Bereven, hameau du Roz
29120 COMBRIT-SAINTE MARINE
FRANCE
tel: 0033 (0)2.98.51.99.18
mobile: 0033(0)6.78.39.28.43
email:eric.henseval@orange.fr
website: https://hensevalyachtdesign.com