Here's a pic after she was finished and we did "sea trials" with her back in July (on an inland lake). We learned some things, made some changes to the clubfoot jib boom, built a new gaff with wider longer jaws, re-rigged the topping lift to be accessible from the winward side of the boom on either tack, moved the cleats for the slab (jiffy) reefing system so they are more accessible by a solo crew (me :), and moved the mainsheet hexaratchet forward a bit.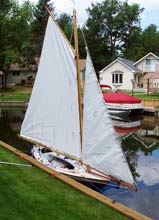 She is about 14' LOD with an 18' LOA (aft boom to bowsprit). Construction was from marine ply and is considered stressed-skin monocoque. Spars are made of laminated poplar, epoxy coated and finished with Pettit Captains Varnish. Overall painted with Pettit Easypoxy undercoater and 2 coats of Pettit Easypoxy Topside paint - she is a trailerable boat so comes out of the water when done sailing. Propulsion in and out of slip/mooring is via a 34 lb thrust trolling motor, Optima Blue Top marine battery and a desulphating solar panel and charge controller/monitor
Chainplates, Gammon Iron, and Bobstay chainplate are custom fab'ed of nautical brass (which I got from you guys along with some of my spar hardware), buffed and polished, and the kranze iron was cast by Port Townsend Foundry.
Epoxy was West Marine throughout. I made the sails from bolts of sailcloth, software and hardware purchased from Sailrite (and you guys) according to the techniques in Marino's book "The Sailmaker's Apprentice" - lofted and basted with 3M Super Seamstick, machine seamed and hand finished. She is a deep forefoot keel skipjack design and has no centerboard. Windward performance is good within 4 points of the wind on either tack, and gaff twist is controlled with a vang that can be cleated aft and controlled by the helmsman.
Base design was a Stevenson Projects plan, but I deviated from plan in choice of materials, adhesives, fasteners, rigging, sails, spars, and finish resulting in a much higher quality build.
The gaff is of traditional design with a tumbler which pivots and maintains alignment with the mast vertical, and a stainless plate for the throat halyard and nock attachments so that halyard, gaff pivot and mainsail throat are all kept in column for good sail set.
Your parrel beads are both perfect side and shape for this. The orange color isn't too clashy either.
The bowsprit is also stayed with Krypton-D in the traditional manner (chain/Krypton-D bobstay, sprit shrouds of Krypton-D back to chainplates at the shoulders that I bought which were salvaged from a gaff ship circa the last 100 years). Forestay is tensioned with a lever-type tensioner and spritshrouds and bobstay with rigging screws (turnbuckles) The mast shrouds are tensioned with deadeyes and lanyards in a traditional manner with modern materials (delrin deadeyes with stainless shackles). I have a block of lignum vitae for making the eventual ones but didn't have time for fabrication this season - nice winter project.
It's about as traditional as traditional can get with a modern spin on the standing and running rigging components and materials.
Regards,
Kevin