Of friends never met, Robert the writer-lifeliver and
`Swede' Johnson, for both yachting and model yachts,
plus Harry Duncan's balsa Footy scows.

I can't remember who it was that said Let the commencement Beginulate? It sure sounds very Spike Milligan(ish) but it might have been (just possibly mind you!) a chap whom I know `intimately' who takes delight in making a temporary mockery of some words in the English language. Why I don't know because it is the only language that I speaks frooently. I'll go straight into it and beginulate this first column for 2010 before someone thinks that I am a brain-addled bird escaped from the cuckoo palace!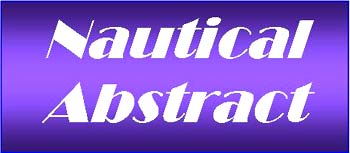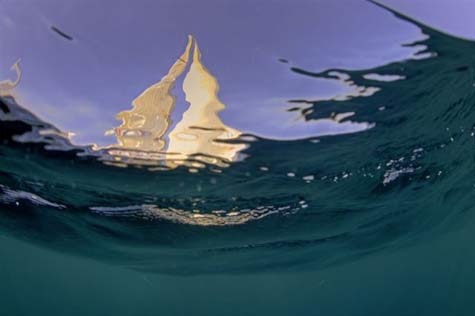 Photograph by Rolex/Carlo Borlenghi
What a beautiful image, this photograph by Carlo Borlenghi taken just underwater at Capri. Induced by it, my imagination runs riot. Though not a scuba diver myself, snorkeling just below the surface in the sparking water of the Fiji islands a few times brings on the memories of how water just above one laps and ripples, sometimes distorts, merges colours to create almost abstract images. Taken at Rolex Capri Week in May last year.
---
People with interests in sailing boats and ship modeling are a very large part of my life. Not only have their lives been varied and interesting, but without their tales, details and photos I would not be writing this column or for that matter for other publications. They are part of a file I keep labelled Friends of mine never met!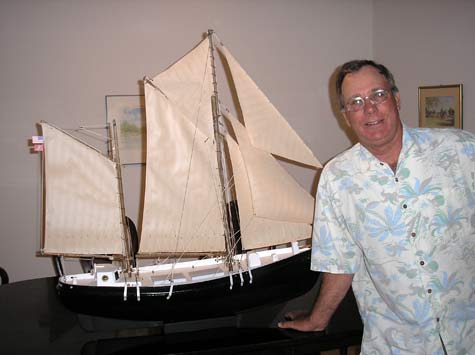 Robert Means
| | |
| --- | --- |
| Schooners and other boats | Schooner So Fong |
Robert Means originally of California who once broke his neck surfing in Hawaii is a man who has had an interesting life. I once did an article on him which appeared in the August 2006 issue of my Windling World model sailboat magazine. Bob spent a year in the Marine Corp followed by a year in Vietnam, has worked in a bakery in Southeast Alaska and sailed through the inland waters of that country with bakery owner and friend John aboard the latter's 45' Sparkman and Stephens sloop, all of that eventually taking the place of his early quest to surf.
A lover of wood as a material for boatbuilding, he has built a few sailboat models, and has also written for Duckworks. I remember reading a well told story by him titled Sailing on the seas of time, one where he recounted a period spent in Carriacou in the West Indies Grenadine islands and did a three day cruise on a 56' old workboat Mermaid, so famous that she was featured on a Grenada postage stamp shown above.
Bob started to build boats in Viet Nam where he worked on the rebuild of a then derelict 83' schooner, So Fong, followed by a five year stint in Nicaragua building boats. He now lives in Urbanna, Virginia in the US, 16 miles upriver from Chesapeake Bay. We have kept in touch and his model of an island trading ketch though for display in the den of a friend is quite captivating, lovely in line and with Caribbean character. He has also since that one completed a model of a staysail schooner also shown above. That then is Bob Means, a man with a yen for the sea and boats that sail on it, ship modeller, writer, one time surfer another time baker, builder of large boats, sailor, traveller and one whom I like to describe as a `lifeliver!'
---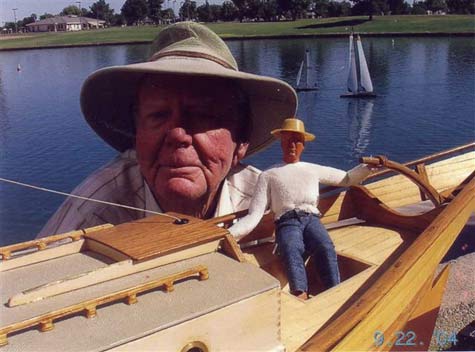 Lloyd `Swede' Johnson of Costa Mesa, California, a maker of model yachts with a particular leaning towards schooners. Not as well now as he once was, he is still trying to enjoy life best he can at his advanced age despite suffering a heart attack.
| | |
| --- | --- |
| A Malabar schooner model | Swede a few years ago |
| | |
| --- | --- |
| Alden design Tyche Schooner | Swede's Bill Garden designed Toadstool |
| | |
| --- | --- |
| The Pinky schooner sent to the writer | and yet another |
This is a man who has been building ship models for a great many years of his life who was once asked by actor Lauren Bacall when her friend the actor, Humphrey Bogart exited the world, to build her a model of his boat Santana which Swede did, and which was displayed at `Bogie's' funeral service. In 1985, in recognition of his outstanding contribution in setting courses for local California yacht clubs he was awarded the Edward F Kennedy Memorial Newport Harbor Yachtsman of the Year Trophy and in 1988 was inducted into the Balboa Yacht Club `Hall of Fame'.
For almost all of the years that I produced the little magazine Windling World, `Swede' was a faithful subscriber and supporter of my efforts and I am only sorry that we never met. A man of great kindness, when I admired his Pinky sailing schooner, totally unexpectedly one day I received a call from him in California a week or so later to say that it had been shipped by air freight as a gift to me. She arrived within days of his call, beautifully packed in a huge`coffin-like' box, her sails separately in a flat package, and a little later I renamed her Running Tide.
`Swede' and the writer maintain a close friendship by email and I continue to find him a wonderful source of information and help and an honest, caring and genuine friend.
---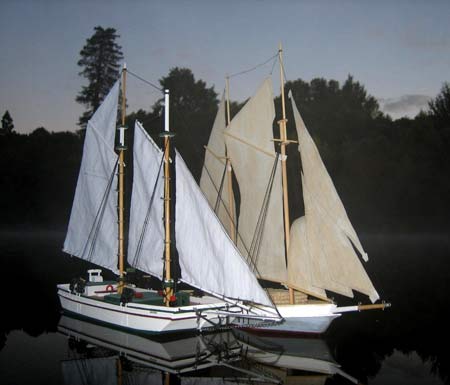 This Harry Duncan photo show the two scows side by side on an early Winter dawn
| | |
| --- | --- |
| The NZ Alma model with a deck load of timber | The US Alma model |
| | |
| --- | --- |
| The US Alma model sans sails | builder Harry Duncan |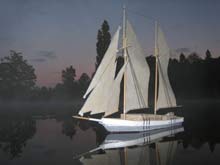 A final look - All photos by Harry Duncan
Footy model sailboats are much fancied by growing numbers, tolerated by many and absolutely hated by a fair percentage who feel that they are just too small and are too cramped inside their hulls for aging fingers to adjust their working innards. To date there are few built to scale, or even semi or `stand-off' scale, none in fact that I knew about up to a mere few months ago, then along came Harry.
Harry Duncan is a contract draftsman living and working in Hamilton in the Waikato farming region of New Zealand's North Island. We have never met but have communicated extensively by email over several months this year on his project as a modelmaker, that of the building in balsa of two stand-off scale scows both named Alma.
The first of two was the San Francisco blunt nosed scow that operates there, the second a model of the New Zealand 1902 built version which Murray has presented in working guise complete with timber, barrels of some substance, her sails stained, hull marked.. You just may have seen them in a story done for Marine Modelling International, the Traplet publication in Britain and these great little Footy boats designed and built for Harry's windling pleasure under radio control have already both charmed and impressed a great many. They are shown above, what do readers think I wonder?
---

Absolutely none of us will avoid death. That's a fact! That realized this humble scribbler suggests that we all treat each day as one to be enjoyed, `relished' is probably a better word, and when Summer wings its way to where we each are, how about getting the model yacht out of it's storage confines and taking it down to the pond where with a spot of imagination and a nice fresh breeze you can be at peace with the world and cast aside, (for awhile anyway) your worries of the moment.
On a visit to England some years ago at a club I won't mention, a kind gentleman loaned me his Bantock one metre, with which I might add, totally due to my own poor ability I performed miserably and finished last! Then I heard a few years later that on the very pond, the same gentleman won a race and in great delight and with much personal satisfaction, right there he passed out and on. He died happy it was said, and there must be a message somewhere within that story. He lifted anchor doing what he enjoyed, his face beaming as he crossed the line and almost at the very moment of his personal glory and as his friends cheered, he crossed the bar.
---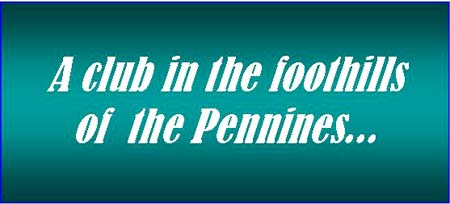 | | |
| --- | --- |
| Household waste sailboat | Eric B's scratchbuilt schooner |
Etherow Model Boat Club nestles snugly in in the foothills of The Pennines mountain range in Northern England. They are an active little club with power and sailboat models, various competitions including a unique Commodore's Challenge to make a model out of household waste materials, Martin one of its members winning the event in 2007 with the colourful creation seen top left. Top right is a nice looking scratchbuilt four masted schooner by Eric (another member) both boats photographed by Peter Teal.
---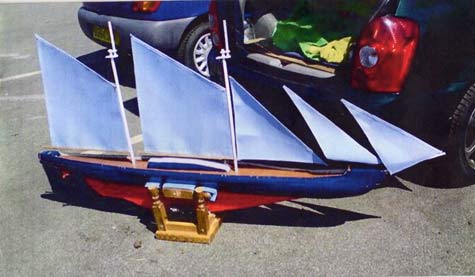 In Hull, England, member of the Hull Sailing Group, Keith Harrison like his sailing colleague, Keith Murrow, has built many models over the years, both power and sail. For years he has been addicted to model submarines and has built many, and recently he took the hull of a six foot long submarine, cut the topside of the hull and the end result of it's conversion to an RC sailing schooner, Leonardo is seen above. Now, that's being innovative!!!
Keith Harrison,
Sub to sailboat builder
---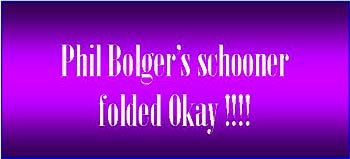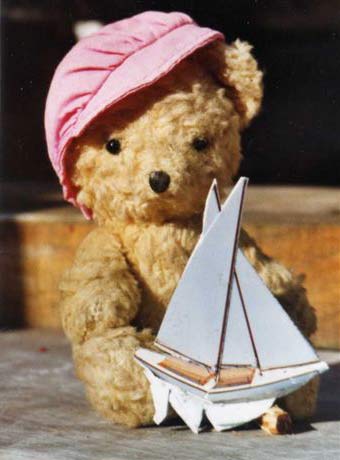 so why doesn't mine?
---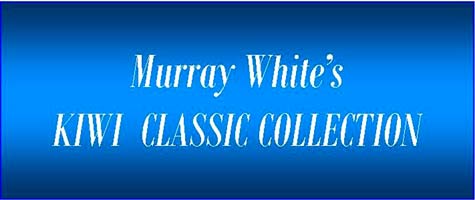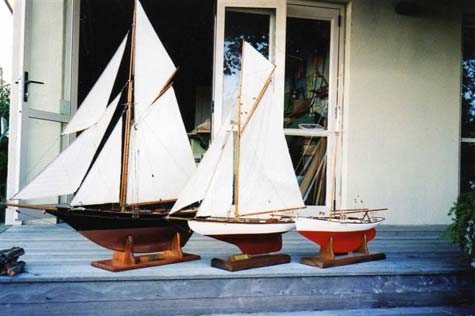 Murray White of Auckland, New Zealand's Ancient Mariner's builds beautiful sailing scale models and is a regular sailor each week at Onepoto lake just over the Auckland harbour bridge north of the city. I have shown various models that he has built on several occasions in this column, and the photograph above shows well known sailing boats from the New Zealand yachting scene of past years.

From left to right, Viking, the 67 foot long cutter designed by Charles Bailey Jnr when he was 21 and built in 4 months at his father's shipyard in Auckland then launched in December 1893. An owner Sir Ernest Davis later presented the boat to the New Zealand Navy as a training vessel when converted to a ketch.

Ariki, a 54' long Logan designed and built cutter of 1904 still operational in Bayswater, on Auckland's North Shore is a fine example of an Eduardian cutter,

Pastime built in the Christchuch port of Lyttleton at 43' length overall in 1886. All of these models were built by Murray at 1 to 20 scale

When Murray builds these mainly display models they are always sailed, often several times before being `retired ' as display pieces in his and wife Noeline's lovely, very nautically decorated home.

-30-