Two black boats, red bulls, the Morocat starter yacht,
Aorere, and Seawind sightings!
WTWB/August 2010
---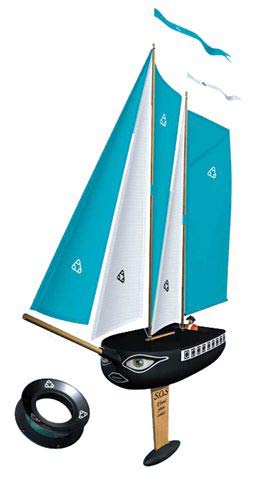 | | |
| --- | --- |
| One of the book's illustrations | The Cover of the book |
I'm prepared to wager that most of my readers have not even heard of Davilon the Morocat, let alone either seen or sailed one. That's because you are not familiar with the `goings on' in the land of the Saggimau, said to be `a large mystery continent never fully explored' where the sailing boats are built to be more focused on saltwater explorations.
Whoa there! Pull in the sheets, what the hell am I rambling on about! The Morocat called Davilon is a lightweight and totally unsinkable, ketch-rigged sailing boat model designed and marketed by Andrew Fagan, one time lead singer of a New Zealand band called The Mockers of many moons ago. An ocean-going yachtsman as well as a poet and storyteller, the boat available along with a fabulous little 38 page book for children (On Plastic Bag Patrol) beautifully illustrated by a Jeff Burnett.
Inspired by Andrew's range of household waste material free- sailing boats (The Boats of Saggimau) you may remember reading about in the March issue of my column, Davilon is what I call `a starter boat' that is a fine intro into our world of model yachting. She is one that is easy to sail, either free sail or by line control, sails set on a reach where she finds the breeze and then away she goes.
The boat and book deal (and it really is a great little storybook!) ) went on sale in several New Zealand toy shops over last Christmas and were then `launched' overseas successfully by Andrew and Karyn at the large International toy fairs in both London and Germany.
I have always said model yachting comes in a great many guises and if we don't encourage the very young, grasp their interest and imaginations and make it easy for them to have a go, the model yacht hobby may eventually be dependent on old fellows like me, or ultimately in years ahead go into absolute oblivion. This project of Andrew Fagan is a step in the right direction, not expensive at the hundred NZ dollar boat and book offering when you think of what many parents invest for their youngsters on special occasions.
---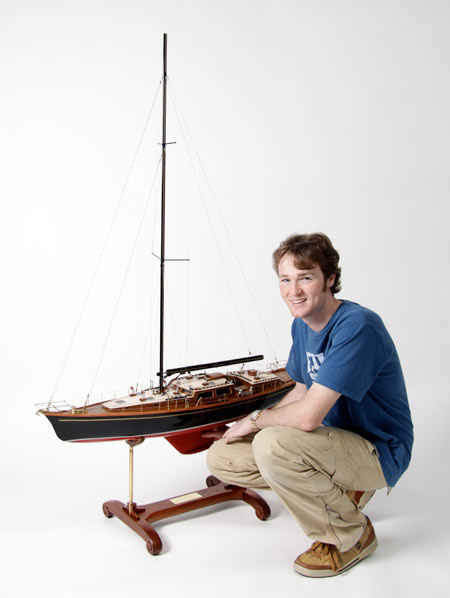 Above - Up close and personal
Left - The result of his efforts
Alex McCormick is a personable young man in Auckland, New Zealand that I feel confident in saying (after having seen this superb model he designed and built) will in time do well as a yacht designer/boat builder given opportunity and a measure of luck.
As part of a course at Massey University he designed and built the purely display model shown with him of Aorere, a 69' LOA McCormick cruising cutter with classic exterior styling with significant overhangs, low free board, sweeping sheer lines and traditional transom. The boat is targeted (should he ever get the chance to build it or have it built) to clients in the 50 plus retirees area. The model is incredibly well detailed and beautifully finished as models go.
---
Whilst blog cruising for HMS Pickle ("The pickles are in the fridge door dear!") I stumbled upon the interesting and well put together The Old Salt Blog created by Rick Spilman. Sea stories, nautical facts, lore, ship books and video information. One of the better `nauti'cal (but non -titillating) blogs, and enjoyable reading.
---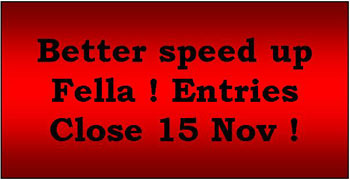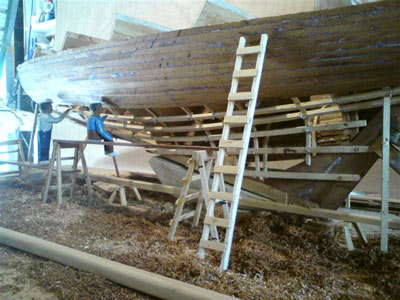 If perchance there are any crack modellers lurking with intent to enter in `Mark Steele's Search for the smallest RC Schooner on the planet' as they read this, you now only have about six weeks before the closing date for submission of photos of your entry by email along with your entry form. That date is 15th November 2010, please remember.
It must be able to sail (not like my effort which simply rolled over and bared it's bottom in the bathtub, soaking all it's `do dacky' RC gear) I knew I should never have called her Sloppy Josie! That was tempting fate and my dear wife did warn me about that! And don't forget, there is a freesail division also.
I have a couple of entries at the moment, well three or four really, including a nice schooner-rigged Footy-sized scow, and a schooner-rigged bottle boat and there is a very definite front-runner that has already set the benchmark.
Go! Go! Go! Time runneth onwards

---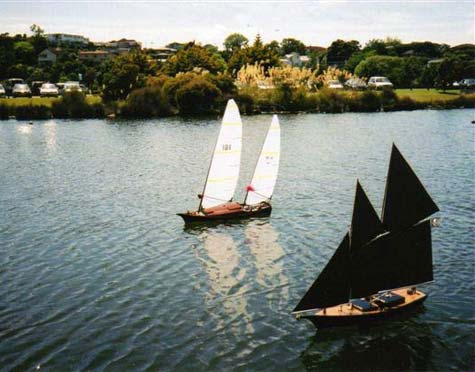 Black Joke and Black Pearl nearest the camera
These days we have to be very very careful when talking about `white' and `black' largely because of all the nonsensical `political correctness' that is carried to absolute extremes. When I was a young boy at college I had friends who were simply looked upon and referred to in terms of their ethnicity as being either black' or coloured, but today many an eyebrow is raised if one omits to refer to them instead as being of `coloured race' though I can't say that in my seventy-six years I have ever encountered anyone `green' or `blue' if you know what I mean!
Anyway, when my model yacht sailing friend, Murray (whose surname is `White') builds and sails two `black' in colour boats, the critical morons who go all `uptight ga-ga' about `being non-pc' and want to have you locked away for being a racist can themselves get knotted over my item. Quite simply `two black in colour boats have been built by a Mr White...my friend, Murray White of Bayswater, on Auckland, New Zealand's North Shore.'
Apart from that, I am (according to Murray) an Admiral which is how he greets me each Thursday at the pond, in the next moment reminding me of his own self-bestowed title `Admiral of Vice'. Murray White is a tremendous guy and one of the nicest you can ever hope to meet, what's more he is a very talented ship modeller and an ex cruising and racing sailor with a wealth of knowledge about New Zealand sailboats of the past, several of which he has owned and sailed aboard in local waters and to other Pacific islands.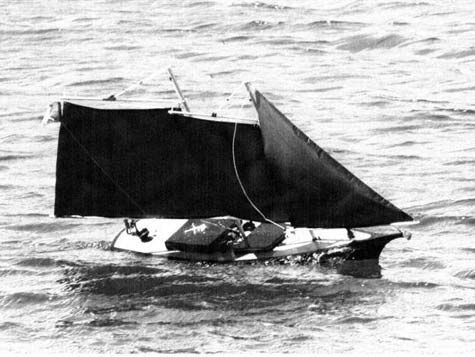 Black Pearl without her topsails
Racing in the last schooner Day. (Photo by Richard Plinston)
He builds white-hulled boats also but the story is about his schooner Black Pearl which he says he was inspired to design and build after seeing the Disney epic Pirates of the Caribbean while admitting that the model looks nothing whatsoever like the boat in the movie.
With its black cloth sails it is a snappy looking and brisk little schooner indeed when sailed with the Ancient Mariners, and last December in the `Schooner Day' programme it performed creditably without its topsails.
Murray's other `black beauty', is a cat-rigged with unstayed masts ketch called Black Joke. A light-hearted fun boat this one and if you look closely aboard you'll see all manner of `creatures including an ape, an octopus and THABTO (two heads are better than one) the twin headed helmsman. This is a boat that embraces the Ancient Mariners windling spirit of not taking oneself too seriously.
Hooray for the black boats of Mr White but DAMMIT I'm now in a pool of puzzlement for I've got another black boat coming up in an article done for Marine Modelling International . Stone the crows and woe betide me – if it's not that political correctness group coming up the road again bearing a sign that says `YOU CAN'T REFER TO IT AS THAT, YOU MUST JUST SAY IT'S COLOURED!'
---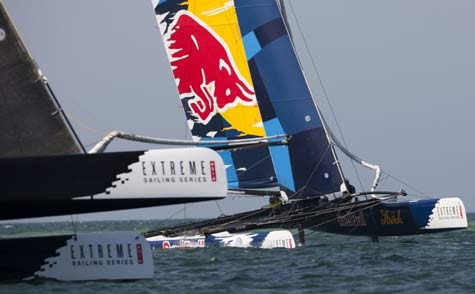 | | |
| --- | --- |
| Bull at rest | The Bull's monthly, a good read |
HOLY RUMOLI! I'm into colours again! I should really check with the political correctness `loonies' about referring to an animal as being red as I'm having somewhat of an affair with a bull at the moment. I'm sure I'll fall out of love with this caffeine-impregnated bovine creature of an `energy' drink in a can eventually, in fact the `retract' symtoms are already slightly evident. The product (Red Bull) appeared to me on first lift-off to have enough fizz when you open the 473mL to lift a rocket of like weight and size into the air!
I can't say I'm in rapture over the flavour – well ….it's `Okay' but a tad too sweet for my buds and I have a feeling that the `energy' claim may be just a bit overated though after just one can frozen for three days and consumed sip and sup style (since excessive gas content tends to turn me into a burp-and-rear-air-expelling-monster) I was feeling somewhat frisky spirited, I must say. It is however, another soft drink albeit with 5 mg each of vitamins B6 and B12 and all other manner of `fancy talk' things I label as `just not really understood but here goes' stuff .
I think I am more impressed over the superb marketing and promotional efforts of Red Bull which the more I read about, convinces me of just how cleverly switched on the company is, and how active they are in both sponsorship of individuals and of events. Their magazine The Red Bulletin I am enjoying also and I have sort of become a kind of RB follower (and I don't mean Rhythm and Blues!)
That's about where I am at for now, enjoying the drink in moderation and still open to the possibility of eventually being convinced after the whirlwind affair of infatuation simmers, that it may well be nothing more than just a sweet-tasting, high-profile promoted `load of bull'. For the moment however, Viva el toro... burp!
---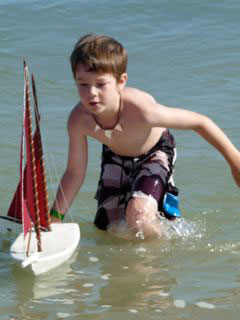 The tide rolls in, he points her straight
for a shallows sail upon a shimmering sea,
"Go On, Go Now! (the young lad calls)
Sail straight and don't be late, be back
before I'm called for tea!"

The yacht Achilles recalls sad earlier loss
of Wil - an older son and times of sorrow,
a fresh wind ups and blows... there she goes
for younger Wil - proud sailor of tomorrow !

Mark Steele
---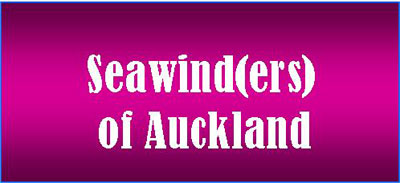 | | |
| --- | --- |
| Ivan Fraser with his Team New Zealand boat | Close encounter |
| | |
| --- | --- |
| Big gust and up she rises | "Damn weed! Let's have a look" |


New Zealand Radio Yacht Squadron sailors At Onepoto, Auckland
The Kyosho Seawind is a GRP-hulled 1 meter RC model sailing or racing yacht sold in kit form in many parts of the world. A replica of an America's Cup yacht it is raced competitively in great numbers in various parts of the United States where it is an approved class within the American Model Yachting Association. ABS plastic hulled with aluminum spars, the length of the model is 39.3 inches, the beam 8.9 inches, the weight 6.5lbs, and it has a sail area 604 square inches.
In Auckland, New Zealand the class is a popular one for members of the New Zealand Radio Yacht Squadron who race the boats regularly each Sunday afternoon between 2 and 4pm at the Onopoto Lagoon on the North Shore. Many of the fine photographs of their sailing were taken by Richard Plinston, their President and are used kind courtesy of him.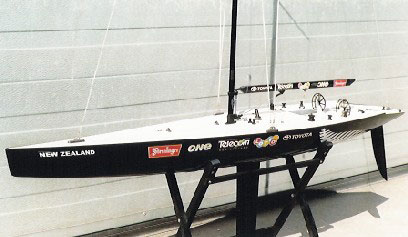 A Team New Zealand liveried Seawind
---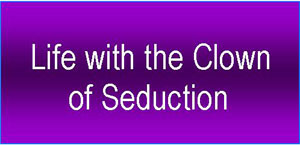 When I got involved with a computer which on reflection now I know that I could not have produced the volume of articles in long hand, nor sent mages to my publishers without, I am nonetheless convinced that I sold a chunk of my life to the devil on that fateful purchase day.
Clever it is indeed (the computer) but it is the absolute 'clown of seduction' into a world that millions of lured users who will never understand the geek talk terminology, nor have the perseverance to re-educate their often ageing minds by learning, will be driven into a new and frustrating world of eventual computer abandonment.
When you buy one, it never comes with a `too hard' basket (Hell it doesn't even come with a 'how to understand and use the dang thing' booklet written in non-geek laymans language!) and you are guaranteed to litter some dump in your neighborhood with at least one of these units in your lifetime. I know of one guy who has disposed of no less than five after taking out the hard drives, and two of those I believe he sunk on a weighted chain up a deep seawater channel!

-30-