Alexander yachts, a huge Sindia is launched,
Boat Man Richard Gross and Phil's exciting new yawl!
WTWB/September 2010
---


If perchance there are any crack modellers lurking with intent to enter in `Mark Steele's Search for the smallest RC Schooner on the planet' as they read this, you now only have about six weeks before the closing date for submission of photos of your entry by email along with your entry form. That date is 15th November 2010, please remember.
It must be able to sail (not like my effort which simply rolled over and bared it's bottom in the bathtub, soaking all it's `do dacky' RC gear) I knew I should never have called her Sloppy Josie! That was tempting fate and my dear wife did warn me about that! And don't forget, there is a freesail division also.
I have a couple of entries at the moment, well three or four really, including a nice schooner-rigged Footy-sized scow, and a schooner-rigged bottle boat and there is a very definite front-runner that has already set the benchmark.
There are now just six weeks before the closing date, so if anyone is still contemplating building a tiny RC or freesail schooner they had better start now. `Time waits for no-one' as the saying goes. Start this weekend, use balsa, anything except a bottle and if you are just not interested or feel that you are not up to it in the skill area that's fine. It is a oncer and a bit of fun, that's all, not intended to send anyone into a deranged state of mind. You will be surprised what you can do if you set your mind to it.
---

Kialoa V with a big crew aboard in race off St Thomas.
For openers, thanks to Rolex and their photographer, Ingrid Abery, above is the fifth of of 5 Kialoa racing yachts, a Frers 80' maxi built for Real Estate man, Jim Kilroy seen competing in the International Rolex Regatta held in St Thomas, US Virgin Island. Now owned by the Freddie Mills family of Lake Placid, New York, Kialoa V has had an impressive list of victories, including the Bermuda race, The Admiral's Cup, the Transpac race, the Sardinia Cup race and the San Francisco Big Boat Series.
---
Once upon a time...
there was a man called John Alexander!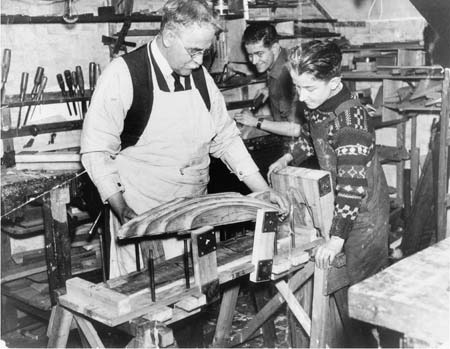 John Alexander and two of his sons yacht building.
Many who follow model yachts, and the hobby of model yachting, particularly those of vintage years will have heard if not well remember John Alexander and his family of Dunoon, Scotland who had been Foreman of the Clyde yard that had built Sir Thomas Lipton's first Shamrock who then came to England. They moved down to the South in the mid-1920's fuelled by an idea that they could run a family business.
It was before the war and a time when racing model yachts was a popular pastime, not so much for children but for grown men and John decided that he and his family would build and sell model racing yachts for a living and selected Preston in Lancashire as an operating base. It was fairly near to Fleetwood where the World Championship model yacht race took place and that was a good enough reason.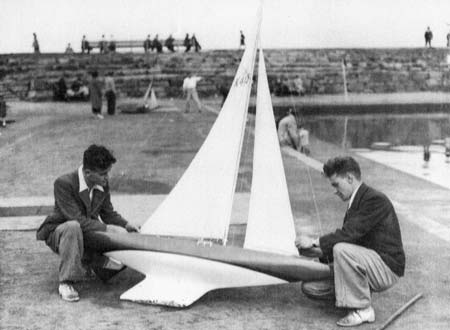 An Alexander yacht for serious racing. Two youngsters believed to be the Alexander sons with one of the yachts




Above: A surviving (probably restored) Alexander Marblehead

Left: Heather Glen Fleetwood Speed Record Holding Alexander

Above: A Braine-steered Alexander yacht – the Braine system was a pre-RC mechanism to hold a model on course.

Right: An Alexander 10R owned by Russell Potts



An Alexander racing yacht was not a toy, instead it was an expensive racing machine, a model six feet in length made in the manner of a fullsized racing yacht. So it was that John in the company of his older sons, all brought-up to be as skilled as their father with both wood and metal, began a model yacht production business destined to become Internationally famous through its success that followed.
The family business was established in a lengthy attic of a rambling old house that John bought on Victoria Parade . Those in the Alexander family of ten taking part were sons Alan who was the youngest, Eric, William, Ernest and an eldest son James, William and James holding other jobs willingly offered to help in the evenings. Mary (a daughter) along with Alan's wife Barbara looked after the sail-making side of the business.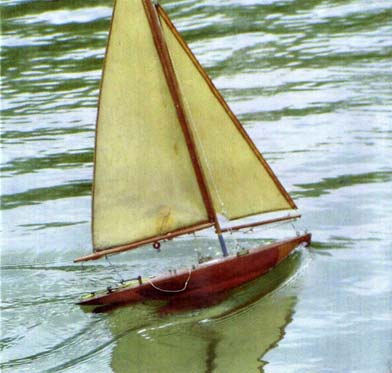 An Alexander yacht owned now by Russell Potts




Above: Elm Bank, Preston where they lived and where boats were built

Left: Mary Alexander, sailmaker
Not everyone of course, could afford the beautiful, sleek A Class yachts that they produced, so the family produced a line of considerably smaller racing yachts, each one hand-built and selling for about three British Pounds. The Alexander's raced their own boats too, and at Fleetwood Heather Glen seen above set the speed record of two minutes two seconds for the 810' long pond.
Success for the boats followed over the years as more and more people beat a path to the family home wanting an Alexander racing yacht, and in 1950 the family celebrated 25 years of operation, when one of their yachts finished second in the British Model Yacht Racing regatta held that year at Gosport. That was the year that John at 74 retired from the business, he and his wife moving to live on the bottom floor. He was always available however, and keen to watch his sons and the ladies carrying on the business in the attic which was reached by a long flight of stairs. John Alexander died five years later in 1955.
At the end of the war, model yacht racing tailed off in popularity and years would pass before interest was regained, inevitably the Alexander family yacht business folded. For awhile the sons continued making yachts for friends and special customers, working on them in the evenings and on weekends, James doing so until the 1970's.
Much of this information must be directly attributed to Elizabeth Basquill, a grandchild of John and Harriet Alexander, and to a lesser extent to a George Eglin who wrote an article in the Lancashire Evening Post in 1950. My friend, Charley Williamson who is a Professor at Cornell University and himself an owner of several Alexander yachts, made possible the details of this story and the use of some of these photographs.
---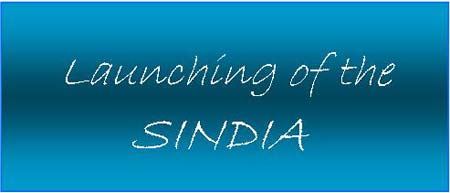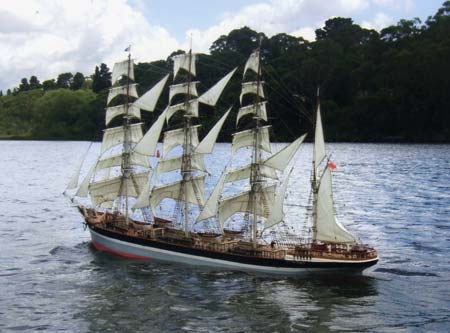 Slowly, Sindia gathers speed
| | |
| --- | --- |
| Getting ready to cast off | Back to the land before that rain |
Well there she goes (rather `went') into the water at Wentworth Falls lake in New South Wales, Australia, the magnificent 81" long model of Sindia lovingly and absolutely painstakingly built over many, many years by Ian Hunt in Sydney.
Mainly a display model, the enormous keel fitted for the launching proved its worth, and the model which had to be transported took five persons to lift and lower into and out of the water. Nice photographs those.
---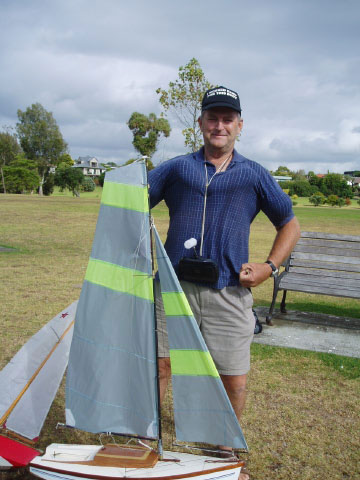 Richard Gross with Starlet Mist




Above: The Bawley Anita

Left: Schooner Maggie
Fellow Auckland, New Zealand Ancient Mariner and friend of mine, Richard Gross is this months `Boat Man'. A regular windling sailor at Onepoto lake, Richard who retired from dentistry, has built several sailing models since he became hooked on the hobby not so many years ago.
But what about the yachts he sails? By both my reckoning and his recall, he has had seven and now retains six, the first one a Jim Young design single master which he built to get into the hobby he later gave away. One Starlet called Mist, three schooners (Maggie, Poppy G and Milano with which he won the last schooner run), a Bawley called Anita and Windana II a large model of a trailer-sailer make up his fleet. Somewhere lurking in his model room is a little Footy which kind of `died' when the Ancient Mariners interest in the class wained. and somewhere in his head I'm picking there is an idea for another sailing boat, or two (or three) given time.
Richard's schooner Maggie of Matakana be built as a scow-like Chesapeake Bay gaff schooner based on a real schooner in New Zealand called Maggie of Whitford. He is seen with the model in the photograph above at the beginning of the piece on him.
A very talented but modest guy, Richard has done some wonderful sculptures which have been cast in bronze, the most recent I've seen of a man engrossed in his newspaper.
He regularly sails a Starlet and has several schooners that include the lovely Maggie of Matakana, almost always saying when he arrives with one of his larger models"It's time for a real boat on the water!" A most likeable guy popular with virtually everyone and helpful often to extremes, hardly a week passes by without his ceasing his Thursday sail to help recover someone's boat that has strayed into weeds on the other side of the pond. His recovery method is to toss a weighted object he keeps in the car that is attached to a long cord, over the stranded boat and then pull it in, another recovery successfully completed!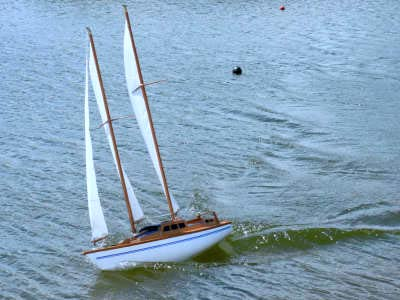 Milano heads for the line
| | |
| --- | --- |
| One of Richard's early boats which he later sold. | Bronze figure - Reading the news |
| | |
| --- | --- |
| Windana II | Schooner Poppy G |

Above: Featured `Boat Man', Richard in the workroom with his schooner Maggie of Matakana

Right: His smallest, the racing Footy



---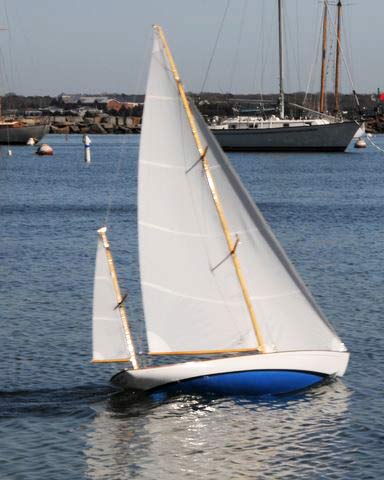 Phil Hale who owns and runs Martha's Vineyard Shipyard in the USA, whom some may remember built a stunning schooner model called Deborah featured a few months ago in this column, has since had Sparkman & Stephens in New York design the yawl model shown for him.
With a waterline length of 40" and an overall length 58" with a 16" beam, Anne displaces 40 lbs, her hull strip-planked and then epoxy and glassed over.
The design is based loosely on Dorade and Stormy Weather, both famous yawls designed by Sparkman and Stephens.

Above: Getting ready for launching

Right: Phil Hale stands beside the model



---

He set out to sea in a nine foot long bathtub-shaped open boat made of oak, a mast made from a long oar a red towel attached to it as a sail. That was a hundred and nine years ago and shouting while saluting a small crowd gathered on the pier he yells: "I'm off to Circumsize the bleedin world! YOU ALL HEAR ME?"
People don't remember him as they are all dead and he went down five metres further on and neither him nor his craft were ever found! He was Hokum Pokum `Ding-Dang' Oakum., certified lunatic. (This taken from the Hokum Screwball Harbour Express.)
---

These days I am playing a lot of Keepie Uppie, (no not that energetic freestyle football!) just keeping up with the demands of life in an age of advanced years, and keepie uppie-ing my efforts toward keeping my marbles intact - not `losing any' if you get my drift? It's not easy though, the damn little buggers keep going
walkabout!!!

Hey, where the hell has the little blue and white one gone? "

-30-