A Westward in Iowa, the sailboats of Montana man
Brooks Martin, a North Sea crosser and the underwater
Sculpture king, Jason deCairies Taylor!
---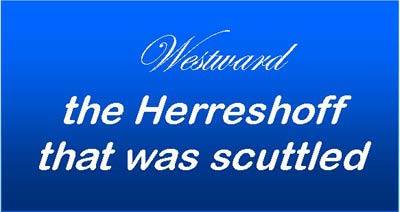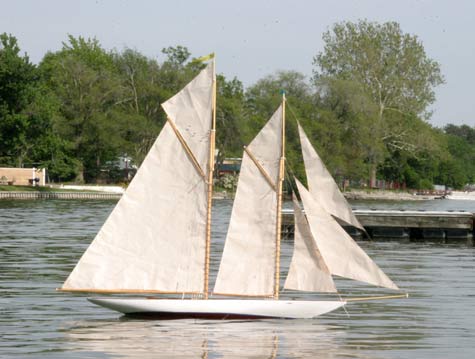 The Herreshoff Westward
The Westward was a steel 125' staysail schooner built in 1909-1910 by Nathaniel Herreshoff in his shipyard in Bristol, Rhode Island. She carried 12,000 square feet of sail and she had a beam of 27' 1" and a draft of 16' 9". She was commissioned by an Alexander S Cochrane.
T B Davis bought the schooner in 1924 and from the following year until 1935 she was a regular boat on the racing circuit. Laid up for the duration of both wars, for the second war in Dartmouth South in Devon , England. Westward was scuttled out in the English channel in July 1947.
Inspired perhaps by the big schooner models of South Carolina's Andrew Charters, Kenneth Hall of Iowa in the United States for a long time wanted an RC schooner model and chose to build Westward which was featured on several postage stamps, two of them seen in this item.
Obtaining plans from the Hart Nautical Library Kenneth's build of the 102" replica of the famous schooner was to take him most of four Winters and one whole Summer, the boat's first launch taking place in Lake Manawa in Iowa. He built the hull cedar planked on marine plywood frames, deck out of sprung poplar, the keel of mahogany, deadwood deck houses and the spars of spruce.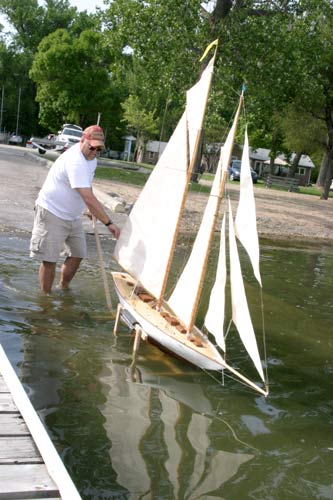 Ken launches the Westward
| | |
| --- | --- |
| Postage stamp TB Davis and Westward | Full sails |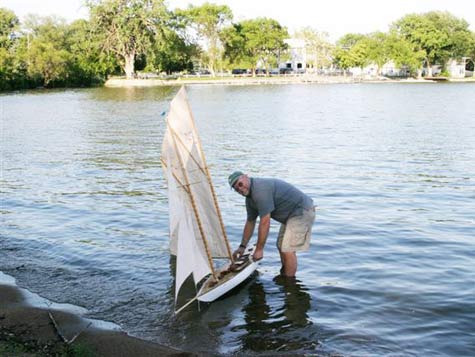 The man and his schooner
He used a modified version of Andrew Charters control system, a below- deck loop for fore and main sheets, and a deck loop for jib and staysails. He hacked a mega arm servo for continuous rotation for the jibs in order to get additional travel. A 12v auto window motor was fitted for fore and main sheets and a window washer pump for a bilge pump.Four channel radio is used, on for the mainsail, one for the overlapping jib loop, one for the rudder and one for the bilge pump. If he trims the boat right he is able to sail it thumbs-free.
---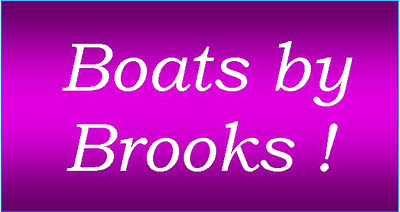 Brooks Martin is an interesting RC scale ship modeller resident in Bozeman, Montana, USA I first heard of Brooks from Phillip Artweger in the Czech Republic and I later made contact when I signed up as a member of an online website (rcgroups.com) some months ago. According to Phillip, Brooks has been his mentor and I am now able to pass on to readers a bit of news about his model sailboats. It has not been easy (getting the information) mind you for I suspect that Brooks is a rather modest sort of guy, however thanks to him and to extensive perusal of that website, plus several emails, for now this is what I am able to share with you.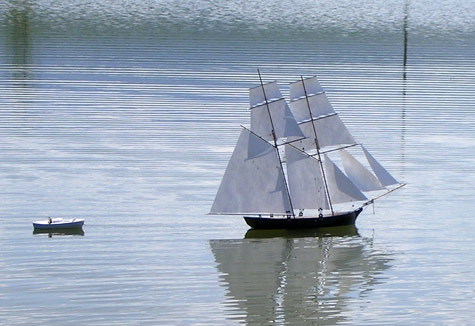 1820 approx slaver Aldebaron
Four of his boats spring to mind, the first being his topsail schooner, a slaver of the 1820's or thereabouts called Aldebaron shown above which he modeled upon a ship called Dos Amigos, a nineteenth century Brigantine Schooner that sailed between Africa and Cuba. The hull of Brooks model is wood that he hollowed out and he has sailed her using two different rigs, one a low profile the other the lofty rig in the first photograph used to advantage in the real ship for getting through the doldrums as quickly as possible when returning to Africa in order to catch the slightest breeze.
| | |
| --- | --- |
| Aldebaron towing whaleboat with safety line | She was modelled on Dos Amigos |
In the photograph immediately above is the schooner with the smaller sail and in both photos she is towing a Styrofoam whaleboat as a marker buoy with twenty feet of kite string on a spool in case the model should ever sink.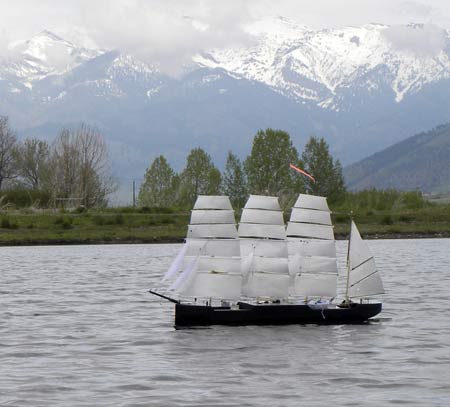 Brooks Pamir with stunning scenery
The second model by Brooks is one of the Pamir (shown above) and again below in the first of two photographs. The model is 41" LOA built plank on frame and despite the absence of great detail on deck she makes an impressive sight and sails well. The photograph below right is a rather exciting looking bottle boat topsail schooner for some lighter windling style sailing moments. He also too one of Seaworthy Small Ships `Coaster' schooner kits, built it conventionally halfway and finished it off as a freesail Brigantine schooner
| | |
| --- | --- |
| Palmir once more | Topsail schooner Bottleboat |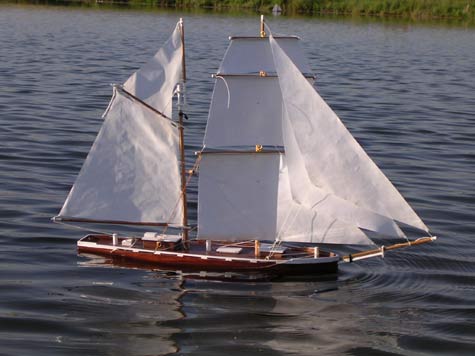 Brigantine schooner with Seaworthy Small ships hull
---
Carl Zwanzig wrote: 'Duct tape is like the force. It has a light side, a dark side and it holds the universe together!'
---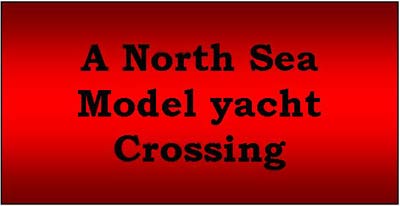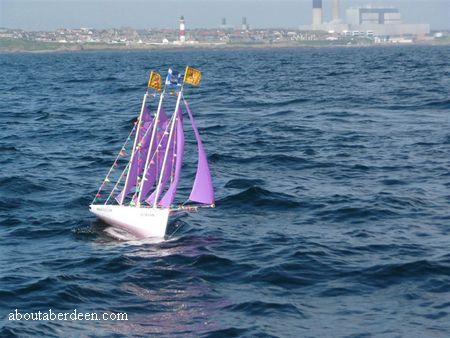 Siobhan gathers speed
The story begins with the sad passing of 11 year old wee Scottish lass Siobhan Lynne Morrison of a rare cancer called Ewing's Sarcoma, a type of tumor. She died on 24th October 2006 in Aberdeenshire, Scotland after a battle with her cancer.
Siobhan loved yachts and her Uncle, Gordon Morrison built a 4' model four masted schooner which he named Siobhan to sail across the North Sea to Denmarkin honour of his niece and which he launched at Boddam on 24th August 2007.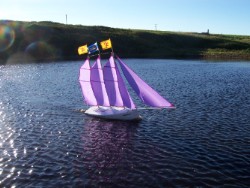 A test sail for Siobhan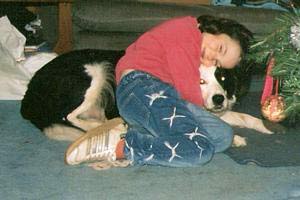 The yacht which was fitted with a GPS tracker made good speed as it left Boddam but after it stopped sending back data it was feared that the model yacht was lost forever. Then, 11 weeks later the little yacht Siobhan turned up, washed ashore on a beach in Skagen, Denmark. The crossing of the North Sea in honour of a brave little girl had been achieved. Siobhan is seen with her Uncle Gordon and her Aunt's dog.
This delightful little video that now follows is kindly made available by YOUTUBE. It depicts the little yacht Siobhan sailing on the North Sea and epitomizes the courage and bravery of the late Siobhan Lynn Morrison. The music on the video is by the band Waterboys and their song is called `Fishermans Blues'.
---
Who says nothing is impossible?
I'm retired and have been
doing nothing for nearly 15 years!
---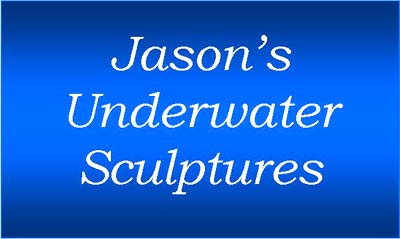 My appreciation to Jason deCairies Taylor for
permission to use his wonderful photographs.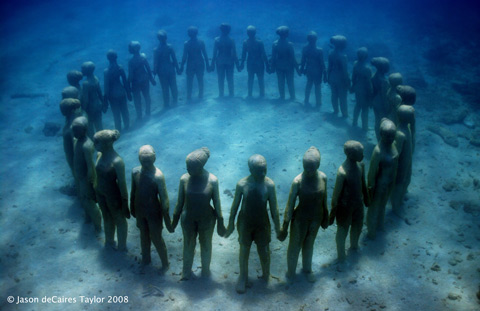 Perhaps the sculptor's most well known sculpture, Vicissitudes-6
| | |
| --- | --- |
| Fall from Grace...the underwater cyclist | The dream collector |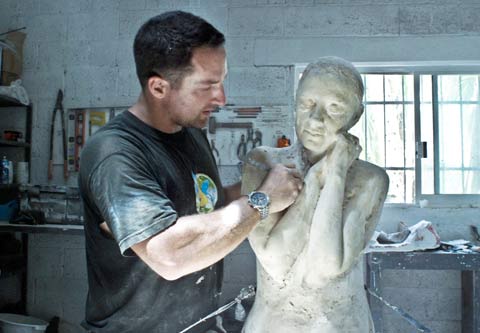 Jason deCairies Taylor at work
Jason deCairies Taylor is a highly unique and extremely talented sculptor but you will have to dive beneath the sea in several areas, or go snorkelling in order to experience first hand the magic of his `peopled underwater worlds !'
Born of an English father and a Guyanese mother, Jason is the creator of the world's first Underwater Sculpture Park in Grenada in the West Indies, and has gained acclaim and International recognition for both the brilliance of his ideas and for his incredible creative work. His sculptures are creating artificial reefs that promote the need for man to both understand and protect the natural underwater world while being a part of a unique visitor attraction.
The figures on heavy platform bases sighted in shallow waters are seen by divers and snorkelers, as well as by those peering down in glass-bottom boats at the figures bathed in the tropical clear-like blues and greens associated with Caribbean inshore waters, where fish flirt with the loose sand as it puffs upwards at the instant of a touch by a persons feet and the sun and passing clouds create a variety colours.
Much has already been written about the experience by divers and the sculptor's website reveals stunning photos of the figures created and already in place, not only in the waters of Grenada but in Mexico where he is currently resident as Artistic Director of the Cancun Underwater Museum. He is also involved with another project in Canterbury, Kent in the United Kingdom and spends a great deal of time in both places.
---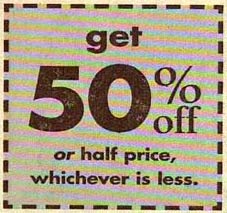 Tight times these are and people are always looking for a good bargain. And to have a choice of getting it at either 50% off or at half price makes it hard to decide on the better of the two!

---
As mentioned over the last few months I have been seeking the world's `smallest RC (and freesail) model schooners'. Entries closed ten days ago on 15th November so if you didn't enter I'm afraid you have `missed the boat'. You will have to wait to know the winner(s) in the February issue of Marine Modelling International early(ish) in 2011 and Duckworks Magazine. Until then the winner is `classified information'.
-30-