Speed, but not at the expense of comfort

.
David Perillo was one of my most enthusiastic Navigator owners, he'd bought a second hand one after having to sell a much bigger boat and after sailing it on Aucklands wonderful harbor for a summer decided that both he and the boat needed a really good adventure. That adventure turned out to be shipping the little Navigator up to Fiji and spending 10 months sailing her around the remote Northern Lau group of Islands, an area where Europeans are very scarce, and where some very long passages have to be made in order to sail from one island to another.
Dave made some very close friends there, they needed a practical fishing boat, one which did not use huge amounts of fuel and he felt that they needed the little boat more than he did so when he was ready to return to New Zealand he left his boat with them as a thanks for the incredible welcome and friendship that he'd experienced. He bought another Navigator when he returned to New Zealand and you can see some of his adventures on www.openboat.co.nz.
| | |
| --- | --- |
| Dave Perillo and a friend happy in his second Navigator | |
But like everyone, after a while and with a lot of open boat cruising experience under his belt, the "what ifs" started to get him thinking. He'd never built a boat himself, "what if" he built one that was a bit longer, "what if" it was a custom design that had better speed and better accommodation, "what if" it had a higher performance rig?", "what if he wanted to go yacht racing?", what if, what if, what if?"
We talked, Dave and I. We talked about where he'd been in the original Navigator, what he'd done in the second one and we went through all the "what ifs". He sent me a sketch, I scratched my head over it for a while then sent one back, he liked it and I sent him out to buy some plywood while I got on and drew some more drawings.
| | |
| --- | --- |
| | Dave makes the first cut on AWOL |
The boat was like a quick 1980s plywood club racer, with a gaff sloop rig that incorporated some ideas that I'd been cherishing about high performance from the traditional style rig. It had a raised floor that had enough space to lay two airbeds and sleeping bags out, a cockpit with good backrests and the right footwell width for comfort, a centerboard that would swing back if he touched bottom when exploring in shallow places, and which was to be made of steel so it would steady the boat when he sailed her singlehanded, and there is lots of dry storage in lockers that double as buoyancy that would keep the boat afloat, upright and able to be recovered if he overdid it and capsized it sometime.
Rigging the boat was to be simple, none of this needing an hour or more to set her up before she can be launched, that just burns up valuable sailing time.
| | |
| --- | --- |
| AWOL is like a quick 1980s plywood club racer | |
But the rig has to work better than most, so there are some modern adaptations to the sails, they look traditional from a distance but they will work much better than you'd think.
To add more speed still there is a moderately sized gennaker, much like the single luffed spinnakers used on the big Americas Cup boats but much smaller, this is a very easy sail to handle and even single handed it is manageable if you are organized.
The shape was fairly simple. The design was just a carefully proportioned sheet plywood over stringers dinghy with no major bends or twists in the planking. There would be a minimum of tools and space required, Dave had not built a boat before so I had to keep her consistent with what I thought his skills would be. As it happened he did a very good job, "Medusa " as his daughter Harriet named her, is a good example of what an amateur builder can achieve with time and patience.
| | |
| --- | --- |
| | An almost completed AWOL |
He got a page of frame drawings first, and some basic instructions as to how to make each item, I had the next sheet to him before he ran out of things to do, and for the most part that was how it went for the next 18 months. (Read Dave's account of building AWOL) Once or twice he had to jog my elbow, a couple of times he got distracted by other things, but just the other day I got an email to say that it was close, then another to say that he'd put the boat in sans rig ( I suspect that he just got too exited, they can see the water from the front window of the house where he and Harriet live and sometimes you just have to "do it").
He sent me an email one afternoon to say that she was to go in the water "officially" that evening, and next morning there was a rapturous email in my computer timed very late at night.
Hi John

FANBLOODYTASTIC...

Light on the helm, responsive, quick and a lot of FUN even in the dark (just got in now - 10.57pm).

Cant wait for more.

Well Done

Talk soon... I'm knackered and off to bed.

Dave, a very happy man, Perillo
| | |
| --- | --- |
| On the beach on launch day | |
To say that I'm envious would be an understatement. Well done Dave. We'll be following your exploits with interest.
There have been a number of daysails and cruises since then, the little cookbox galley under the tiller aft being well tested, and the space allowed for laying out the airbed and sleeping bag proving to be more than adequate.
She's fast, much faster than anything her size with the exception of the pure racers and handles well even when travelling at planing speeds. I was careful to keep the sail area relatively modest due to the singlehanding requirement, but it seems that if you can feel any wind at all she will sail, and sail well. That modernized gaff rig is a great deal more efficient than most realize, and there are a lot of boats out there quite shocked at just how quickly this "old fashioned" boat sails away from them.
| | |
| --- | --- |
| | in the water for the first time |
I'm pleased with it, and David is over the moon with his new boat. He tells me that she has very much fulfilled the brief which was for a first time amateur build, speed, occasional races, fast daysailing sometimes solo and sometimes with friends, and a camping capable voyager that will cope with the sort of weather that we here in New Zealand have to live with even on summer afternoons.
AWOL: An Acronym for Absent With Out Leave, anyone with an armed forces background will know, and sympathise. This boat is a very good reason to go AWOL.
John Welsford.
Marine designer.
Plans include a detailed step by step assembly guide which includes a fittings and materials list. The drawings consist of 9 sheets 23 ½ in x 33 in ( A1 size paper) which include detailed drawings of all major components, and scale drawings of all frames, stem, bottom and transom. No lofting required.
Materials include 7 sheets of 6mm(1/4") and 5 sheets of 9mm(3/8") plywood. Also 3 gallons of epoxy some hardwood, some softwood, fasteners, fiberglass, etc - all of which is listed in the plans package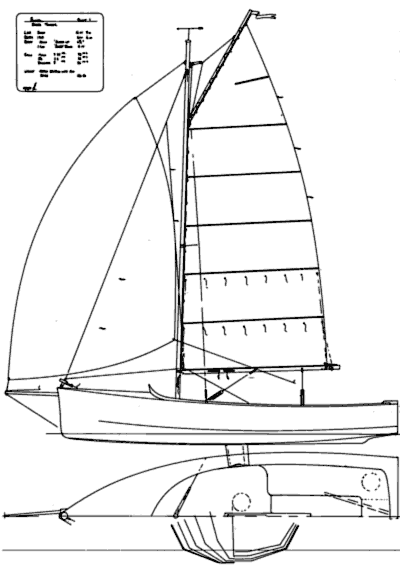 LOA 5.05m - 16ft 5in
Beam 1.910m - 6ft 4in
------------------
Draft (CB up)0. 160m - 6-1/4in
Draft (CB dn) 1.2m - 4ft
------------------
Sail Areas
Jib 3.3sm - 36sf
Main 7.85sm - 85sf
Gennaker 8sm - 86sf
------------------
Dry Wt Rigged 210 kg 460 lbs
______________________________________