S & G Fishing Boat/Runabout with Cuddy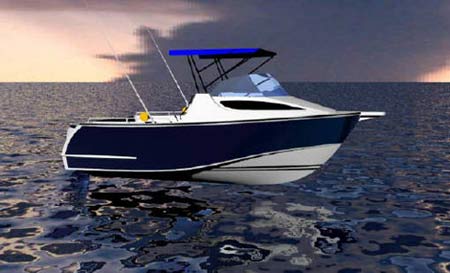 The Cruise Control 5.2 .is a stitch and tape cuddy cabin design combining the comfort for those family outings, whether it be swimming, diving or just enjoying the day, but at the same time she also had to satisfy those who are into serious coastal or offshore fishing.
With her deep "V" hull (20 degrees @transom), sharp entry and strong sheerline, she had to be tough and rugged, yet simple in her concept.
Designed for seaworthiness, practicality and smooth ride for outside adventures, whether it be a glassy sea or a grey horizon, she had to be designed to bring you and your family home safely, and in comfort.
So settle back, enjoy the day as you cruise the blue horizon, You're in "Cruise Control"
Boat Specifications
Length on deck:
5.2m (17 ft)
Beam:
2.36m (7 ft 9 in)
Deadrise @ Transom:
20 degrees
Recommended Max Hp:
20
Outboard Shaft Length:
L/S - 20"
Design Brief
In regards to design of the hull, the Cruise Control incorporates a sharp high entry angle at the bow and a 20 degree deep-V hull form at the transom, delivering a smooth dry ride by displacing water away from the boat, while a wide bow flair keeps it from rolling back into the boat. Also by featuring a higher degree of deadrise at the transom, this provides added stability in rougher seas.
Also the large chines on the Cruise Control 5.2 hull form, deflects water down and under the hull, acting as two points on which it balances. These points provide a great deal of dynamic stability for a more solid ride while also increasing lift and reducing drag for a faster more efficient running hull.
Arrangements: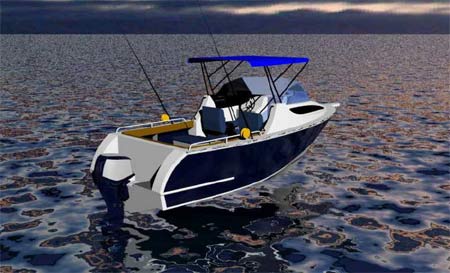 For the arrangement plan, a question most asked of us is, could we please include a private area in regards to the toilet arrangement, not only for guests but more importantly... the opposite sex. So in this regard, we made this one of our top prioritys with this design, using real walls and not flapping curtains to the outside world.
Construction
The requirement for the Cruise Control 5.2 was simple. It had to be light, quick to build, easy on the pocket, a deep "V" hull and yet still retain its strength, seaworthiness and performance. The Cruise Control 5.2 is built from Marine plywood, epoxy, and directional E-glass fabrics. Constructed using the Stitch & Tape method, this results in a stronger, tougher and more durable boat, while still retaining its lightweight construction.
Plans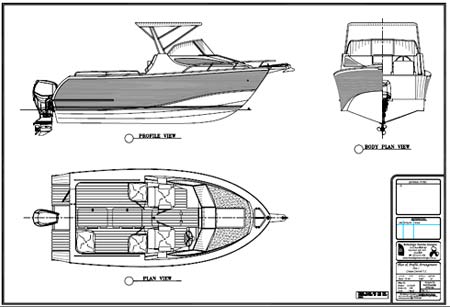 Click the image above for a PDF Plan sample
Materials List for the Cruise Control 5.2
The following list of materials is approximate and intended for calculation of approximate costs. We offer no guarantees of accuracy. The list is for all timber in the construction of hull, deck and interior, including building stocks, temporary bracing etc. Allowance has been made in the quantities for about 20% wastage.
These figures allow for building with 1/4" (6mm) & 3/8" (9mm) Meranti, Hoop pine or Gaboon plywood for the hull and interior.
STRUCTURAL PLYWOOD OR PARTICLE BOARD
8ft by 4ft (2.44 x1.22m) 12mm (1/2") - 2 sheets

MARINE PLYWOOD
8'x4' (2.4x 1.2m - Pacific Maple or Gaboon)
6mm (1/4") - 3 sheets
9mm (3/8") - 19 sheet
12mm (1/2") - 7 sheets

Hoop Pine, Oregon or similar,
19x19mm (3/4"x3/4") -approx 30 m

RESIN & GLASS (for coatings and reinforced areas)
Epoxy resin & Hardner -
West System, FGI R180/ H180 or Bote Cote - approx 80 kg
200g/sq.m cloth fabric - approx 40 sq.m (may be cheaper to purchase by the 50 sq.m roll)
400g/sq.m Double Bias - approx 10 sq m (cut into 100mm strips for tabbing)

(Cheaper to purchase the items listed below in 10 kg bags- you will have left overs, but overall far cheaper than smaller quanties)
Glue powder 10 kg
Fairing powder 10 kg (Q-cells, Microballoons or similar)