DUET Utility Boat - Easily Transported in a Truck or SUV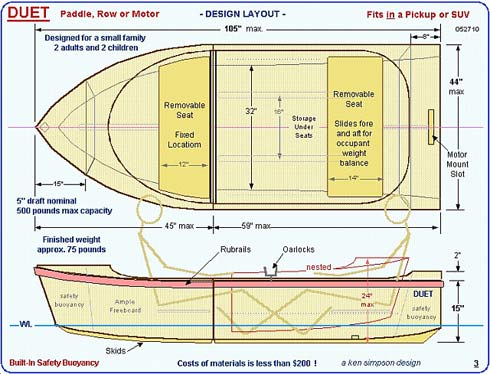 DUET specifications (all dimensions are maximum):
Length = 105 inches
Width at Gunwale = 44 inches
Width at Chine = 34 inches
Height = 17 inches
Hull Weight = 75 pounds
Draft = 5 inches nominal
Max Load = 500 pounds
Hull Speed = 5 mph (can plane with ample power)
Suggested Motor = Trolling Motor up to 4 HP max.
Ready for Transport Nested Size: 59 inches long x 44 inches wide x 24 inches high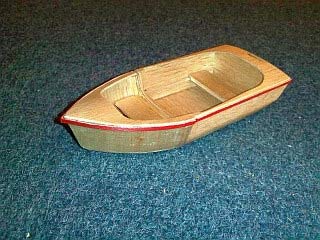 DUET hull assembled
Another inspiration has struck me, and the result is the new DUET. It is a 2 module portable utility boat, the size somewhere between my TOTER 2 and the POLLYWOG. It's main feature is seating for a small family, 2 adults and 2 kids, with a total capacity of 500 pounds. It has good freeboard, and can accept power from a trolling motor up to 4 hp. For portability, it can fit in all pickups, most SUV's and some wagons. Of course it can be rowed or paddled, and the seats are adjustable for occupant balance. At almost 9 feet in length, and 44 inches wide, it is a roomy, stable, and safe modular boat. Total cost of building materials is under $150, excluding finish, and the construction method utilizes the proven Tape & Glue process.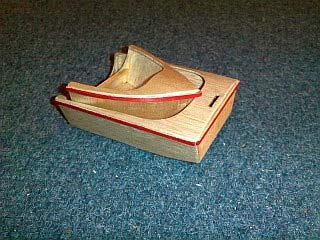 DUET ready for transport
I believe DUET will address the needs of many small boat builders, because of it's capacity, and overall good looks. Families will enjoy it for what it is; an easy to build, simple to assemble, fun and safe reason to go boating, without having to trailer anything. There are 2 built-in buoyancy chambers, and under seat storage for provisions. This would also make a good fishing boat, or even a Tender, as it's size and weight make it easy to handle by a single individual.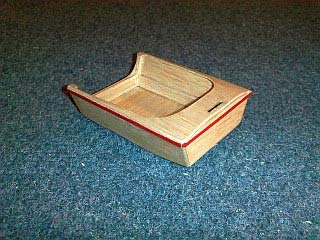 DUET rear module, transom view
The plans are 30 pages of text, sketches and photos, in PDF format. All information regarding the building processes used are included, and recommendations for finishing is also addressed. As always, I strongly suggest builders make revisions to their boats that will personalize them, to satisfy their unique needs, without sacrificing the integrity of the design. The layout drawing at the top of the page provides a good overview of the DUET's size and portability.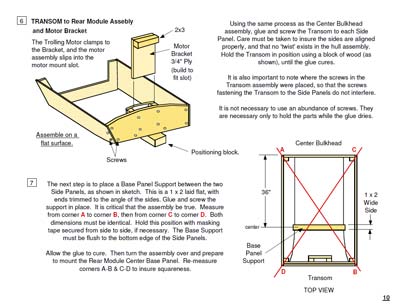 sample page from plans
DUET is a small, roomy boat, with good freeboard, built-in safety buoyancy, and is capable of carrying a small family. Composed of two bolt together modules, it nests to fit in the bed of any pickup and most SUV's for transport. The boat is wide compared to length, and is stable in all conditions. DUET is easy and inexpensive to build, operate and maintain. Can be paddled, rowed or small motor powered. And, no trailer or cartopping is required!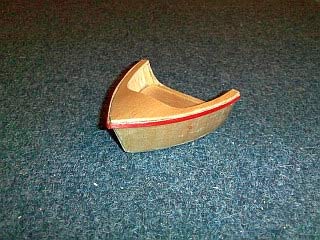 DUET forward module
Cost of Materials is less than $200, accessories extra
4 sheets of 4' x 8' x 1/4" Exterior Plywood = $80
10 lengths of 1" x 2" x 8' Lumber = $20
TiteBond 3 Glue = $35 (1 gallon)
Fiberglass Cloth, 2 yards = $10
#6 x 3/4" Stainless Screws (box of 100) = $5
Finishing: 2 quarts of Marine Spar Varnish = $40
Builder has the option to use other finishing methods.
***