Are you being prevented from having a great time on the water by the ever increasing fuel prices? Are you worried about the environmental impact of your power boating activities? Looking to buy a boat but feeling uninspired by conventional designs?
Look no further!
The Eagle 4.6 is a sleek, fast powerboat which is very practical for a wide range of activities, yet performs well with only a small engine. The Trimaran (3 hulls) platform provides incredible stability, low drag for better speed and economy, and a very smooth ride.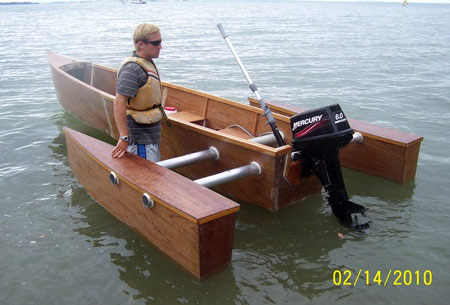 An open main hull with bench seating provides all the practicality of other small boats and can carry 3 people comfortably. The boat is ideal for fishing, or longer day trips out to your favourite island or beach.
A very slender hull with a deep vee bottom provides low drag with a smooth ride through waves. The semi-displacement hulls allow relatively high speeds without the huge amount of engine power to make a boat get up onto the plane.
Watertight compartments in all three hulls make the boat very safe, even in rough conditions.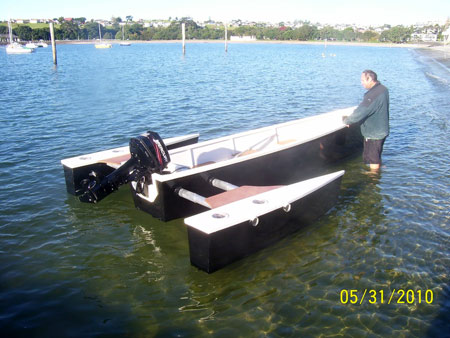 Construction is from plywood using the 'stitch and glue' method, which is easy enough for amatuer builders, and relatively cheap. It also results in a very light and low maintenance boat.
Plans will be available very soon, and I will also have more data available on fuel economy and speed once more testing is complete. Currently the boat can achieve a top speed of 13 knots with an 8hp outboard motor. 11.8 knots was achieved with 2 people aboard, and just under 10 knots with 3 people aboard.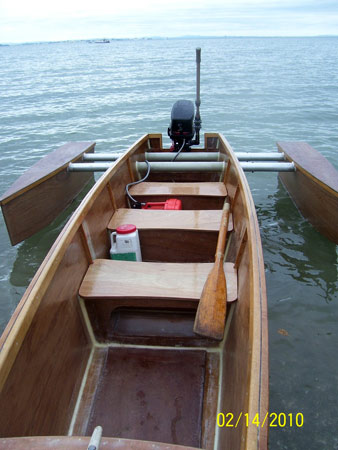 James Brett
Marine Designer
Auckland, New Zealand
Email: james.brtt@gmail.com
Website: https://www.brettmarinedesign.com/
*****
Plans for the Eagle 4.6 Power Trimaran are available at Duckworks
as either printed plans for instantdownload - Click HERE
*****