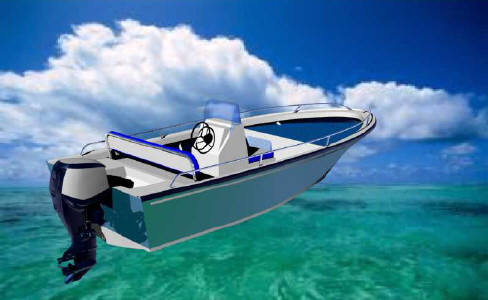 "No hassles" doesn't mean "no frills" when it comes to the RipTide 457, this boat packs a lot of amenities for fishing, cruising and watersports enthusiasts and is a small boat designed on big ideas.
Offering the features and functionality typically only found in much larger boats, the RipTide 457's compact size means she can be easily trailered to where the action is - whether it be diving, exploring a secluded beach, fishing or... just simply relaxing on the water.
Even storage and seating is not an issue aboard the RipTide 457. With loads of storage lockers and seating throughout, this means you can take along your friends and and family members, along with all their gear.
Overall, the RipTide 457 is the perfect boat for people who want to do a little of everything, ...without spending everything you have.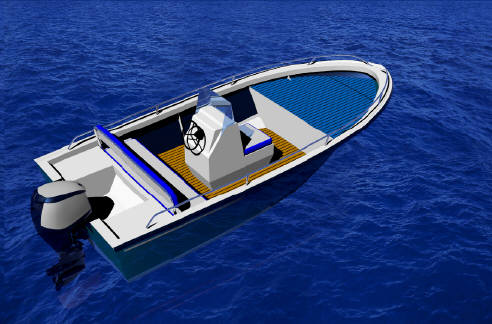 Riptide 457 Specifications
Length of Hull:
15ft (4.27m)
Beam:
6ft - 8in (1.87m)
Depth:
11in (.890m)
Midship Freeboard:
2ft (.609m)
Transom Shaft Length:
L/S (20" or 508mm)
Weight (boat only):
400 lbs (182kg)
Min Rec. HP:
40 hp
Rec. KW:
29.8 Kw
Max. HP:
60 hp
Max. KW:
44.8 Kw
Main Motor Weight:
401lbs (182kg)
Number of People (Basic):
6 (NOTE: 1 person = 1 adult or 2 children)
Max Load (Basic):
1477lbs ( 670kg)
Design Brief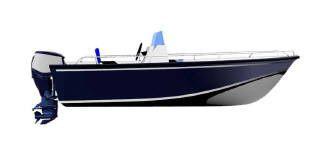 Overall, our main priority had to a simple open plan design, with the priority being for easy planing at low speeds, great stability whilst at rest, and reduction in fuel consumption without compromising the strength, durability and safety of the design. Careful consideration was given to loads of storage lockers, comfortable seating throughout and a stable platform for fishing or other recreational activities without compromising safety for those on board.
Designed for fun in the sun for the family, the Riptide 457 is a design that is light enough to be easily trailerable for adventures in distant places. But overall, it had to be simple and easy to build, without spending everything you have.

The principles on which our boats are designed are for strength, safety, seaworthiness and comfort. We will not sacrifice these in order to gain high performance. Nevertheless, our boats have a reputation as excellent performers. They are also known for their strength.
Arrangements: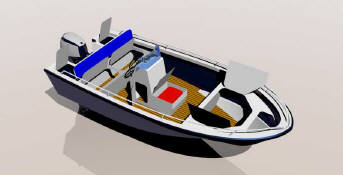 Designed to be a functionable boat for its class, the RipTide 457 has load of interior room for you, your friends and family. With space for 6 and loads of storage, its perfect for taking the family out on a days picnic, or out exploring the bays and reefs for a days snorkeling and fishing. But if the wind picks up, don't worry. The RipTide 457's variable deadrise "V" hull and foam filled construction lets you handle the waves and bad weather in confidence and safety.
Performance
Running through HullSpeed (a part of our Maxsurf ship modeling program suite), the result is a light hull built in to our standard Strip Plank composite construction method. Whilst her deadrise at the cutwater is 60 degrees, 20 degrees @ midship and 14 degrees at the transom, the RipTide 457 has enough vee to handle choppy seas without problems and her wide beam produces great stability and lift for planing at low speeds. With her sharp entry point, the RipTides deep-V hull provides a high entry angle that delivers a smooth dry ride by displacing water away from the boat while her wide bow flair keeps it from rolling back into the boat. The RipTides hull also feature's a higher degree of deadrise at the transom for added stability in rougher seas, whilst her large chines deflect the water down and under the hull, acting as two points on which it balances. These points provide a great deal of dynamic stability for a more solid ride while also increasing lift and reducing drag for a faster more efficient running hull
Approx Planing Speeds Vs HP @ 60% Propeller Efficiency
click images above for larger views
Choosing your HP Requirements
To determine speed and Hp requirements, simply look up on the graph what Hp you would prefer and scroll down to the speed given. This is for MAX Hp vs Speed.
For "cruising" speed, simply "multiply" the max Hp chosen by .8 and then note the speed for that given new HP.
Example:
Chosen Max Hp = 40,
Speed = 26 kts (30 mph/ 48 kph)
40 Hp (max) x .8 (80% throttle) = 32 Hp
refer graph: Cruising Speed = 23 kts (26 mph/ 43 kph)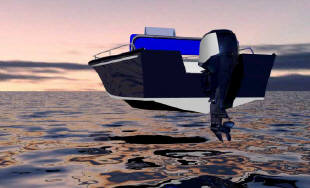 Materials
The following list of materials is approximate and intended for calculation of approximate costs. We offer no guarantees of accuracy. The list is for all timber in the construction of hull, deck and interior, including building stocks, temporary bracing etc. Allowance has been made in the quantities for about 10% wastage, with the exception of the building stocks and chipboard, which are net. These figures allow for building with 3/8 in (9mm) Kiri or Western Red Cedar skin for the hull and 3/8 in (9mm) plywood for the internals. All frames and bulkheads are constructed from 3/8 in (9mm) plywood.
Resin & glass quantities are only approx
CHIPBOARD or MDF
8ft by 4ft (2.44 x1.22m) 19mm (3/4") - 6 sheets approx.

WESTERN RED CEDAR/ PAULOWNIA TIMBER
30mm x 12mm - 13 sq.m (146 sq/ft) - Hull planking/ decking

BOATBUILDING PLYWOOD
9mm (3/8") - 13 sheets approx.

RESIN & GLASS (for coatings and reinforced areas)
FGI (R-180, H-180) Epoxy resin & Hardener - 48 kg
450g/sq.m Biaxial fabric - 50 sq.m
5kg glue powder ( Cabosil-FGI)
5kg Q-Cells ( fairing powder)
Construction
The RipTide 457 is a composite strip plank design while the interior framing and joinery is constructed from Gabon or Okoume plywood. Using Paulownia timber or Western Red Cedar as the core and sandwiched in epoxy and directional E-glass fabrics, this overall result's in a stronger, tougher and more durable "Composite" boat, while still retaining its lightweight construction.
Plans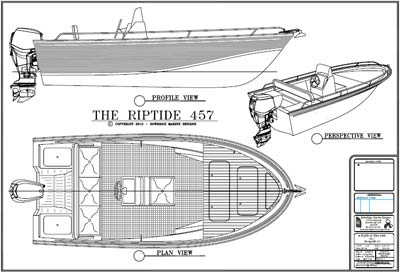 Click the image above for a PDF Plan sample
Plans for the Roguewave XT-15 are extremely comprehensive, with 8 sheets (D size or 2ft by 3ft) of drawings, complete written specifications and builders manual. Back up service is also provided as needed. Please read our Back Up Policy. This is an ideal project for the first time boat builder.
| | |
| --- | --- |
| Drawing # | Drawing Description |
| 1 | Profile & Arrangement Plan |
| 2 | Cradle and Set-up Sheet |
| 3 | Method of Building sheet |
| 4 | Lamination Sheet |
| 5 | Profile & Plan Construction Sheet |
| 6 | Plywood panel layout sheet |
| 7 | Plywood layout & nesting sheet |
| 8 | Electrical Sheet |
| 9 | Full Size Bulkhead Frame Patterns |
| 10 | Full Size Bulkhead Frame Patterns |
| 11 | Internal Parts Measurement sheet |
| 12 | Internal Parts Nested on Plywood sheet |
| 13 | Electrical Sheet |
All plans provided are drawn on 2ft by 3ft sheets
The plans also include a materials & construction manual
*****
Plans for Riptide 457 are available at Duckworks - Click Here