The Roguewave XT-15 is the perfect boat for people who want to do a little of everything, without spending everything they have.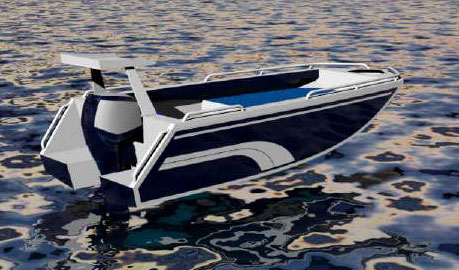 The Roguewave XT-15 is a garvey vee hull, provide's a clean and efficient hull shape with features and functionality typically only found in larger boats, With her wide shallow vee hull, this allows for large deck area, great stability at slow speed and smooth fast runs in choppy seas.
The Roguewave XT-15 is a compact design, yet has enormous capacity. It includes a self draining cockpit, loads of storage lockers, comfortable seating throughout and a stable platform for you and your friends and family members, along with all their gear. She can also be made 100% unsinkable with the addition of buoyancy foam, a big safety factor for all on board!
Being of composite construction and reduced weight, this means that she can be easily trailered to where the action is - whether it be diving, exploring, camping, fishing or... just being out there away from it all.
Overall, the Roguewave XT-15 is a boat designed on big ideas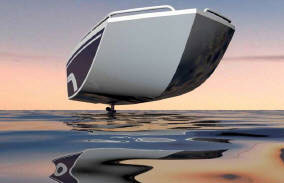 Roguewave XT-15 Specifications
Length of Hull:
15ft (4.27m)
Beam:
6ft - 3in (1.87m)
Depth:
2ft - 11in (.890m)
Freeboard:
2ft- 5in (.735m)
Transom Shaft Length:
L/S (20" or 508mm)
Weight (boat only):
366 lbs (166kg)
Min Rec. HP:
30 hp
Rec. KW:
22.37 Kw
Max. HP:
50 hp
Max. KW:
37 Kw
Main Motor Weight:
293lbs (133kg)
Number of People (Basic):
6 (NOTE: 1 person = 1 adult or 2 children)
Max Load (Basic):
1496lbs ( 679kg)
Design Brief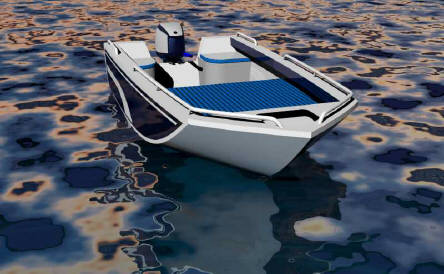 Overall, our main priority had to a simple open plan design, with the priority being for easy planing at low speeds, great stability whilst at rest, and reduction in fuel consumption without compromising the strength, durability and safety of the design. Careful consideration was given to a self draining cockpit, loads of storage lockers, comfortable seating throughout and a stable platform for fishing or other recreational activities without compromising safety for those on board. This meant that it had to be Australian Builders plate / USCG compliant.
The principles on which our boats are designed are for strength, safety, seaworthiness and comfort. We will not sacrifice these in order to gain high performance. Nevertheless, our boats have a reputation as excellent performers. They are also known for their strength.

Designed for fun from the daily grind, the Roguewave XT-15 is a design that is light enough to be easily trailerable for adventures in distant places. But overall, it had to be simple and easy to build, without spending everything you have.
Arrangements: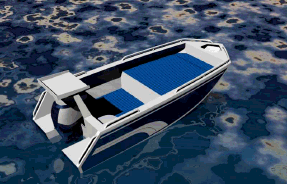 The brief called for interior to be clean and simple, with a lot of room and for the builder to be given complete freedom in this regard. With all the open space, as long as the frames shown on the plans are present and common sense is used in weight distribution, almost anything is possible to easily accommodate a family for a day on the water, it's totally up to you.
Performance
Running through HullSpeed (a part of our Maxsurf ship modeling program suite), the result is a light hull built in our standard material epoxy-glass-plywood composite construction. The deadrise is 31 degrees at the cutwater, about 10 midship and 8 degrees at the transom, the Roguewave XT-15 has enough vee to handle choppy seas without problems and her wide beam produces great stability and lift for planing at low speeds.
As the chine rise is very progressive, the Roguewave XT-15 does not have an obvious hump in its transition from displacement speeds to planing, resulting in a good moderate speed boat. Overall, the Roguewave XT-15 is able to maintain moderate speeds between planing and displacement without pushing a huge bow wave.
Approx Planing Speeds Vs HP @ 60% Propeller Efficiency
click images above for larger views
Materials
The following list of materials is approximate and intended for calculation of approximate costs. We offer no guarantees of accuracy. The list is for all timber in the construction of hull, deck and interior, including building stocks, temporary bracing etc. Allowance has been made in the quantities for about 10% wastage.
These figures allow for building with 1/4 in (6mm) Marine Ply for the hull and 3/8 in (9mm) plywood for the bulkheads, deck, joinery and cockpit sole. Resin & glass quantities are only approx.
MARINE GRADE PLYWOOD
6mm (1/4") - 8 sheets

EXTERIOR GRADE PLYWOOD
9mm (3/8") - 10 sheets
12mm (1/2") - 2 sheets

RESIN & GLASS (for coatings and reinforced areas)
FGI (R-180, H-180) Epoxy resin & Hardener - 36kg
450g/sq.m Biaxial fabric - 30 sq.m
5kg glue powder (Cabosil-FGI)
5kg Q-Cells (fairing powder)
Construction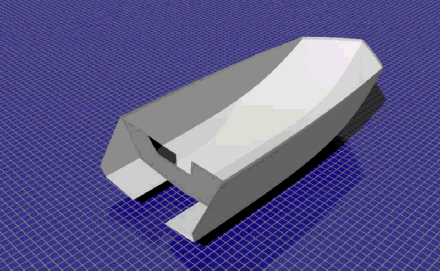 The Roguewave XT-15 is a composite plywood design. Using marine plywood as the core and then sandwiched in epoxy and directional E-glass fabrics, this overall result's in a stronger, tougher and more durable "Composite" boat, while still retaining its lightweight construction. The building method combines the ease of stitch and glue (plywood-epoxy) with the strength, lightweight, longevity and low maintenance of a high tech composite hull.
Assembling the hull as a simple stitch and glue plywood boat first, the outside and inside fiberglass skins produce a strong composite hull without all the time consuming woodwork associated with plywood on frame. Overall, this results is a stronger and lighter hull.
One of the design priorities was ease of building with no woodworking skills or special tools are required. The plans include all dimensions to cut all the hull parts flat on the shop floor. No scarfing required.
Plans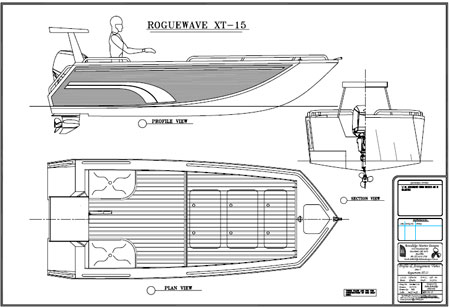 Click the image above for a PDF Plan sample
Plans for the Roguewave XT-15 are extremely comprehensive, with 8 sheets (D size or 2ft by 3ft) of drawings, complete written specifications and builders manual. Back up service is also provided as needed. Please read our Back Up Policy. This is an ideal project for the first time boat builder.
| | |
| --- | --- |
| Drawing # | Drawing Description |
| 1 | Profile & Arrangement Plan |
| 2 | Cradle and Set-up Sheet |
| 3 | Method of Building sheet |
| 4 | Lamination Sheet |
| 5 | Profile & Plan Construction Sheet |
| 6 | Plywood panel layout sheet |
| 7 | Plywood layout & nesting sheet |
| 8 | Electrical Sheet |
All plans provided are drawn on 2ft by 3ft sheets
The plans also include a materials & construction manual
*****
Plans for Roguewave XT-15 are available at Duckworks - Click Here